Demi Lovato Tell Me You Love Me Tour Guide
Demi Lovato Tell Me You Love Me Tour Guide: Setlist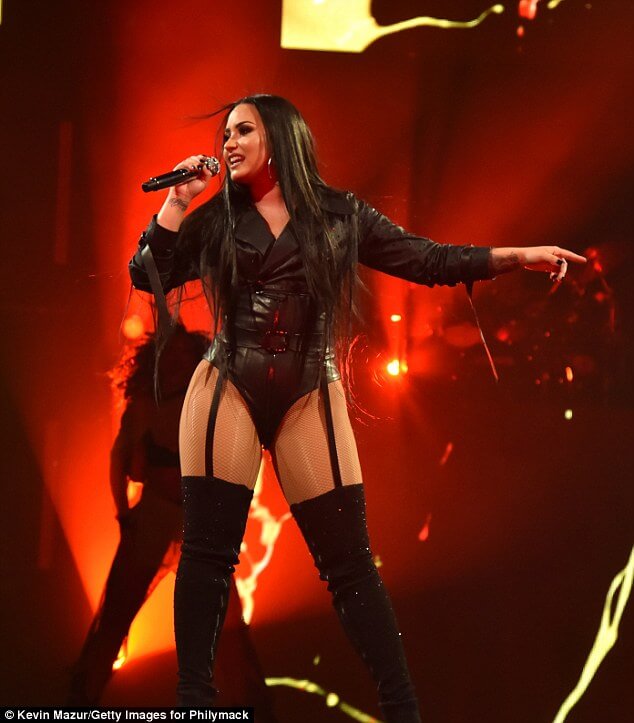 Latest Album:
Tell Me You Love Me
Release Date:
Sep 29, 2017
Tour Announced On:
Oct 27, 2017
Tour Start Date:
Feb 26, 2018
Tour End Date:
Jun 27, 2018
Ticket Price Range:
$29 - $ 179
Openers:
DJ Khaled, Kehlani
Read below for our complete Demi Lovato Tell Me You Love Me Tour Guide. We have information on Demi Lovato tickets, tour dates, locations, presale code, setlist, openers, and more!

Demi Lovato is a pop singer who started out as a child actor star in the kids show "Camp Rock". She has released 6 studio albums, with the last three being more "adult" themed to transition her image out of being a kid star. Her latest album is "Tell Me You Love Me", released in 2017, which features the singles "Sorry, Not Sorry" and the title track.

On October 26, 2017, Lovato first announced the Tell Me You Love Me tour guide, with special guest DJ Khaled. Later, she announced that Kehlani would be the opening act on tour. Also, the mental health program CAST Centers will join her on tour to provide free therapy sessions and wellness workshops, a nod to Lovato's mental health issues which she has battled in the public eye.

Following the North American leg of the tour, Demi Lovato is heading over to Latin America in April 2018 followed by Europe in May 2018

___


DJ Khaled is a rap DJ and inspirational speaker. He has released 10 albums, mostly containing content curated from other producers and performers. Khaled has created a successful career for himself by being an excellent self promoter and is active on social media

DJ Khaled's latest album is called Grateful which features the hit single "I'm the One" with Justin Bieber, Quavo, Chance the Rapper, and Lil Wayne.

___

Kehlani is an R&B singer who released her first album, SweetSexySavage, in 2017. She has a smooth voice and good attitude, nicknamed "Bae-lahni". Her lead album had the singles "Crzy" and "Distraction".
Demi Lovato Tell Me You Love Me Tour Latest News
February 27th: The Tell Me You Love Me Tour Guide by Demi Lovato has been created. The tour has begun, so check out the setlist below and stream Demi's latest album!
Demi Lovato Tell Me You Love Me Tour Tickets
If you want to get tickets to the Tell Me You Love Me tour, check out the dates and information below, which tell you important dates when you can get tickets to each show:
Tour Announced On:
Oct 27, 2017
Tickets Presale Date:
Oct 30, 2017
Tickets On Sale Date:
Mar 21, 2018
Verified Fan Tickets Link:
Click Here
Presale Tickets Link:
Click Here
Regular Tickets Link:
Click Here
Demi Lovato Tell Me You Love Me Presale Ticket Information
The Demi Lovato Tell Me You Love Me tour guide has already started and shows are underway! Instead of presale information, check out some pictures from Demi's show below:
Demi Lovato Tell Me You Love Me VIP Packages/Special Tickets
We have no VIP or special packages information for this tour yet! Get in touch with us on social media or comment below if you have more information.
If you want to learn more information about how to buy VIP packages on Ticketmaster, check out our video guide below:
Demi Lovato Tell Me You Love Me Tour Locations
The Tell Me You Love Me tour locations are as follows:
North America Dates
Feb. 26 -- San Diego, CA @ Viejas Arena
Feb. 28 -- San Jose, CA @ SAP Center
March 2 -- Inglewood, CA @ The Forum
March 3 -- Las Vegas, NV @ MGM Grand Garden Arena
March 4 -- Phoenix, AZ @ Talking Stick Resort Arena
March 7 -- Dallas, TX @ American Airlines Center
March 9 -- Rosemont, IL @ Allstate Arena
March 10 -- Minneapolis, MN @ Target Center
March 13 -- Detroit, MI @ Little Caesars Arena
March 14 -- Columbus, OH @ Schottenstein Center
March 16 -- Brooklyn, NY @ Barclays Center
March 17 -- Montreal, QC @ Bell Centre
March 19 -- Toronto, ON @ Air Canada Centre
March 21 -- Newark, NJ @ Prudential Center
March 23 -- Philadelphia, PA @ Wells Fargo Center
March 24 -- Washington, DC @ Capital One Arena
March 26 -- Boston, MA @ TD Garden
March 28 -- Nashville, TN @ Bridgestone Arena
March 30 -- Miami, FL @ American Airlines Arena
March 31 -- Tampa, FL @ Amalie Arena
Overseas Dates
April 15, 2018 São Paulo Brazil Allianz Parque
April 17, 2018 Recife Classic Hall
April 19, 2018 Fortaleza Centro de Eventos do Ceará
April 21, 2018 Rio de Janeiro Jeunesse Arene
April 24, 2018 Buenos Aires Argentina DirecTV Arena
April 26, 2018 Santiago Chile Movistar Arena
April 28, 2018 Quito Ecuador Agora Casa de la Cultura
May 1, 2018 Alajuela Costa Rica Parque Viva
May 4, 2018 Monterrey Mexico Arena Monterrey
May 6, 2018 Mexico City Arena Cuidad de México
Europe
May 28, 2018 Antwerp Belgium Lotto Arena
May 30, 2018 Copenhagen Denmark Forum Copenhagen
June 1, 2018 Oslo Norway Oslo Spektrum
June 2, 2018 Stockholm Sweden Annexet
June 4, 2018 Paris France Zénith Paris
June 6, 2018 Cologne Germany Palladium
June 7, 2018 Zürich Switzerland Hallenstadion
June 10, 2018 London England The O2 Arena
June 12, 2018 Birmingham Arena Birmingham
June 13, 2018 Glasgow Scotland SSE Hydro
June 16, 2018 Manchester England Manchester Arena
June 18, 2018 Amsterdam Netherlands AFAS Live
June 21, 2018 Barcelona Spain Sant Jordi Club
June 22, 2018 Madrid Palacio Vistalegre
June 24, 2018 Lisbon Portugal Parque da Bela Vista
June 27, 2018 Casalecchio de Reno Italy Unipol Arena
Demi Lovato Tell Me You Love Me Setlist
The Tell Me You Love Me tour setlist is as follows:
Demi Lovato Setlist
You Don't Do It For Me Anymore
Daddy Issues
Cool for the Summer
Sexy Dirty Love
Heart Attack
Give Your Heart a Break
Confident
Games
Concentrate
Cry Baby
Lonely
No Promises
Échame la Culpa
Yes
Warrior
Father
Smoke & Mirrors
Sorry Not Sorry
Tell Me You Love Me
DJ Khaled Setlist
DJ Khaled spends most of his 45 minute set hyping the crowd up, making them cheer, pull out their forms, and compete against each other (who is the loudest). He talks a lot about his son and his life and gives inspirational words to everybody. He does bring along a DJ who plays snippets of his popular songs.
Kehlani Setlist
Touch
Undercover
Get Like
The Way
You Should Be Here
Honey
Gangsta
Faking It
Distraction
CRZY
Stream the Latest Demi Lovato Album
Concert Travel and Hotel Arrangements
Use our Booking.com tool below to book your travel arranagements for the show and get the guaranteed lowest prices on hotels today.
Search hotels and more...