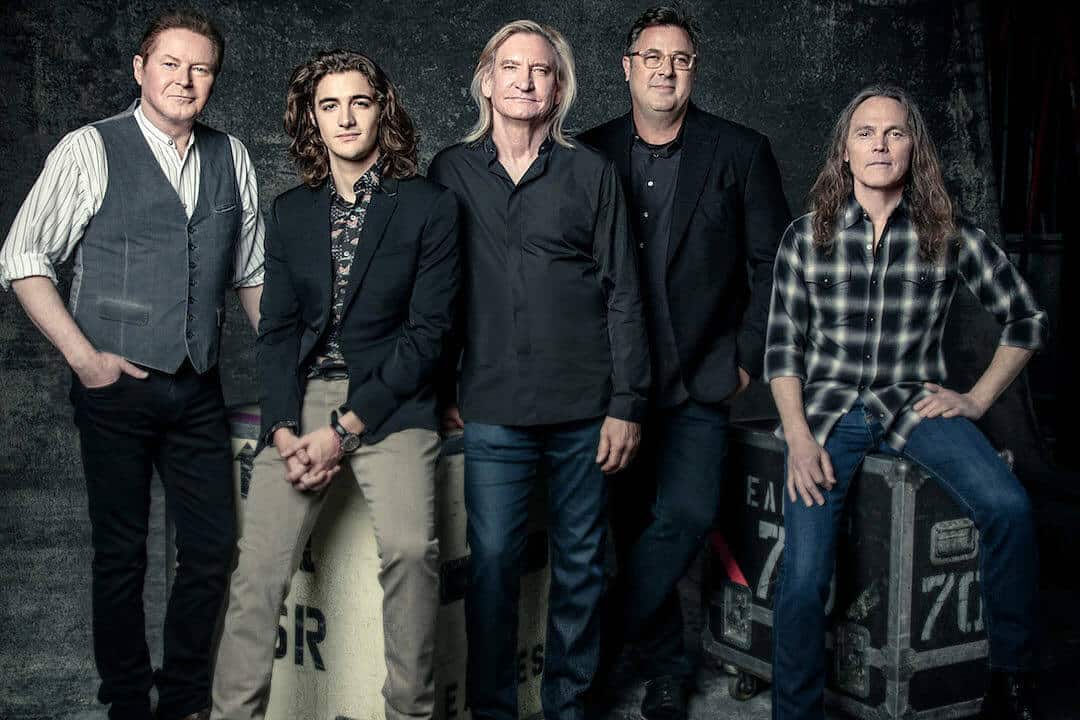 The Eagles Tour Guide: History of the Eagles Setlist, Tickets, Media
The Eagles History of the Eagles Tour Latest News
December 8th: The History of the Eagles tour guide has been updated to include the 13 additional shows just added to the tour! Get tickets today.
November 30th: Additional headlining dates have been added below to our Eagles 2018 Tour Guide!
The Eagles Tour Quick Links
The Eagles Profile
The Eagles are a classic rock band who have sold more than 120 million albums worldwide while producing five #1 singles and six Grammy Awards. Their 3x Platinum two-disc compilation album 'The Very Best Of'' was released in 2003 and spent a total of 62 weeks on Billboard 200 chart. They are arguably known most for their single "Hotel California".

This is the first Eagles tour since the death of lead singer Glenn Frey. Filling in on vocals for the tour will be Glenn's song, Deacon Frey, and Vince Gill.
The Eagles Presale Codes: History of the Eagles Presale Information
Click here to see presale code info
The Eagles VIP Packages/Special Tickets
Click here to see VIP Packages/Special Tickets
The Eagles Tour Dates: History of the Eagles Tour
Current The Eagles tour dates and locations are listed below! Keep checking our home page for updated tour guide information. Underneath the tour dates, check out the The Eagles setlist and concert videos, photos, and media.
3/12 -- Indianapolis, IN
3/14 -- Chicago, IL
3/15 -- Grand Rapids, MI
3/18 -- St. Louis, MO
3/19 -- Kansas City, MO
3/21 -- Des Moines, IA
3/23 -- Nashville, TN
4/8 -- Colombus, OH
4/10 -- Lexington, KY
4/11 -- Charlotte, NC
4/14 -- Orlando, FL (with Jimmy Buffett)
4/16 -- Colombia, SC
4/17 -- Raleigh, NC
4/19 -- Birmingham, AL
4/21 -- Miami, FL (with Jimmy Buffett)
5/10 -- Vancouver, BC
5/14 -- Calgary, AB
5/15 -- Edmonton, AB
6/15 -- Houston, TX
6/17 -- Tulsa, OK
6/20 -- New Orleans, LA
6/23 -- Arlington, TX (with Chris Stapleton)
6/28 -- Denver, CO (with Jimmy Buffett)
6/30 -- Minneapolis, MN (with Jimmy Buffett)
7/14 -- Buffalo, NY
7/15 -- Toronto, ON
7/20 -- Boston, MA
7/24 -- Pittsburgh, PA
7/26 -- Washington, DC (with James Taylor)
7/28 -- Philadelphia, PA (with James Taylor)
How to Buy The Eagles Tickets: History of the Eagles Tour
Purchase The Eagles tickets below now! Both of our options are 100% guaranteed and legitimate. Track prices, find ticket deals, and guarantee your spot for this concert today.
Click here to see available tickets
Click here to puchase The Eagles tour tickets directly through Ticketmaster.com.

The Eagles History of the Eagles Setlist
NOTE: When posted, you can click on the links in the setlist to view live concert videos.
The Eagles 2018 tour setlist is as follows:
Seven Bridges Road (Steve Young cover)
Take It Easy
One of These Nights
Take It to the Limit
Tequila Sunrise
Witchy Woman
In the City (Joe Walsh song)
I Can't Tell You Why
How Long (J.D. Souther cover)
Ol' '55 (Tom Waits cover)
Peaceful Easy Feeling
The Best of My Love
Lyin' Eyes
Love Will Keep Us Alive
New Kid in Town
Next Big Thing (Vince Gill cover)
Those Shoes
Already Gone
Victim of Love
Walk Away (James Gang cover)
Heartache Tonight
Life's Been Good (Joe Walsh song)
Funk #49 (James Gang cover)
Life in the Fast Lane
Encore:
Hotel California
Encore 2:
Rocky Mountain Way (Joe Walsh song)
Desperado
The Eagles Media
Stream the Latest The Eagles Album
Stream the latest The Eagles album on Apple Music by clicking here.
The Eagles Tour Media
Check out the
setlist section
for live concert videos.
Concert Travel and Hotel Arrangements
Use our Booking.com tool below to book your travel arranagements for the show and get the guaranteed lowest prices on hotels today.
Search hotels and more...
Did we miss anything in our The Eagles tour guide? Make sure to come back and view the updated The Eagles setlist for the History of the Eagles tour if it has not begun let. Comment below if you have any further information to share!