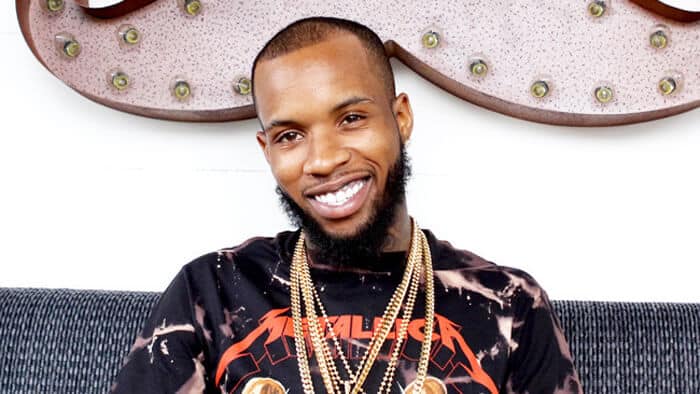 Tory Lanez Tour Guide: Memories Don't Die Setlist, Tickets, Media
Tory Lanez Memories Don't Die Tour Latest News
April 3rd: The Tory Lanez Memories Don't Die tour guide has been created. Check out all of the dates and information below.
Tory Lanez Tour Quick Links
Tory Lanez Profile
Tory Lanez is an emerging rapper/singer/producer from Toronto. He has released two studio albums so far, "I Told You" and "Memories Don't Die". His two biggest singles so far are "Say It" and "Luv".

What really makes Tory a standout, apart from sheer musical versatility, is his knack for story telling. All of his projects include overarching story lines about his experiences with women, the cognitive dissonance of dealing drugs and gangbanging as an adolescent, and growing up without a mother and having a minister for a father. However, these are basically the only topics that Tory raps about.

Tory Lanez is undoubtedly talented. He raps with great flow, creates and sings memorable melodies, and produces trap as well as atmospheric instrumentals at a high level.
Tory Lanez Presale Codes: Memories Don't Die Presale Information
Click here to see presale code info
Tory Lanez VIP Packages/Special Tickets
Click here to see VIP Packages/Special Tickets
Tory Lanez Tour Dates: Memories Don't Die Tour
Current Tory Lanez tour dates and locations are listed below! Keep checking our home page for updated tour guide information. Underneath the tour dates, check out the Tory Lanez setlist and concert videos, photos, and media.
Full Tory Lanez tour locations for 2018 are as follows:

May 11 – Miami, FL – Rolling Loud
May 18 – San Marcos, TX – The Marc
May 19 – El Paso, TX – Tricky Falls
May 21 – Albuquerque, NM – El Rey Theatre
May 22 – Tucson, AZ – Rialto Theatre
May 28 – San Diego, CA – The Observatory North Park
May 29 – Los Angeles, CA – The Novo
May 31 – Santa Ana, CA – The Observatory
June 3 – San Francisco, CA – The Warfield
June 5 – Sacramento, CA – Ace of Spades
June 7 – Portland, OR – Roseland Theater
June 8 – Seattle, WA – Showbox SoDo
June 9 – Vancouver, BC – Breakout Festival
June 12 – Edmonton, AB – Union Hall
June 13 – Calgary, AB – MacEwan Hall
June 14 – Spokane, WA – Knitting Factory Concert House
June 15 – Boise, ID – Knitting Factory Concert House
June 16 – Salt Lake City, UT – The Depot
June 18 – Denver, CO – Summit Music Hall
June 20 – Oklahoma City, OK – The Jones Assembly
June 21 – Lincoln, NE – Bourbon Theater
June 22 – Kansas City, MO – The Truman
June 25 – Des Moines, IA – Wooly's
June 26 – St. Louis, MO – Delmar Hall
June 27 – Grand Rapids, MI – Intersection
July 1 – Chicago, IL – House of Blues
July 4 – Toronto, ON – Rebel Complex
July 7 – Buffalo, NY – Town Ballroom
July 8 – Boston, MA – House of Blues
July 11 – Quebec City, QC – Quebec City International Summer Festival
July 13 – Montreal, QC – M Telus
July 15 – New York, NY – The Greatest Day Ever!
July 16 – Wallingford, CT – The Dome at Oakdale Theatre
July 18 – Philadelphia, PA – Theatre of Living Arts (TLA)
July 19 – Cleveland, OH – House of Blues
July 20 – Silver Spring, MD – The Fillmore Silver Spring
July 21 – Pittsburgh, PA – Mr. Small's
July 23 – Wilmington, DE – The Queen
July 24 – Richmond, VA – The National
July 25 – Norfolk, VA – Norva
July 26 – Charlotte, NC – The Underground – Charlotte
July 27 – Raleigh, NC – Lincoln Theatre
July 29 – Greensboro, NC – The Cone Denim Entertainment Center
July 30 – Louisville, KY – Mercury Ballroom
July 31 – Nashville, TN – Cannery Ballroom
Aug. 1 – Cincinnati, OH – Bogart's
Aug. 3 – Memphis, TN – New Daisy Theatre
Aug. 4 – Baton Rouge, LA – Varsity Theatre
Aug. 5 – Houston, TX – House of Blues
Aug. 7 – Dallas, TX – House of Blues
Aug. 8 – San Antonio, TX – The Aztec Theater
Aug. 10 – Mobile, AL – Soul Kitchen
Aug. 11 – Birmingham, AL – Avondale Brewing Company
How to Buy Tory Lanez Tickets: Memories Don't Die Tour
Purchase Tory Lanez tickets below now! Both of our options are 100% guaranteed and legitimate. Track prices, find ticket deals, and guarantee your spot for this concert today.
Click here to see available tickets
Click here to puchase Tory Lanez tour tickets directly through Ticketmaster.com.

Tory Lanez Memories Don't Die Setlist
NOTE: When posted, you can click on the links in the setlist to view live concert videos.
The Tory Lanez Memories Don't Die tour setlist is not available yet! Keep checking our website for constant updates as soon as we have information.
Tory Lanez Media
Stream the Latest Tory Lanez Album
Stream the latest Tory Lanez album on Apple Music by clicking here.
Tory Lanez Tour Media
Check out the
setlist section
for live concert videos.
Concert Travel and Hotel Arrangements
Use our Booking.com tool below to book your travel arranagements for the show and get the guaranteed lowest prices on hotels today.
Search hotels and more...
Did we miss anything in our Tory Lanez tour guide? Make sure to come back and view the updated Tory Lanez setlist for the Memories Don't Die tour if it has not begun let. Comment below if you have any further information to share!