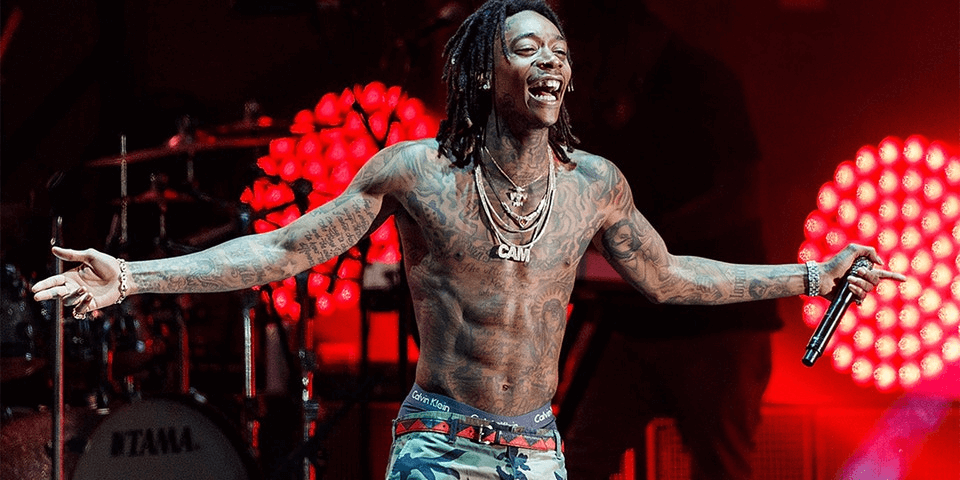 Wiz Khalifa Tour Guide: Blazed & Dazed Setlist, Tickets, Media
Wiz Khalifa Blazed & Dazed Tour Latest News
May 15th: The Wiz Khalifa tour with Rae Sremmurd is called Blazed & Dazed and is happening this summer. Get the full details below.
Wiz Khalifa Tour Quick Links
Wiz Khalifa Profile
Wiz Khalifa is an American rapper. He has released 6 studio albums, though gained fame with his third album, Rolling Papers. Some of his biggest singles are "Black and Yellow" and "No Sleep". He performed the main track from the Fast and the Furious 7 soundtrack, "See You Again".

He hasn't released an album since 2014, but released a mixtape in late 2017 called Laugh Now, Fly Later. He plans to release his album "Rolling Papers 2" in 2018.

Wiz Khalifa has a laid back style and attitude and is a big marijuana activist.


Rae Sremmurd is a rap group featuring Swae Lee and Slim Jxmmi. They just released their 3-disc CD called SR3MM. Their biggest singles are "No Type" and "Black Beatles".
Wiz Khalifa Presale Codes: Blazed & Dazed Presale Information
Click here to see presale code info
Wiz Khalifa VIP Packages/Special Tickets
Click here to see VIP Packages/Special Tickets
Wiz Khalifa Tour Dates: Blazed & Dazed Tour
Current Wiz Khalifa tour dates and locations are listed below! Keep checking our home page for updated tour guide information. Underneath the tour dates, check out the Wiz Khalifa setlist and concert videos, photos, and media.
.....
How to Buy Wiz Khalifa Tickets: Blazed & Dazed Tour
Purchase Wiz Khalifa tickets below now! Both of our options are 100% guaranteed and legitimate. Track prices, find ticket deals, and guarantee your spot for this concert today.
Click here to see available tickets
Click here to puchase Wiz Khalifa tour tickets directly through Ticketmaster.com.

Wiz Khalifa Blazed & Dazed Setlist
NOTE: When posted, you can click on the links in the setlist to view live concert videos.
The Wiz Khalifa tour setlist for this artist is not available yet! Keep checking our website for constant updates as soon as we have information.
Wiz Khalifa Media
Stream the Latest Wiz Khalifa Album
Stream the latest Wiz Khalifa album on Apple Music by clicking here.
Wiz Khalifa Tour Media
Check out the
setlist section
for live concert videos.
Concert Travel and Hotel Arrangements
Use our Booking.com tool below to book your travel arranagements for the show and get the guaranteed lowest prices on hotels today.
Search hotels and more...
Did we miss anything in our Wiz Khalifa tour guide? Make sure to come back and view the updated Wiz Khalifa setlist for the Blazed & Dazed tour if it has not begun let. Comment below if you have any further information to share!