T-Mobile Arena Events Guide: Upcoming Events, Seating Charts & Information

Venue:

T-Mobile Arena

Home to:

Vegas Golden Knights (NHL), Ultimate Fighting Championship (MMA)

Capacity:

Overall: 20,000 Basketball: 18,000 Boxing/MMA: 20,000 Ice hockey: 17,500 Concerts: 12,000–20,000

Roof:

Closed

Address:

3780 South Las Vegas Boulevard

Location:

Las Vegas, Nevada, USA

Subscribe to Stadium Help

T-Mobile Arena Tips: Events, Parking, Best Seats, Guide




This T-Mobile Arena tips guide will help you plan your next visit to Las Vegas. We have tons of information below including:


Do you have any other T-Mobile Arena tips to share? Comment below at the bottom of this guide and help others out! Follow us on

Twitter

and

Facebook

for up to the minute concert news and information!

T-Mobile Arena Summary

The T-Mobile Arena is the premier sports and concert venue on the Las Vegas Strip. It opened in 2016 and was built by MGM Resorts International and the Anshutz Entertainment Group. In 2017, the Vegas Golden Knights NHL hockey team officially moved into the arena and is a major tenant alongside the Ultimate Fighting Championship (UFC).

The T-Mobile Arena is located on the south side of the iconic Las Vegas Strip. Countless hotels, restaurants, and attractions are just steps away from the arena. In our T-Mobile Arena guide below you can find nearby things to do and tips to help make your stay in the Las Vegas area positive!

Some other noteworthy amenities in the Staples Center include:

Seats in the lower bowl of the arena can be adjusted to different height levels in order to better accommodate all of the events at the venue, including UFC where floor seats often have sub-par views.
Seating is as steep as architecturally possible to allow even the furthest seats to feel up close to all of the action.
The arena features wireless charging stations all around the arena.
In front of T-Mobile Arena is the Toshiba Plaza — a two-acre outdoor space created to entertain guests upon their arrival to the arena. Toshiba Plaza features four white steel towers that support three 100-inch monitors that can project pre-game footage leading up to the event.
On the top floor of the arena is an 18,000 square foot club called the Hyde Lounge.

We have an awesome T-Mobile Arena visitors guide below, which includes things like upcoming events, recommended nearby amentities, and tips to make your trip to Vegas awesome.

After you are done reading this guide, check out some of our other Las Vegas travel content:

T-Mobile Arena Quick Links

Other Links
Upcoming T-Mobile Arena Events
Upcoming concert events at T-Mobile Arena in Las Vegas are listed below. Click on the 'Buy Tickets' link to be redirected right to Ticketmaster where you can buy tickets! Click on the links in the event name to check out our full guide for that event.
T-Mobile Arena Parking Tips
Grab an awesome parking spot before you head to the stadium! Use the SpotHero widget below to select your event, view nearby parking to the stadium, and purchase your parking pass in advance.

;




T-Mobile Arena Seating Chart & Tips
T-Mobile Arena Seating Chart – Concert End Stage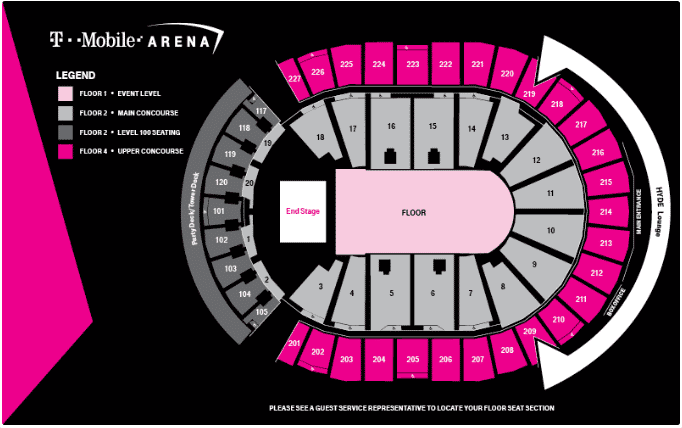 T-Mobile Arena Seating Chart – Concert Center Stage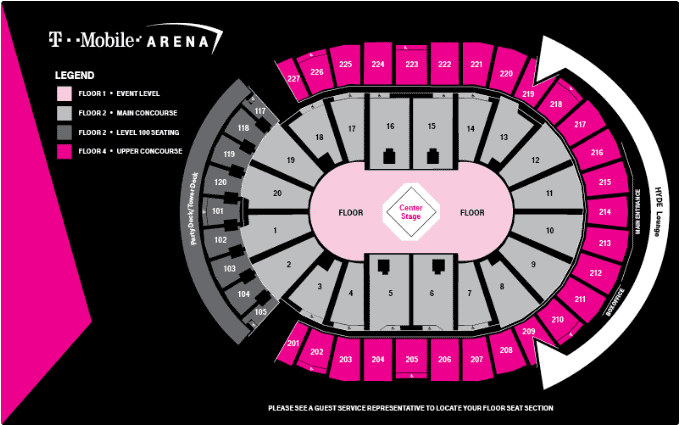 T-Mobile Arena Seating Chart – Hockey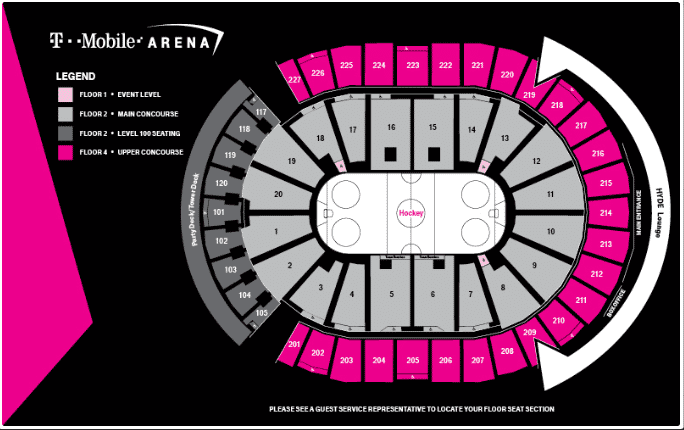 T-Mobile Arena Seating Chart – UFC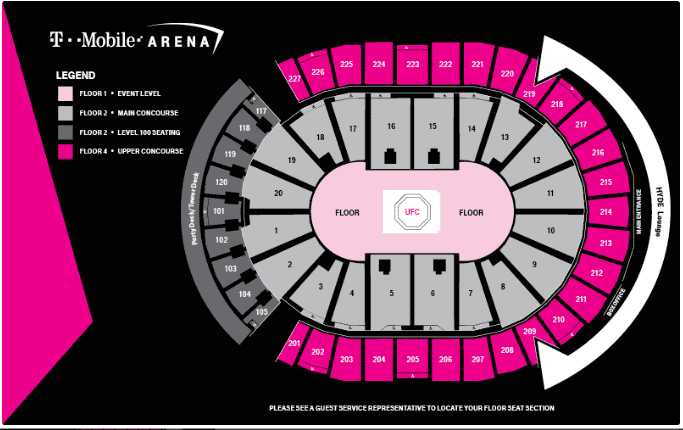 T-Mobile Arena Nearby Hotels To Stay At
Located right next to the Las Vegas strip means that there are multiple well-known hotels within walking distance from the T-Mobile arena.
If staying close is your goal, these are the hotels on the strip within a half-mile from the arena:
New York New York
Park MGM
MGM Grand
Aria
The Excalibur
Luxor
The Excalibur and Luxor are located south of the major Tropicana Avenue intersection, but there is a pedestrian walkway to and from those hotels. Both often have rooms as low as $25 per night.
The Aria is the newest nearby hotel to the T-Mobile Arena and is a premium location on the Las Vegas strip.
Listed below are all of the hotels around T-Mobile Arena in Las Vegas. Enter your dates and the map will automatically update with live hotel prices for your stay!
Click on a hotel to be transferred to our sponsor, Booking.com. If you've never used them before, they are 100% guaranteed to have the best prices and selection.
Restaurants Near T-Mobile Arena
All of the hotels on the Las Vegas strip have a resort feel to them and contain multiple restaurants to check out and try.
If you are in town before the game, consider checking out a pre-game Vegas happy hour special on the strip before you make your way over to the arena.
In the park directly east of the T-Mobile arena are a number of restaurants if you don't want to wonder too far into a nearby hotel and casino. Some of the top restaurants in the park are:
Beerhaus
California Pizza Kitchen
Sake Rok
Bruxie Original Fried Chicken
Listed below are the top five rated restaurants in Las Vegas within 2 miles (3.2km) of T-Mobile Arena according to Yelp.
Name
Rating
Price
Address
More Info
True Food Kitchen
5 / 5
$$
3500 Las Vegas Blvd South Space R15A
Las Vegas, NV 89109
(702) 340-2600
Water Grill - Las Vegas
4.5 / 5
$$$
3500 Las Vegas Blvd S
Ste G01
(702) 832-4777
Made in Argentina
4.5 / 5
$$
5190 S Valley View Blvd
Ste 100
(702) 642-1111
El Zarape Mexican Restaurant
4.5 / 5
$
5333 Arville St
Suit 102
(702) 570-7766
Dirt Dog - Las Vegas Strip
4.5 / 5
$
3649 S Las Vegas Blvd
Ste 617
(702) 586-9300
Best Attractions in Las Vegas
The Las Vegas strip is home to some of the top attractions in the world. All of the hotels nearby T-Mobile Arena have shows and performances to check out.
In the New York New York hotel next door is a rollercoaster worth checking out.
Our recommendation is to look for attractions in the hotel you choose to stay at. The links below contain some other unique Vegas attractions to check out in the area.
Other T-Mobile Arena Information
T-Mobile Arena Fun Facts
Looking to learn more about the T-Mobile Arena? Check out these fun facts:
The stadium cost $375 million dollars to build from 2014-2016.
There are between 100-150 events annually at the venue including 41 NHL hockey games, UFC, and concerts.
The T-Mobile Arena contains 44 luxury suites, 2 party suites, and 8 event level suites.
There are two dedicated VIP entrances for special guests to the arena.
T-Mobile Arena Know Before You Go
Here are some helpful tips and tricks to know before you head to the T-Mobile Arena for an event:
If you are on the strip and walking to the T-Mobile Arena, The Park east of the stadium is your best bet into the tailgating and arena entrance.
If you are driving to the venue, there is cash parking available in the Luxor, Excalibur, and MGM Gran parking garages.
There are 2 complimentary tram services to and from T-Mobile Arena: The Mandalay Bay – Luxor – Excalibur tram and the Park MGM – Aria – Bellagio Tram.
The following items are prohibited in the Toshiba Plaza outside the stabium:

NO Coolers
NO Large Bags or Backpacks
NO Weapons
NO Unopened Outside Alcohol

The following items are prohibited inside of T-Mobile Arena:

No bags or backpacks will be permitted into the venue except for small personal bags or purses (12″ x 12″x 6″ max) Please note that some events may enforce a modified bag policy. Please see the specific event page or contact Guest Services for further information.
Cameras with interchangeable/detachable lens or external flash (No Professional Photography)
Audio/Visual Recording Devices (includes GoPro, Google Glass, Spectacles, etc.)
Selfie Sticks, Tripods, Monopods
Outside Food, Beverage, or Alcohol
Cans, Metal/Glass/Plastic Containers, Bottles, or Flasks (empty or sealed bottles included)
Laptops, Tablets, Personal Computers, or Two-Way Radios
Weapons, Firearms, Pepper Spray, Pocket Knives or Mace
Illegal Drugs or Substances
Flammable Liquids, Aerosol Cans, or Permanent Markers
Flashlights, Laser Pointers, Light/Glow Sticks, Flares, or Fireworks
Noise Making Devices (i.e. Air Horns, whistles, bells, vuvuzelas, etc.)
Balloons, Balls, Projectiles, or Optical Illusions
Skateboards, Segways, Scooters, Rollerblades, Bicycles, Hover boards, and Helmets
Coolers, Ice Chests, Folding Chairs, or Pointed-Tip Umbrellas
Flowers (unless otherwise permitted by Tour Production)
Seat Cushions or Booster Seats
Patrons Without Shoes or Shirt
Masks, Chains, or Studded Belts/Bracelets
Drones (without prior written consent from Arena Management)
Animals or Pets (accommodations made for trained, harnessed, and housebroken service animals)
Unapproved Pamphlets, Handouts, Ads, or Flyers without prior consent from Arena Management
Clothing, garments, or signs displaying explicit language, profanity, or derogatory characterization toward any person(s)
Signs, Flags, or Banners exceeding 11" x 17" or attached to a pole/stick. Signs must be relevant to event. Signs may not contain or display obscene or offensive language and/or pictures as determined by T-Mobile Arena Management. Management reserves the right to prohibit or remove a sign or banner at any time.
Did we miss any T-Mobile Arena tips in our guide? Comment below if you have any further information to share!
Visit our home page for more tour and arena information including tickets, dates, setlists, live videos & more.

Follow us on Twitter and Facebook today!