Bruno Mars Tour Guide: 24K Magic Setlist, Tickets

Ticketmaster Tickets Link: Click Here Tour Announced On:

Feb 2, 2018

Presale Date:

Feb 12, 2018

On Sale Date:

Feb 16, 2018

Tour Start Date:

Sep 7, 2018

Tour End Date:

Nov 11, 2018

Openers:

Boyz 2 Men, Charlie Wilson, Ciara, Ella Mai (see tour dates)

Latest Album: 24K Magic Release Date:

Nov 18, 2016

Subscribe to Stadium Help




Bruno Mars Tour Guide: 24K Magic Setlist, Tickets, Media




You want the best Bruno Mars tour guide and information for the 24K Magic tour. We have full Bruno Mars concert details including 24K Magic tour setlist, dates, VIP packages, merchandise, live videos and more.

But that's not all..

For the best Bruno Mars tickets, we offer official and direct links to both Ticketmaster and StubHub. Follow us on Twitter and Facebook for up to the minute concert news and information!

The latest tickets for Bruno Mars's tour were announced on Feb 2, 2018. The tour dates begin on Sep 7, 2018 and continue until Nov 11, 2018.

Bruno Mars 24K Magic Tour Latest News

September 8th: Bruno Mars kicked off the final leg of his 24K Magic tour last night and we've updated the setlist below! As well, check out the new merch down in the media section of this guide!

August 14th: Bruno Mars has announced the new tour openers after Cardi B unexpectedly dropped out late last month. Check out who is opening each show in the tour dates area.

August 1st: Bruno Mars has added a third Hawaii show to his upcoming 24K Magic tour. Tickets for the November 8th show at Aloha Stadium go on sale this Friday at 10am. Grab your tickets for all other shows below now!

July 26th: Cardi B has announced that she is pulling out of her 24K Magic opening spot on the Bruno Mars tour. Her full statement is as follows:

As of today I've decided I won't be joining Bruno on tour this fall. I thought that after giving birth to my daughter that 6 weeks would be enough time for me to recover mentally and physically. I also thought that I'd be able to bring her with me on tour, but I think I underestimated this whole mommy thing. Not only am I just not ready physically, I'm not ready to leave my baby behind since the doctor's explained it's not healthy for her to be on the road. I hope you guys understand that this decision has been the hardest to make but I have to do what's best for myself and my baby! Thank you Bruno for being so supportive and understanding.

February 12th: 10 days after announced the last leg of his 24K Magic tour, Bruno Mars has unveiled full tour dates and ticket information. Read the details below!

February 2nd: Bruno Mars has announced one last leg of his 24K Magic Tour guide, this time bringing along Cardi B for a final 12 shows across North America. Get all of the details about the Bruno Mars tour in our guide below.

Bruno Mars Tour Quick Links
Bruno Mars Profile
Bruno Mars is a pop artist who has released three albums, including his latest "24K Magic" in 2016. 24K Magic has been a worldwide success, recently winning Bruno Mars multiple Grammy Awards on the re-release of his "Finesse" single which now features Cardi B on the track.

Some of Bruno Mars' biggest singles include Uptown Funk, That's What I Like, Just The Way You Are, and 24K Magic.

Bruno has been celebrating the 24K Magic tour over the past two years with shows all around the world and has announced a final 13 shows before officially putting 24K Magic to rest.

The tour was originally suppose to feature Cardi B as the opener, but she unexpectedly had to pull out following the birth of her daughter.

Bruno Mars Upcoming Events: How to Buy Bruno Mars 24K Magic Tickets
Current Bruno Mars tour dates and locations are listed below! Keep checking our home page for updated tour guide information. Underneath the tour dates, check out the Bruno Mars setlist and concert videos, photos, and media.
Date
Name
Bruno Mars Concert Location
Buy Tickets
February 02, 2019
Bud Light Super Bowl Music Fest - Super Bowl Eve Bruno Mars & Cardi B
State Farm Arena
Atlanta, GA, US
Ticketmaster
SeatGeek
Need a hotel for the concert? Use the Booking.com search box below and reserve a hotel for the show today!
All Bruno Mars ticket links offered on our site, both official through Ticketmaster and resale through SeatGeek are 100% guaranteed and legitimate. Guarantee your spot for this concert today.
Click here to see available Seatgeek tickets
Click here to puchase Bruno Mars tour tickets directly through Ticketmaster.com.

Bruno Mars 24K Magic Setlist
Click on each link in the setlist to view live concert videos.

The Bruno Marstour setlist for the last leg of his tour is below.

Bruno Mars Tour 24K Magic Setlist

Finesse

24K Magic

Treasure

Perm

Calling All My Lovelies

Chunky

That's What I Like

Saxophone Solo

Versace on the Floor

Marry You

Drum Solo

Runaway Baby

When I Was Your Man

Piano Solo

Locked Out of Heaven

Just the Way You Are

Click here to view the full Bruno Mars 2018 24K Magic Concert

What else?

Take a look at the latest tour news or Tickets section for great information on the Bruno Mars tour.

Our home page has concert information such as setlists, live videos, and tickets for other artists.





Bruno Mars VIP Packages/Special Tickets
We have no VIP or special packages information for this tour! Get in touch with us on social media or comment below if you have more information.
If you are interested in purchasing a VIP package, check out our tickets section and select your show to access VIP tickets.
Bruno Mars Merch & Media
Bruno Mars Tour Merchandise
Click here to puchase Bruno Mars merch for the upcoming tour through Redbubble, the top source for artist apparel and merchandise.

Redbubble is a platform where artists can sell their creations to fans. They contain millions of designs that can be printed on apparel, phone cases, wall art, home decor, stationary, bags, and other products. If you choose to buy any Bruno Mars apparel, Redbubble compensates us and you help keep Stadium Help going. Have a look at what is available via the link above.
Bruno Mars 24K Magic Concert Photos
COMING SOON: Submit your concert photos and earn SH points which you can convert to real money! Follow us on Twitter and Facebook to be the first to know when this feature launches.
There are no concert photos yet!
Check out the setlist section for live concert videos.
Check out a preview of the Bruno Mars tour merch below: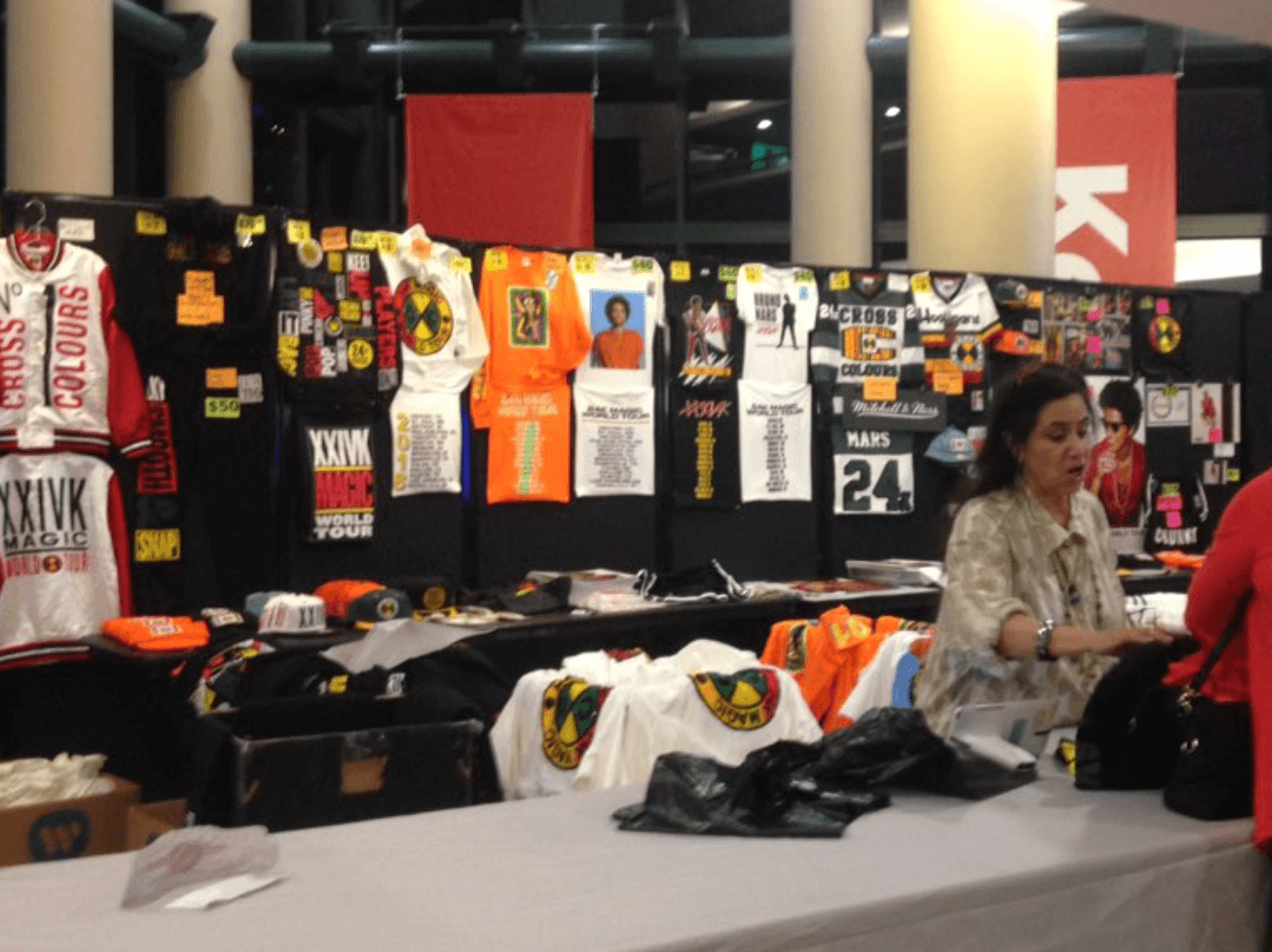 Did we miss anything in our Bruno Mars tour guide? Make sure to come back and view the updated Bruno Mars setlist for the 24K Magic tour if it has not begun let. Comment below if you have any further information to share!
Visit our home page for more tour information including tickets, dates, setlist, live videos & more.

Follow us on Twitter and Facebook today!