Category: Music Festivals
The 2017 Pemberton lineup has been cancelled after the parent company went bankrupt, leaving ticket holders confused and unsure of their refund status.
The official Pemberton website now shows a memo explaining the situation, saying that ticket holder cannot get a direct refund from the festival because it is now in bankruptcy.
Ticket holders are urged to check into their credit card rules and see whether they can get their money back that way.
The 2017 Pemberton Music Festival scheduled for July 13 – 16, 2017 is cancelled and will not proceed as scheduled. The Trustee will issue formal notice of the bankruptcy proceeding to all known creditors of PMF within 5 days of its appointment.

Unfortunately there are no automatic refunds from PMF. As PMF is now in bankruptcy, it has no ability to provide refunds for tickets purchased. However ticketholders may file a proof of claim form as an unsecured creditor with EYI in accordance with the claims process. Proof of claim forms will be mailed to known PMF creditors in due course and made available on the Trustee's website. A determination of recovery, if any, on the claims of ticket holders from the estate will not be known for several weeks. The Trustee will provide an update to creditors in due course.

Refunds may be available to ticketholders from third parties if tickets were purchased using a credit card. As each bank and credit card issuer have their own specific policies, ticketholders are to contact their bank or credit card issuer directly to determine whether a refund can be obtained. The Trustee will provide further details concerning contact information for the various credit cards and financial institutions on its website.

Important information pertaining to the PMF bankruptcy proceeding is available on the Trustee's website at: www.ey.com/ca/pmf or by calling the EYI representatives noted below:
___
Original Post:
The 2017 Pemberton lineup below shows all of the major artists performing at the Pemberton Festival from July 13-16 in Pemberton, BC. Read our Pemberton Festival Guide below for tips and information on tickets, parking, and more!
The Pemberton music festival is a yearly event spanning 4 days of food, music and arts underneath Mt. Currie. The event celebrates multiple music genres. This year, the 2017 Pemberton lineup is headlined by Chance the Rapper, Muse and A Tribe Called Quest.
For a complete 2017 Pemberton festival guide, including lineup, tickets, hotels and more, read on below:
2017 Sasquatch Lineup
Chance the Rapper
Muse
A Tribe Called Quest
Major Lazer
Haim
Run The Jewels
Marshmello
Diplo
Big Sean
Ween
Alesso
Logic
Tegan & Sara
MGMT
Future Islands
Zeds Dead
Migos
Carnage
Lil Uzi Vert
Nathaniel Rateliff & The Night Sweats
Slightly Stoopid
Ben Harper & The Innocent Criminals
Griz
Nelly
Rebelution
Lil Yachty
Deorro
A Tribe Called Red
Majid Jordan
Local Natives
Khalid
Eagles of Death Metal
The Avalanches
Bob Moses
July Talk
Joey Bada$$
6lack
Amine
Thundercat
Cashmere Cat
Shovels & Rope
The Rural Alberta Advantage
Noname
Broods
Sonreal
K. Flay
Grandtheft
Roy Woods
Mr. Carmack
Current Swell
Hamilton Leithauser
Denzel Crry
Lecrae
Said the Whale
Pup
Giraffage
Pvris
Boyfriend
Dirty Radio
Tennyson
Marcus King Band
Kilo Kish
Tasha the Amazon
A. Chal
Hundred Waters
2017 Pemberton Tickets and Accommodations 
Festival tickets and camping passes can only be purchased through their website here!
All festival passes come bundled with your camping tickets, depending on which one is bought. Nestle under the stars in the campgrounds with great views of mother nature and the stunning Mt. Currie.
G.A. Ticket/Camping - $354 Advance and $369 Regular. 4 days of music performances, great variety of food and drink vendors and a groomed campsite equipped with free water refill stations, shade structures and more!
VIP Ticket/Camping - $879 Advance and $899 Regular. Access to the VIP-only area with better views of the stages, shade and air conditioned washrooms. Up-front viewing at the main stage along with special VIP entrances. They will also help you get your gear from your car to the campground because why not?
Super VIP Ticket/Camping - $1,699 Advance and $1,799 Regular. Includes a welcome package, golf cart taxi service, a poster, air-conditioned Super VIP lounge, concierge service available as well as access to all VIP benefits.
RV Camping - $699 up to 8 people. They provide the camping area and you provide the RV. Located in a dedicated RV area.
Pemberton Directions
To find the festival, here are some Pemberton directions from all over:
2.5 hours North of Vancouver
1.25 hours North of Squamish
30 minutes North of Whistler
From Vancouver Airport: ETA of 2 hours and 15 minutes (170 km). Proceed over Arthur Lang Bridge and exit on Granville Street Bridge, exit on Seymour Street. Access Highway 1, exit towards Squamish and Whistler and drive on Highway 99 to Pemberton.
From Downtown Vancouver: ETA of 2 hours (158 km). Proceed on Georgia Street over Lions Gate bridge. Look for West Vancouver exit, merge left under Highway 1 and turn left under the overpass. Exit on Highway 99 to Pemberton.
From Seattle/California: ETA of 4 hours and 30 minutes (239 miles). Take Highway 405 unless heading in Seattle. The 405 eventually rejoins Interstate 5. From there another 80 miles to the border. Look for signs for the towns of Everett then Bellingham and then Blaine is right at the border.
Pemberton Festival Guide Tips
You CAN bring blankets/towels, non-professional cameras, one sealed water bottle up to 2 litres in size, one empty water container up to 2 litres in size, sunscreen.
You CANNOT bring any alcohol, glass, lawn chairs, laser pointers, animals, bicycles, recording devices, or weapons.
It is recommended that you bring a hat, sunscreen, sunglasses, and a light jacket for the evening. You will be allowed re-entry with your pass if you forget anything but you will be searched each time.
There will be a wide variety of food and drink vendors around the site.
And there is your 2017 Pemberton lineup and festival guide!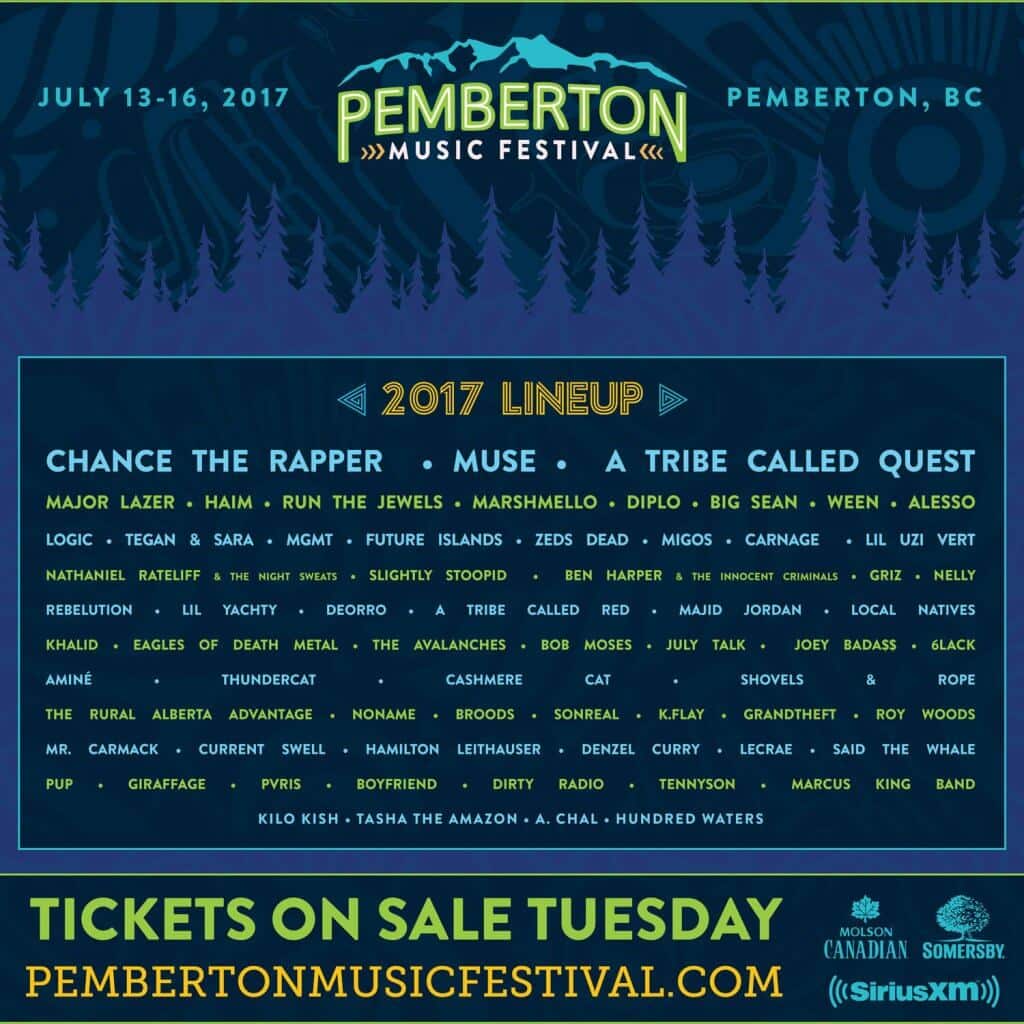 Get in touch with us on Twitter and Facebook if you need any concert tour guide info or tickets, hotels, or stadium tips!
Subscribe to Stadium Help
Tour Guides - Concert Setlist - Festival Lineup - Stadium Info - Best Stadiums - Tour Dates
Subscribe To Us