Chase Field is home to the Arizona Diamondbacks of Major League Baseball. If you are attending an upcoming game, this guide highlights important parking tips to help you make the most of the experience.
Some of what you'll learn in this article include:
Official lot options
Third-party parking availability
Areas to look for free parking
Handicap parking solutions
Public transit options for Chase Field events
Other valuable parking tips to save time and money
Found in the heart of downtown Phoenix, there is plenty to do and see in the area around the stadium. Despite the metropolitan setting, there are many good parking options within close proximity to the facility, so you should be able to find something that suits your needs nicely.
Chase Field Parking Summary
There are numerous parking options available around Chase Field, including official lots, private lots, and garages. Fans can pre-book parking spaces through third-party apps or websites, which helps alleviate stress on event days. The parking facilities around the stadium include a mix of surface lots and multi-story garages. Special accommodations are available, with reserved parking spaces for people with disabilities and other specific needs.
Parking prices around Chase Field can vary, with some options being more affordable than others. The stadium is accessible via Phoenix's Valley Metro light rail system, making it relatively convenient for fans to reach the venue without relying on parking.
Street parking in the area surrounding Chase Field can be difficult to find and is often subject to various restrictions.
Official Chase Field Parking Lots
There are four parking lots immediately around the stadium, and all offer easy access to one of the gates for entry.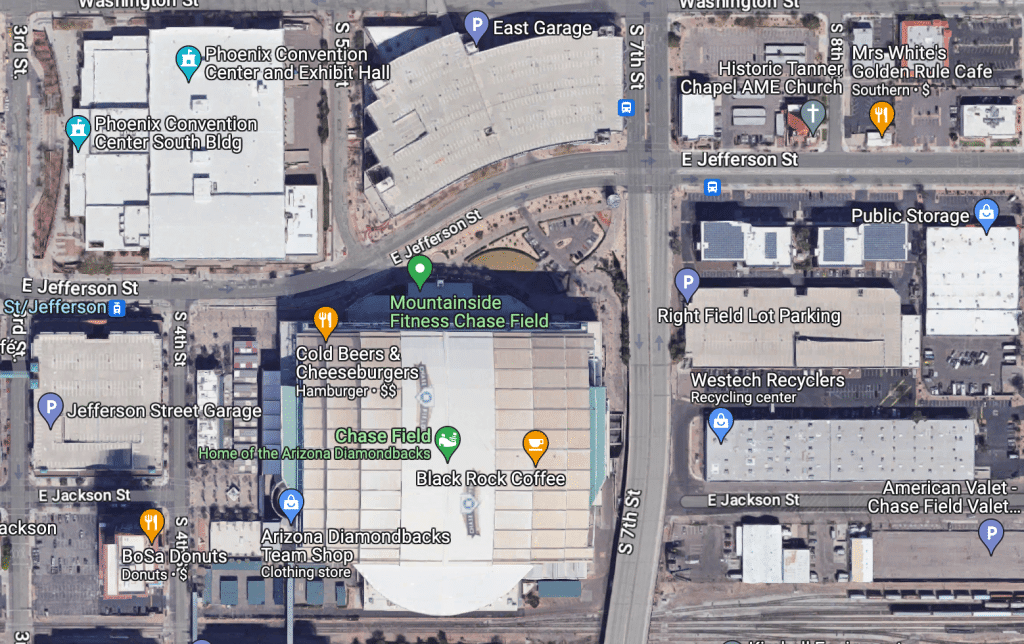 It's worth noting that the Phoenix Convention Center and Exhibit Hall is located just to the north of Chase Field, so parking can become more difficult if an event is being held at the convention center at the same time as a game in the stadium.
Main Parking Lots
My favorite of the four main parking lots is the Jefferson Street Garage between 3rd and 4th Street. Parking in this garage provides just a short walk to the stadium, and it's easy from this direction to stop for a bite to eat.
However, if you are hoping to make a quick exit after the game, you think about parking at the East Jackson Lot, which is smaller and only offers surface-level parking, meaning you won't have to wait nearly as long to be on your way.
EV Parking at State Farm Stadium
Some EV charging stations are located very close to the stadium, on East Jackson Street, just to the west of Chase Field. Three Blink Charging Stations are located on the north side of the street, so you may be able to secure one of these spots to charge up your vehicle if they are available. Be sure to obey any signs that regulate the use of these street spots.
Accessible Parking Spaces
As long as you have a valid ADA pass or license plate on your vehicle, you should be able to use any parking lots and garages around Chase Field. Look for the ADA spaces within those lots or ask an attendant for assistance.
Third-Party Parking Options at Chase Field
If none of the official lots line up with your needs, consider using the SpotHero widget below to secure third-party parking for an upcoming event. While most of these options will require you to walk a bit farther to reach the stadium, there are great prices available, and an easy exit after the event ends is a nice bonus.
One of the best bets for third-party parking near Chase Field is the 809 East Washington Street lot. This lot offers excellent prices and is just a five-minute walk to the stadium. It's a small lot, so book your spot as soon as possible.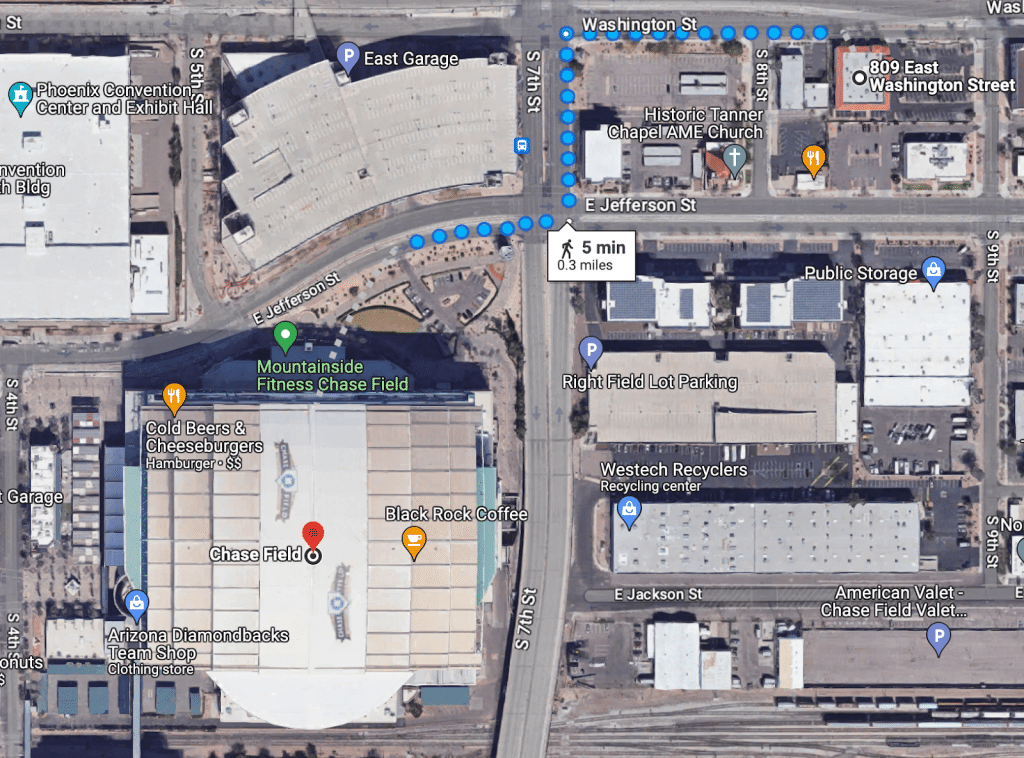 Although they will be more expensive, other contenders for the best third-party parking are the CityScape East Garage and the 201 East Washington Street Garage.
Free Parking at Chase Field
There is free street parking available in Phoenix that you can use for an event at Chase Field. Of course, these spots can be hard to come by, and you might be left to walk a significant distance.
Exploring the streets to the west of the stadium would likely be your best bet for free street parking, although there are no guarantees. The best chance would be looking for street spots in a business district on weekends when most of those businesses are closed.
Public Transportation and Ridesharing to Chase Field
The best way to get to Chase Field using public transportation is to utilize the Valley Metro Rail. There are park-n-ride locations throughout the valley where you can get on the light rail system, and the drop-off station downtown is just a short walk from the stadium. Add the official Valley Metro App to your phone to monitor times and purchase a pass.
When using Uber or Lyft to get to and from a game, note that Washington Street is the designated spot to catch a rideshare. It's just a short distance north to Washington Street from Chase Field, so this is another convenient transportation option.
Bars and Restaurants Near Chase Field
If you like to arrive early for big events to enjoy some food and drink with family and friends, Chase Field can accommodate that desire. One of the most popular spots is Guy Fieri's DTPHX Kitchen + Bar, found adjacent to the stadium on the west side. This establishment is partnered with a Caesars Sportsbook for those who like to place a few wagers.

Chase Field Events
While Arizona Diamondback games are the primary events featured throughout the summer at Chase Field, there are usually a few concerts added to the mix. Use the list below to check out upcoming events and secure your tickets.
Chase Field Parking Tips for a Great Outing
Everyone who attends big events has a horror story about a parking nightmare that caused them to miss the start of the game or concert. Or, if you got in on time, it might have taken you hours to leave after it was over.
Let's review some basic parking tips to ensure that doesn't happen to you at Chase Field.
Arrive Early and Beat Traffic
Chase Field is in the middle of Phoenix at the corner of W Jefferson St. and S 7th St. With this busy location, you'll need plenty of time to deal with traffic, especially on weeknights. Plan your day to get to the stadium early and secure parking before it gets crazy.
Simply check to see when the gates will open, and you can arrive early to enjoy as much time inside the facility as possible.
Know What You Can Bring
Chase Field has specific policies regarding what can and can't come into the building like all other stadiums. Check these rules in advance so you don't have to leave things in the car.
Remember Where You Parked!
There are tons of parking spaces available in the area around Chase Field. With such a massive parking area to cover, you don't want to be searching for your vehicle at the end of the day. Consider snapping a quick picture or your car's location on your phone so you can get back to it easily.
Plan Your Exit Strategy
There is a good chance you'll need to get back to I-10 after the event to make your way home, so consider access to this popular freeway when planning your parking.
Look At a Map
This might sound a little old school in the age of GPS, but looking at the map of the area around the stadium before you leave can help you understand where you'll be going and how everything is laid out.
Conclusion
Attending an event at Chase Field in downtown Phoenix, Arizona, can be a fantastic experience, and parking does not have to be a nightmare. The article has highlighted essential Chase Field parking tips to help make the most of the outing, including official lot options, third-party parking availability, areas to look for free parking, handicap parking solutions, and public transit options.
By arriving early, checking parking availability, and utilizing public transportation, you can save time and money, avoid parking hassles, and enjoy the event to the fullest.
Frequently Asked Questions for Parking at Chase Field (FAQs)
How much does parking cost at Chase Field?
You'll find varied parking prices depending on the event you will attend. It's typically about $20 – $40 to park for an MLB game, but preferred lots will be more and you might find even higher concert prices. It's best to secure your parking as early as possible to give yourself plenty of choices. 
Can I leave my vehicle overnight at Chase Field?
No, there is no overnight parking available. You will need to return to your vehicle and depart reasonably after the event has ended. 
Does Chase Field offer bicycle parking?
If you would like to ride your bicycle to an event at Chase Field, you will find a few different bicycle racks where you can lock up and leave your bike. Two of the most convenient are the racks inside the official Chase Field Garage and the Jefferson Street Garage. 
What alternative transportation options are available?
Public transportation in the form of Valley Metro Rail is a viable option given the stadium's location in the heart of Phoenix. Also, a rideshare service like Uber or Lyft would be convenient for getting to and from this area.
How early are Chase Field parking lots open?
The timing of parking lots opening up for vehicles to enter will depend on the event you are attending. Admission gates for baseball games generally open between 1.5 – 2 hours before the start of the game. Take a moment to confirm this information with the venue or parking facility in advance so you aren't caught off-guard. 
(Visited 1,053 times, 1 visits today)