The Washington Commanders of the National Football League play their home games at FedEx Field. This venue is not actually in Washington, D.C. – it has a North Englewood, MD address – but it is close to the metro area and draws fans from around the region.
This detailed FedEx Field parking tips guide offers detailed parking information, including:
The best official FedEx Field parking lots
Third-party parking lots near FedEx Field you can book in advance
Areas to look for free parking in Washington, D.C.
Handicap parking solutions
Public transit options for Washington Commanders events
Other valuable FedEx Field parking tips to save time and money
With so many exciting events throughout the year held here, you must know where to look for parking whenever you have tickets. The guide below should be a big help!
Official FedEx Field Parking Lots
There is a large area of official parking around FedEx Field. While these might not be the biggest lots in the NFL for official parking, they are certainly big enough to accommodate many of the people who attend games and concerts.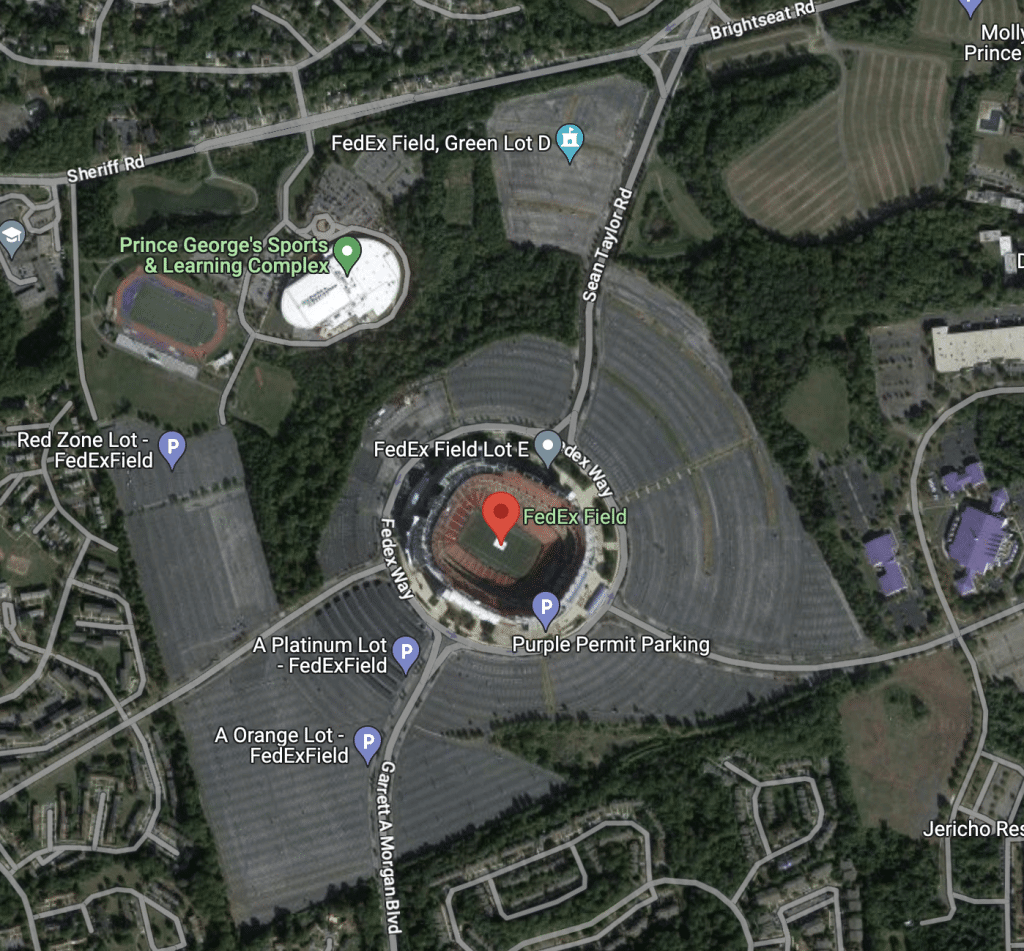 Main Parking Lots
FedEx Field uses colors to designate the various lots around the property. Those closest to the stadium are designated Purple, with Orange lots accounting for the next layer, before getting to Green and Gray. 
Where you can park when you go to an event will depend on availability and what type of event you attend.
For NFL games, many parking spaces are already taken in advance by season ticket holders, while far more spaces will be available for concerts. Buying parking in advance for Commanders games may be impossible unless you go through an aftermarket reseller and pay a premium.
For concerts, the official lots can be purchased through TicketMaster, and it's a good idea to claim your spot as soon as possible if you plan to park on the property. 
If you want to pay for parking when you arrive, the Gray Lot will be your only option. You can approach the stadium area on Brightseat Road via Arena Drive and turn into this parking lot. Of course, a limited number of spaces are available, so it's a good idea to have a backup parking area in mind.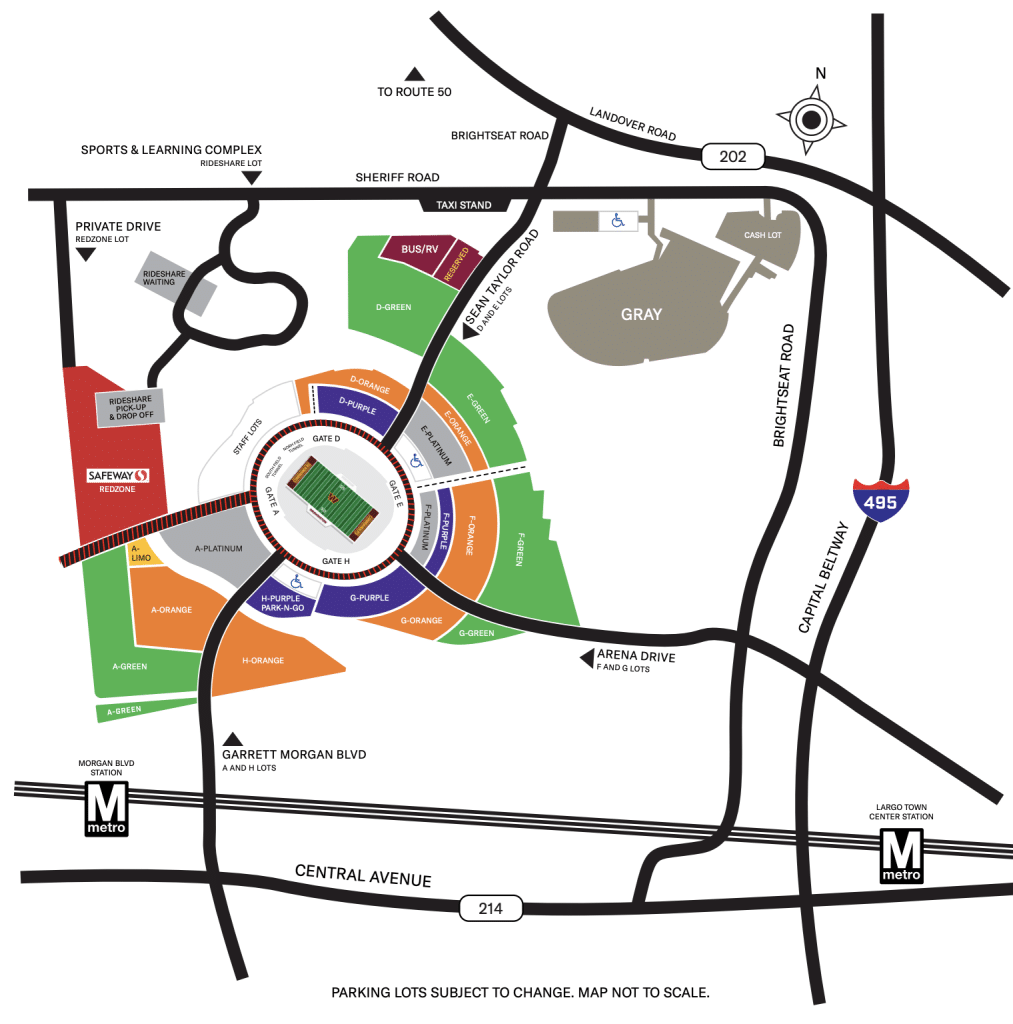 EV Parking at FedEx Field
You won't be able to charge up your electric vehicle if you use it to park at FedEx Field. The best plan is to charge your vehicle fully before leaving for the day, allowing you to enjoy the event while still having more than enough battery power to get back home after it has ended. 
Accessible Parking Spaces
There are accessible parking spaces within the various lots around FedEx Field, and you can see the parts of those lots used for ADA parking on the map above. If you hope to park in the Gray Lot for a football game, arrive quite early to secure a spot before the accessible parking fills up.
Once you have parked, golf cart assistance is offered to help you or a loved one get into the stadium. Simply call the stadium office to request help from the shuttle. 
Third-Party Parking Options at FedEx Field
You will not have many third-party parking options to pick from in the area around FedEx Field. However, by using the SpotHero widget below, you can check for what lots are available on the event date you are attending.
The best third-party parking for FedEx Field is at 1019 Brightseat Road. Not only does this location offer affordable pricing and convenient access, but it's also less than a 20-minute walk from the stadium.
By reserving a spot here before the date of your event arrives, you can avoid the hassles that might come with other parking options and make a quick exit after the event is over.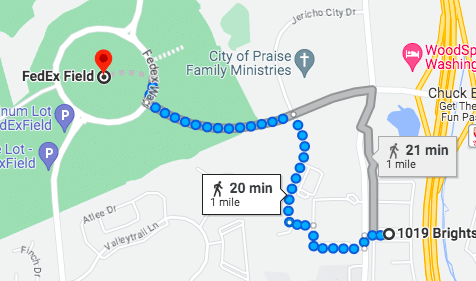 Free Parking at FedEx Field
Finding free parking around any major stadium venue nationwide is a serious challenge. Most of the time, free parking is unavailable, and you'll need to either pay to park your car or use a different form of transportation. 
The story is mostly the same at FedEx Field.
Certainly, if you plan to park on-site, you must pay for your spot. For those willing to walk, there is an outside chance of free parking at the Largo Town Center shopping area to the east of the stadium.
However, it's important to obey any signs posted on the day of the event, as parking to walk to the stadium may be prohibited at that time and you could run the risk of a ticket or a tow. 
Public Transportation to FedEx Field
Many people use public transportation to get to events at FedEx Field. The Metro is the way to go if you'd like this option.
Specifically, the Silver or Blue lines will serve you well by stopping at the Morgan Boulevard Metro Station. It's a short walk from that station to the stadium's gates.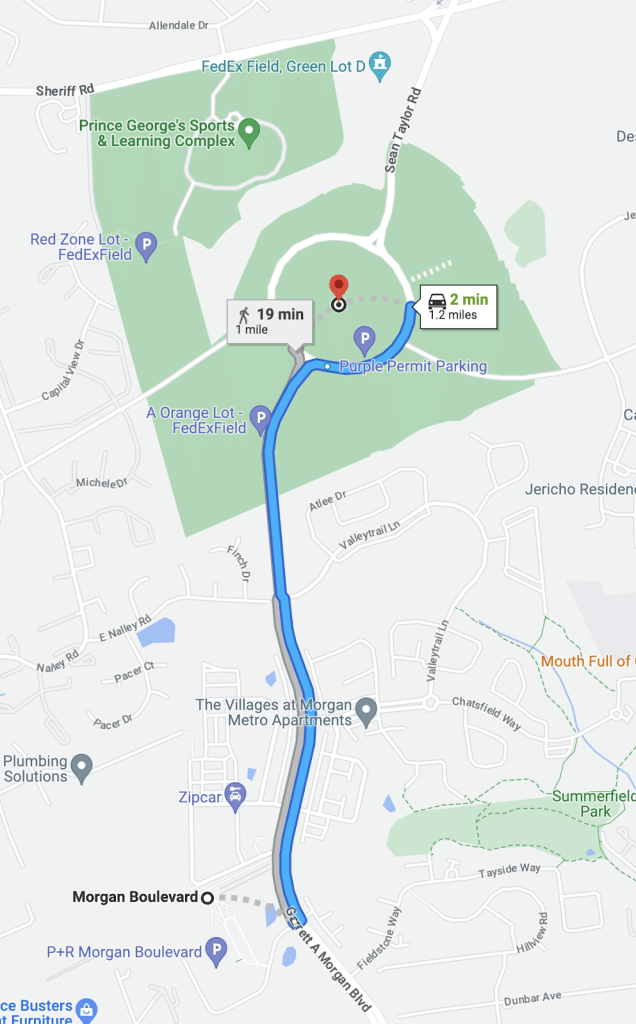 Ridesharing to FedEx Field
The ridesharing lot for FedEx Field is the RedZone Lot, found west of the stadium. Your rideshare driver can use the road for the nearby Sports and Learning Complex to reach that lot, where you'll be able to find the vehicle you requested and head out.
Drop-offs before the event are asked to use this same lot. 
FedEx Field Events
Football games are just one event you can see at FedEx Field. Looking for tickets for an upcoming date? Check out the table below to see what's available and grab your seats.
Tailgating near FedEx Field
The primary tailgating at FedEx Field happens in the RedZone Lot west of the stadium. To accommodate tailgating, this lot opens an hour earlier than other lots.
Unfortunately, it can be quite difficult to secure a parking pass for this lot, as they are typically purchased quickly by season ticket holders and are rarely available for individual games. If you want to get a pass for this tailgating lot before a Commanders game, you'll almost certainly need to get it from a reseller. 
While the RedZone lot is the hub of tailgating, there are other lots on the property where it is permitted. Those include the Gray Lot and D-Purple, F-Purple, F-Purple, Orange, and others.
If you have a parking pass in one of these lots, you can tailgate before the game, but those activities must stop when the game starts.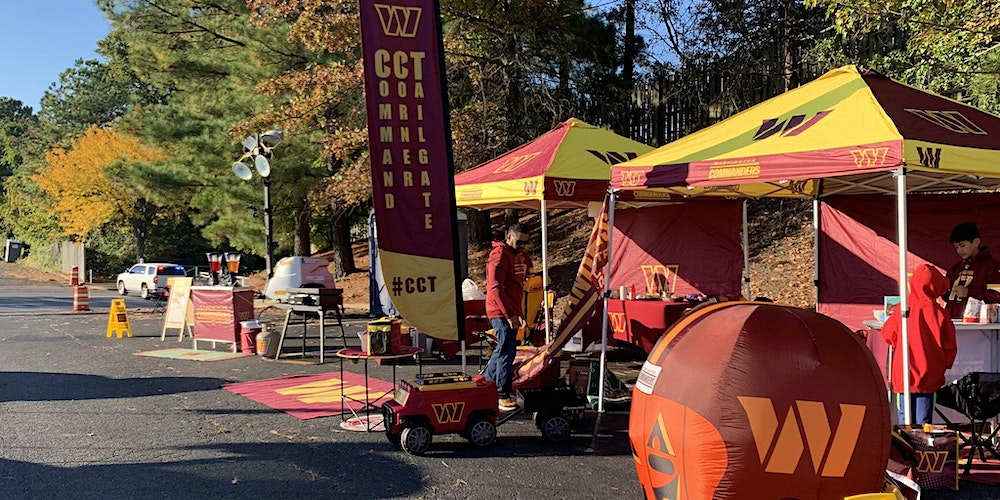 FedEx Field Parking Tips for a Great Outing
Everyone who attends big events has a horror story about a parking nightmare that caused them to miss the start of the game or concert. Or, if you got in on time, it might have taken you hours to leave after it was over.
Let's review some basic parking tips to ensure that doesn't happen to you at FedEx Field.
Arrive Early and Beat Traffic
Depending on your location in the greater D.C. area, you might face challenging traffic conditions when trying to get to FedEx Field. Plan your day to get to the stadium early and secure parking before it gets crazy. 
Simply check to see when the gates will open, and you can arrive early to enjoy as much time inside the facility as possible.
Know What You Can Bring
FedEx Field has specific policies regarding what can and can't come into the building like all other stadiums. Check these rules in advance so you don't have to leave things in the car.
Remember Where You Parked!
There are tons of parking spaces available in the area around FedEx Field. With such a massive parking area to cover, you don't want to be searching for your vehicle at the end of the day. Consider snapping a quick picture or your car's location on your phone so you can get back to it easily. 
Don't Leave Things in Your Vehicle
With so many vehicles left unattended for hours, there is always the threat of criminal activity while an event is going on. To reduce the chances of theft, leave any valuable items at home, or at least tuck them away out of sight in your car or truck. And, of course, remember to lock up!
Look At a Map
This might sound a little old school in the age of GPS, but looking at the map of the area around the stadium before you leave can help you understand where you'll be going and how everything is laid out.
Conclusion
In conclusion, navigating parking at FedEx Field for Washington Commanders games and other events requires planning and knowledge. This comprehensive FedEx Field parking tips guide provides valuable tips and information to ensure a smooth parking experience.
Ample official on-site parking is available, however, it may be hard to reserve a spot for NFL games. Remember to arrive early, know the parking policies, and keep track of your parking location.
By following these tips, you can make the most of your time at FedEx Field without the stress of parking-related issues.
Frequently Asked Questions for Parking at FedEx Field (FAQs)
How much does parking cost at FedEx Field?
You'll find varied parking prices depending on the event you will attend. It's typically about $40 to $60 to park for an NFL game, but preferred lots will be more, and you might find even higher concert prices. It's best to secure your parking as early as possible to give yourself plenty of choices. 
Is Official FedEx Field Parking or a Third-Party Lot the Better Option?
The limited third-party parking options in the area mean that official FedEx Field lots will be your better option by default. You can purchase parking in advance or head toward the Gray Lot, which allows you to pay upon arrival. Otherwise, you might want to look into another form of transportation to get to the game.
Can I leave my vehicle overnight at FedEx Field?
No, there is no overnight parking available. You must return to your vehicle and depart reasonably after the event ends. 
Does FedEx Field offer bicycle parking?
Riding a bike to FedEx Field is not a recommended mode of transportation. In addition to potentially having trouble accessing the stadium area on a bike, you'll also have trouble finding a secure place to lock up the bike while inside. Consider driving a vehicle or using another mode of transportation to get to the venue for your event.
What alternative transportation options are available to FedEx Field?
You can use a rideshare service to get to FedEx Field or one of the available public transportation options to make the trip. 
How early are FedEx Field parking lots open?
The timing of parking lots opening up for vehicles to enter will depend on the event you are attending. For Commanders games, most official parking lots usually open at 12:00 PM, with the RedZone lot opening at 11:00 AM. 
(Visited 884 times, 2 visits today)