The Florida Panthers of the NHL play their home games at FLA Live Arena in Sunrise, FL. We have created this parking guide to help you find the best options around this venue. 
This detailed FLA Live Arena parking tips guide offers detailed parking information, including:
The best official FLA Live Arena parking lots
Third-party parking lots near FLA Live Arena you can book in advance
Areas to look for free parking in Sunrise
Handicap parking solutions
Public transit options for Florida Panthers events
Other valuable FLA Live Arena parking tips to save time and money
If you have tickets to an upcoming hockey game or another event, the information on this page should help make your experience good.
Official FLA Live Arena Parking Lots
There is a huge area of official on-site parking surrounding FLA Live Arena. If you are going to drive to an event at this venue, you'll almost certainly want to park in one of the official lots.
This will leave you with convenient access to the arena entrances. The length of the walk you face will vary depending on the lot you are in. 
Main Parking Lots
The main parking lots on the property of FLA Live Arena are marked as lots A and D on the map below. Closer to the arena, there are parking lots for Suite and Club ticket holders and disabled guests.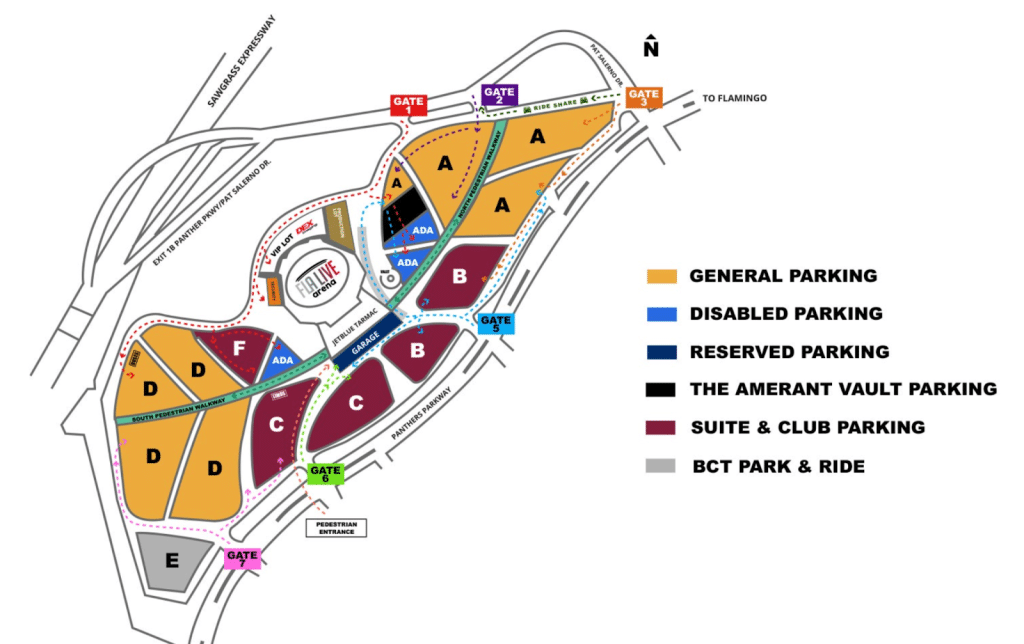 If you'd like to purchase a parking pass for an upcoming hockey game at this venue, you can buy it alongside your ticket. The venue sells parking passes directly to guests using this platform, and the prices will vary based on the event you are attending and the lot you select. You can expect to spend $30 to $40 for the general parking lots, A and D. 
You may also purchase parking when you arrive at the venue, as long as space remains. If you purchase parking when you arrive, however, expect the price to be a few dollars higher than if you purchased in advance online.
Premium Parking Lots
For a premium parking experience, consider using the Valet Lot. You'll pay roughly twice as much to park here as you would for general parking, but you'll get a prime location and the luxury of having a valet handle your vehicle before and after the event.
This lot can be reserved through Ticketmaster just like the general parking. 
EV Parking at FLA Live Arena
Don't expect to be able to charge your electric vehicle while attending an event at FLA Live Arena. If you drive an EV, make a point to charge it fully in advance so you can use a standard parking space in any of the available lots. 
Accessible Parking Spaces
There are accessible parking spaces in the various lots on the property of FLA Live Arena. If you have the necessary placard to use an ADA spot, follow the signs for accessible parking when you arrive and ask the parking attendants if you need assistance.
These spots are available on a first-come, first-served basis, so it's wise to arrive early to have a better chance of securing a spot that serves your needs. 
Third-Party Parking Options at FLA Live Arena
SpotHero is a great tool for finding affordable, convenient parking near some of the biggest venues in the country. However, for FLA Live Arena, you will need to use a different method to find somewhere to park. There are no garages listed on SpotHero for this venue. 
Free Parking at FLA Live Arena
For most people, the best option when driving to FLA Live Arena is to use the official paid parking on the venue's property. If you are looking for somewhere to park for free, you might be drawn to the shopping mall across the street within walking distance.
There is ample parking on the mall's property, but you will want to check signs regarding their parking rules. The lots are likely reserved only for customers.
If you will patronize the mall and then head to an event, it might be worth asking if you can leave your vehicle for that time. Play it safe so you don't risk picking up a ticket or getting towed. 
Public Transportation to FLA Live Arena
The public transportation options to get to this arena are limited. Given the suburban location, this venue is not close to any major public transit lines. Driving or using a rideshare service to get to FLA Live Arena will serve you best.
If you want to explore using a bus route to get here, try lines 36 and 72. Be sure to consult a route map and schedule in advance to see if the bus service in the area will serve your needs. 
Ridesharing to FLA Live Arena
There is a dedicated area for rideshare pick-ups and drop-offs near the arena. Drivers should use Gate 3 to access FLA Live Arena, and Gate 2 to leave.
To get in or out of your rideshare, meet at the north end of the North Pedestrian Walkway entrance. 
FLA Live Arena Events
Even if you aren't interested in hockey, there are plenty of other events to consider attending at FLA Live Arena. Use the table below to see what's coming up soon and get your tickets immediately.
| Date | Name | Location | Buy Tickets |
| --- | --- | --- | --- |
Bars and Restaurants near FLA Live Arena
As a result of the suburban, residential setting around FLA Live Arena, there aren't a ton of dining options within a convenient distance of the venue. However, the Sawgrass Mills shopping center is just across the street, and there are some restaurants in that area to pick from.
Hanging out at the mall won't give you the classic "game day" vibe of dining in other cities before a game, but it will work nicely if you need a place to have a meal. 
Perhaps the best option for a setting that will get you ready for a game is Yard House, a national sports bar chain. There are plenty of classic American dishes to pick from in this establishment and a long list of beers and other beverages to consider. Other dining options in the mall area include The Cheesecake Factory, Seasons 52, and P.F. Chang's.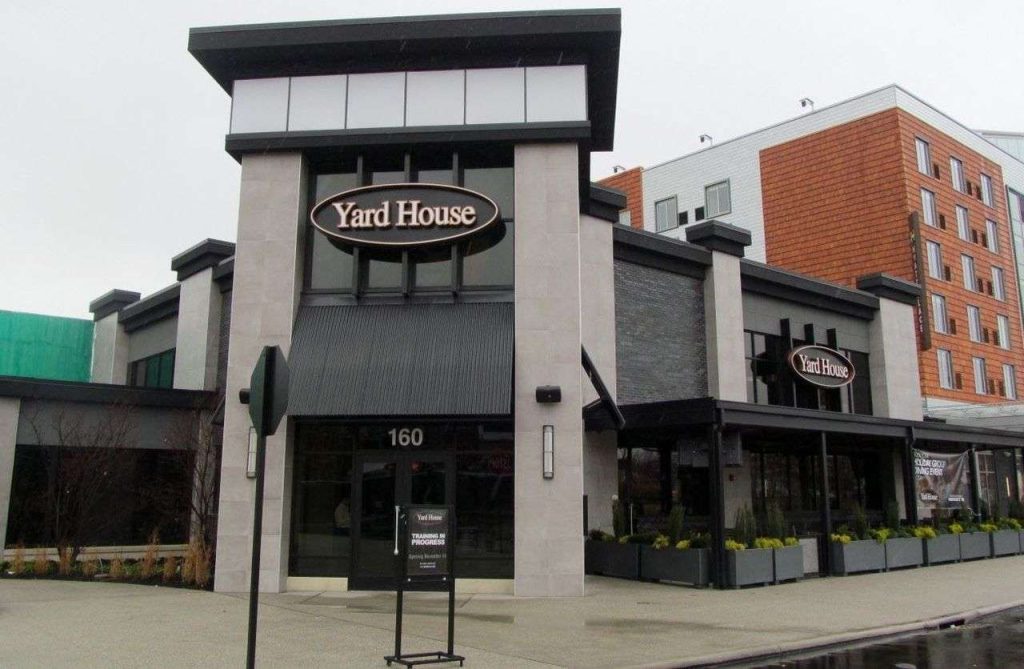 FLA Live Arena Parking Tips for a Great Outing
Attending an event at an NBA arena should be a relaxing, enjoyable experience. Sometimes, however, traffic and transportation issues get in the way and turn the outing into a bit of a nightmare.
Let's review some basic parking and travel tips to ensure that doesn't happen to you at FLA Live Arena.
Arrive Early and Beat Traffic
Traffic in the area around this venue can get challenging when an event is on schedule. Plan your day to get to the arena early and secure parking before it gets crazy. 
Check to see when the gates will open, and you can arrive early to enjoy as much time inside the facility as possible. 
Know What You Can Bring
FLA Live Arena has specific policies regarding what can and can't come into the building like all other stadiums. Check these rules in advance so you don't have to leave things in the car.
Remember Where You Parked!
There are plenty of parking spaces available in the area around FLA Live Arena. With such a massive parking area to cover, you don't want to be searching for your vehicle at the end of the day. Consider snapping a quick picture of your car's location on your phone so you can get back to it easily.
Take Security Measures
You should always consider safety when parking for an event at a popular arena. Be sure to lock your vehicle as a starting point and remove anything valuable from the car or truck before leaving home. You might want to park in a well-lit area for more security.
Have a Backup Plan
Unless you have purchased a parking pass in advance, it's a good idea to have at least a few parking options in mind when you head out. That way, if your first option is full or otherwise unavailable, you won't have to scramble to figure out where to go next.
Conclusion
Navigating your parking experience at FLA Live Arena for Florida Panthers games or other events can greatly enhance your overall outing. This comprehensive guide provides invaluable insights into official parking lots, third-party options, and transportation alternatives.
Arriving early, understanding venue policies, and taking security precautions are all keys to a smooth and enjoyable experience. With these tips in hand, you can confidently enjoy your time at FLA Live Arena.
Frequently Asked Questions for Parking at FLA Live Arena (FAQs)
How much does parking cost at FLA Live Arena?
You'll find varied parking prices depending on the event you will attend. It's typically about $20 to $40 to park for an NHL game, but preferred lots will be more, and you might find even higher concert prices. It's best to secure your parking as early as possible to give yourself plenty of choices.
Is Official FLA Live Arena Parking or a Third-Party Lot the Better Option?
Official parking is the way to go at this venue. There are large lots surrounding the arena, and you have your pick of prices depending on where you want to be able to park. The parking can be a little pricey, but it's really the only viable option if you are going to drive. 
What is the closest parking lot to FLA Live Arena?
The Valet Lot, along with the lots for Suite and Club ticket holders, are very close to the entrances of FLA Live Arena. With that said, even the general parking lots offer a relatively short walk to the gates. 
Does FLA Live Arena offer bicycle parking?
Yes, there are bicycle racks that are free to use on the property of FLA Live Arena. If you plan to ride your bike, just make sure you have a quality lock to secure it to a rack while you are inside.
What alternative transportation options are available to FLA Live Arena?
Alternative modes of transportation that could work to get you to FLA Live Arena include using public transportation (although options are limited), taking a rideshare service, or riding your bike.
How early are FLA Live Arena parking lots open?
The timing of parking lots opening up for vehicles to enter will depend on the event you are attending. If you buy parking in advance, the opening time of the lot should be included with your pass. Take a moment to confirm this information with the venue or parking facility in advance so you aren't caught off-guard.
(Visited 48 times, 1 visits today)