Located in downtown Baltimore's heart of the action, M&T Bank Stadium is a beautiful facility that hosts the Baltimore Ravens home games and many other events. If you have tickets for an upcoming event, it's never too early to figure out where you will park.
This M&T Bank Stadium parking tips guide has been created to provide the following info:
Official parking lots for the facility
Third-party parking options close to M&T Bank Stadium
Possible free parking areas
Handicap parking availability
M&T Bank Stadium public transport options
Tips and tricks to help improve your parking experience
Once you sort out your transportation and parking, you can focus on having a great time before, during, and after your visit to M&T Bank Stadium.
M&T Bank Stadium Parking Summary
M&T Bank Stadium is accessible via Baltimore's MTA light rail, buses, and the MARC train system, making it relatively convenient for fans to reach the venue without relying on parking. Special accommodations are available, with reserved parking spaces for people with disabilities and other specific needs.
Parking capacity around M&T Bank Stadium is moderate, with official lots and some private lots in the surrounding area. The parking facilities around the stadium include a mix of surface lots, multi-story garages, and private lots.
Street parking in the area surrounding M&T Bank Stadium can be difficult to find and is often subject to various restrictions, making it less convenient for fans attending events at the stadium. Baltimore is known for its traffic congestion, which can make navigating to the venue and finding parking more challenging.
Official M&T Bank Stadium Parking Lots
The official parking lots that serve M&T Bank Stadium will put you close to the gates and make it easy to get inside in plenty of time before the event begins.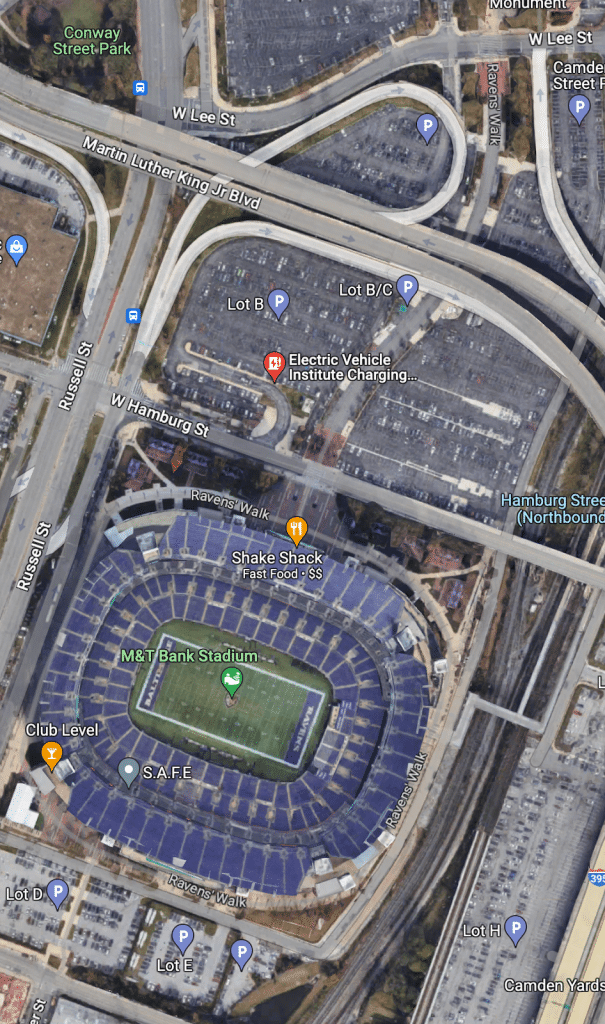 If you'll be attending an upcoming Ravens game, it's important to note that all of the permits for stadium lots are sold out in advance. You won't be able to pull up and buy parking in one of these official lots on the day of the game.
Check out our Third-Party parking section or public transition and rideshare services for day-of-game options.
Main Parking Lots
There are 16 parking lots littered across the area around M&T Bank Stadium. A couple of these lots are south of the stadium, but most are to the north and serve to connect M&T Bank Stadium with nearby Oriole Park at Camden Yards.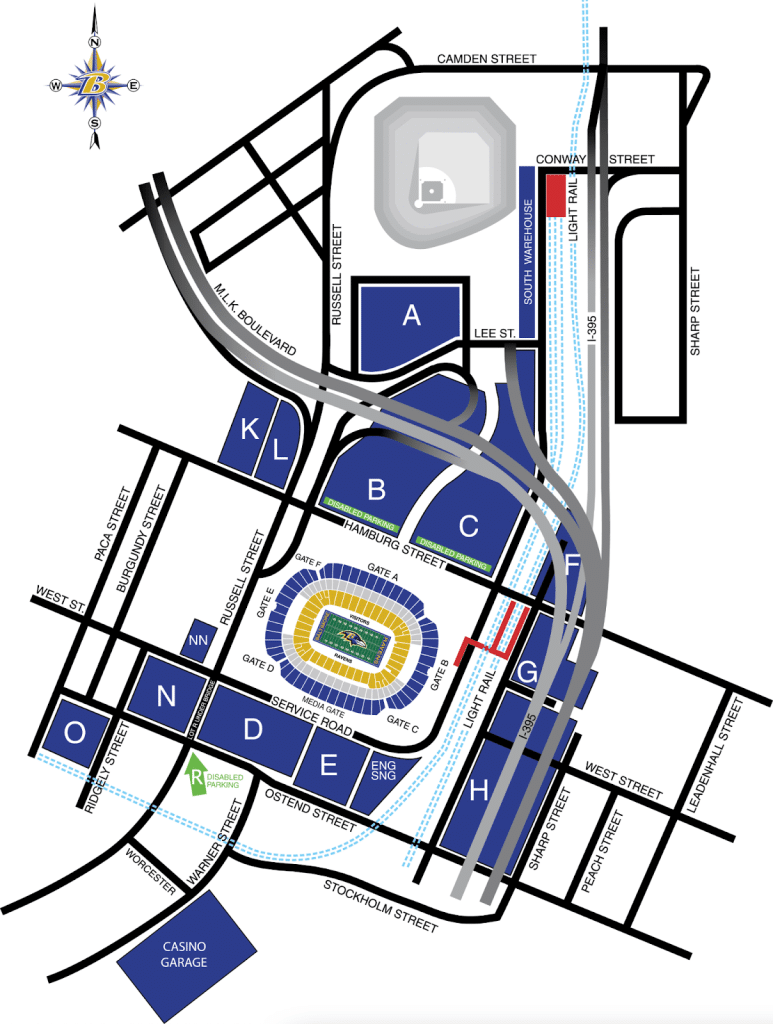 Lots B and C are great choices because they are the largest and offer the easiest access to the main entrance to the stadium.
Lot H underneath the I-395 interstate is another option that provides some cover from the elements in certain spots.
EV Parking at State Farm Stadium
An Electric Vehicle Institute Charging Station is available in Lot B, near the entrance off of Hamburg Street.
Accessible Parking Spaces
Those who require handicap-accessible parking when attending an event at M&T Bank Stadium should utilize official lots B, C, and R. These are the three parking lots specifically able to accommodate handicapped parking needs, so any of these options will serve your needs nicely.
Lots B and C are north of the stadium on Hamburg Street, while R is south of the Stadium on Ostend Street.
While general parking permits are sold out in advance for Ravens games, disabled parking spaces are sold on a first-come, first-served basis on game days. You'll need to have your official, state-issued license plate or placard to be admitted to these spots.
Third-Party Parking Options at M&T Bank Stadium
If you can't secure parking in one of the official lots, there are plenty of third-party options in the immediate area around the stadium.
Using SpotHero is a great way to find the ideal parking spot for your needs. We've added a handy widget below to start your search.
One of my favorite third-party parking options for M&T Bank Stadium is the 510 Scott St. lot. This is a small lot, so you'll likely need to make your reservation well in advance. With that said, it's more affordable than many parking alternatives for events and is just a 10-15 minute walk back to the stadium.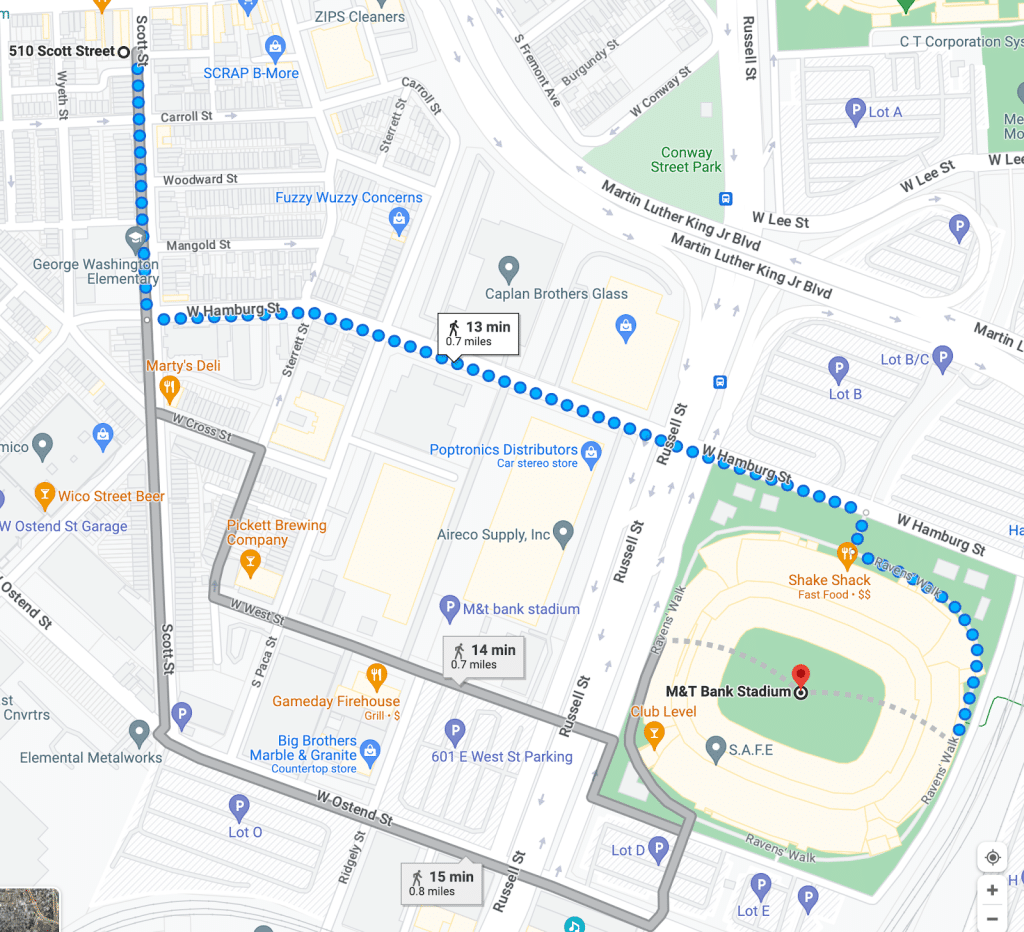 If the 510 Scott St. lot is unavailable, check out the 101 W Cross Street garage. While it is typically more expensive, it's also about a 10-minute walk and offers the advantage of being indoor parking.
Free Parking at M&T Bank Stadium
You aren't going to locate free parking anywhere close to the location of the stadium. If you would like to drive your vehicle and park without paying, you'll need to be willing to walk a significant distance to get to the event.
The Federal Hill neighborhood is one place to look, although options will be limited, and you need to check signs closely to ensure you don't get a ticket. Riverside is also an option, near the Key Highway near the Patapsco River.
Public Transportation and Ridesharing to M&T Bank Stadium
Like most big cities, public transit is one of the best ways to get around Baltimore. That's certainly true for events at M&T Bank Stadium when thousands of people converge on the area. Options include:
Light rail
Local bus service
Metro subway
The light rail line is a great pick for fans from outside the city.
In the city, you can use bus lines 1,3,7,11,14,19,27,35, and 64. If you do ride the light rail, you'll be dropped off on the east side of the stadium with easy access to Gate B.
For rideshare options, the Ravens have partnered with Uber to provide this service. A dedicated rideshare pickup zone after the game is in the Home Plate Plaza near Lot A.
M&T Bank Stadium Tailgating
When attending a Baltimore Ravens game, you can tailgate in any of the surface-level lots, as long as you have a parking pass to get into the lot. You are welcome to continue tailgating until a half-hour after the game starts, which is a liberty not offered at most stadiums nationwide.
One of the highlights of the tailgating experience is known as RavensWalk. The walk is between lots B and C north of the stadium, and it's a lively area with plenty of attractions, merchandise, music, and more.
M&T Bank Stadium Events
This beautiful stadium stays busy throughout the year, so look for events in the table below that you might want to attend. Below the events list, we'll offer even more parking advice for M&T Bank Stadium.
Date
Name
Location
Buy Tickets
December 10, 2023
Baltimore Ravens v Los Angeles Rams
M&T Bank Stadium
Baltimore, MD, US
Ticketmaster
StubHub

December 31, 2023
Baltimore Ravens v Miami Dolphins
M&T Bank Stadium
Baltimore, MD, US
Ticketmaster
StubHub

M&T Bank Stadium Parking Tips for a Great Outing
Everyone who attends big events has a horror story about a parking nightmare that caused them to miss the start of the game or concert. Or, if you got in on time, it might have taken you hours to leave after it was over.
Let's review some basic M&T Bank Stadium parking tips to ensure that doesn't happen to you at M&T Bank Stadium.
Arrive Early and Beat Traffic
In the heart of Baltimore, M&T Bank Stadium has plenty of traffic to contend with, which only multiplies on the day of a game or concert. If possible, plan your day to get to the stadium early and secure parking before it gets crazy.
Simply check to see when the gates will open, and arrive early to enjoy as much time inside the facility as possible.
Know What You Can Bring
Like all other stadiums, M&T Bank Stadium in Baltimore has specific policies regarding what can and can't come into the building. Check these rules in advance so you don't have to leave things in the car.
Remember Where You Parked!
With so many lots scattered around the stadium, it's easy to forget where you left your vehicle. You don't want to be searching for your car at the end of the day, so consider snapping a quick picture on your phone of your car's location so you can get back to it without any trouble.
Look At a Map
This might sound a little old school in the age of GPS, but looking at the map of the area around the stadium before you leave can help you understand where you'll be going and how everything is laid out.
Conclusion
In conclusion, finding parking at M&T Bank Stadium in Baltimore can be a daunting task, but with the help of this guide, visitors can quickly find the best options. This guide provides a comprehensive list of official and third-party parking options, including handicap parking availability and public transportation alternatives.
Additionally, fans can enjoy tailgating before the game, with several options to choose from, and participate in RavensWalk. With this guide, visitors can now focus on having a great time at the game or event rather than worrying about parking.
Frequently Asked Questions for Parking at M&T Bank Stadium (FAQs)
How much does parking cost at M&T Bank Stadium?
You'll find varied parking prices depending on the event you will attend. It's typically about $40 – $60 to park for an NFL game, but preferred lots will be more, and you might find even higher concert prices. It's best to secure your parking as early as possible to give yourself plenty of choices. 
Are oversized vehicles allowed in the M&T Bank Stadium lots?
A section of Lot H is dedicated specifically to oversized vehicles, so that's where you'll want to look. To access this section, find parking lot H located between West Street and Ostend Street, under I-395. 
Can I leave my vehicle overnight at M&T Bank Stadium?
No, there is no overnight parking available, so you'll need to return to your vehicle and depart in a reasonable time after the event has ended. 
Does M&T Bank Stadium offer bicycle parking?
To park your bicycle while attending an event, look between gates B & C on the stadium's north side. If you are attending a Ravens game, you'll be happy to know that this area is monitored by security during the event. 
What alternative transportation options are available?
Public transit is a great option to attend events at this stadium – please view that section in this article for more details. Using a rideshare service like Uber or Lyft is also a practical option. 
How early are M&T Bank Stadium parking lots open?
The timing of parking lots opening up for vehicles to enter will depend on the event you are attending. For a Ravens game, those parking in the official lots will be allowed in 4.5 hours prior to the start of the game. Take a moment to confirm this information with the venue or parking facility in advance so you aren't caught off-guard. 
Where is the best place to park at Ravens Stadium?
If you want to be close to the stadium, the best place to park are in lots B or C just north of the stadium. If you want to support local, all proceeds from parking at Solo Gibbs Park go to local recreation programs in Baltimore.
(Visited 978 times, 3 visits today)