Attending an event at Paycor Stadium in Cincinnati, Ohio is an exciting opportunity. Whether it's for a Bengals game, a concert, or any other type of event, parking is going to play a key role in how your day unfolds.
This Paycor Stadium parking tips guide we have created will cover the following points:
Official Paycor Stadium parking lots
Third-party parking options in the area
Information about free parking
Handicap parking close to Paycor Stadium
Public transportation advice
Additional tips to make parking a breeze
With a beautiful location on the north shores of the Ohio River, you don't want to waste time searching for parking before an event. Instead, you should be out of your car enjoying the sights and sounds of the city. We'll help you make that happen.
Paycor Stadium Parking Summary
Paycor Stadium has good third-party parking spaces you can pre-book through SpotHero, which helps alleviate stress on event days. Special accommodations are available, with reserved parking spaces for people with disabilities and other specific needs.
Parking capacity around Paycor Stadium is moderate, with official lots and some private lots in the surrounding area. The stadium is accessible via Cincinnati's Metro buses, making it relatively convenient for fans to reach the venue without relying on parking.
Street parking in the area surrounding Paycor Stadium can be difficult to find and is often subject to various restrictions, making it less convenient for fans attending events at the stadium. Cincinnati is known for its traffic congestion, making navigating to the venue and finding parking more challenging.
Ratings
Official Paycor Stadium Parking Lots
Most people who attend events at Paycor Stadium will park in one of the many official lots available in the surrounding area. While there isn't a lot of room between I-71 and the Ohio River, some of that space has been reserved for parking to accommodate both Paycor Stadium and nearby Great American Ballpark.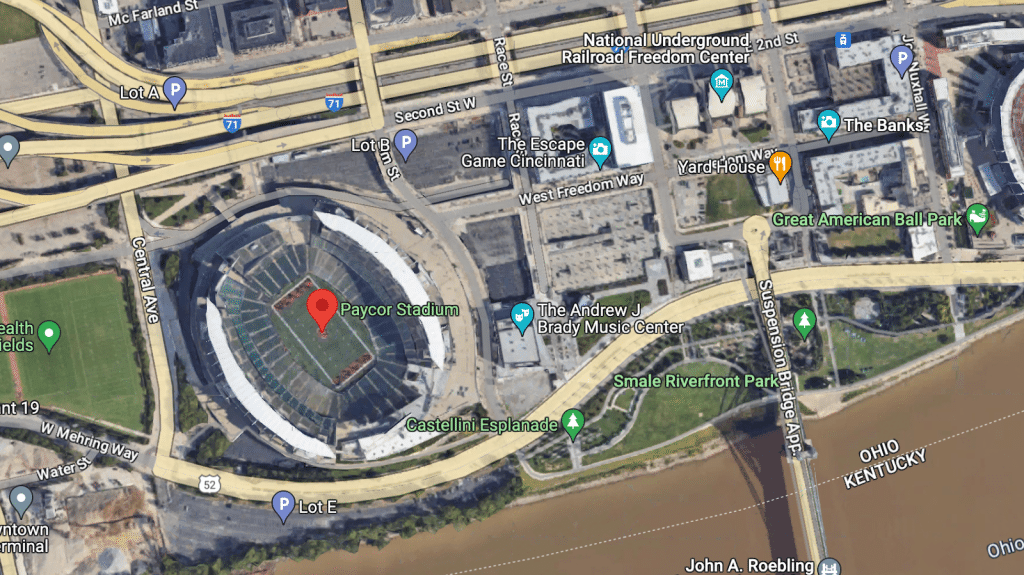 Main Parking Lots
As you can see from the map below, there is a large collection of main parking lots close to the stadium. These lots aren't as big as what surrounds some of the other stadiums in the NFL, so it's important to secure your spot as early as possible (season ticket holders account for much of the available parking inventory).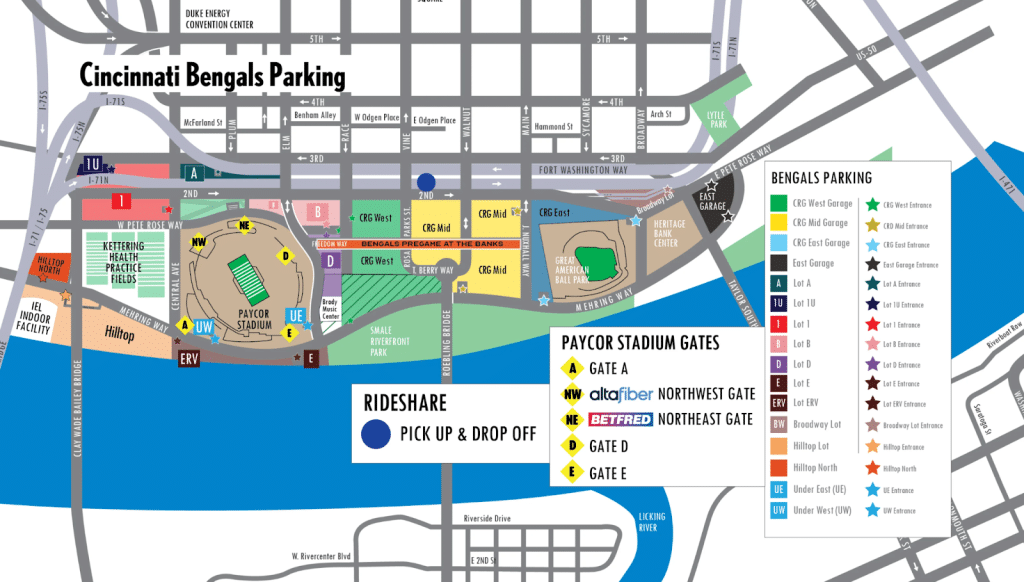 In terms of location, it's hard to beat Lot B, as it is right in the middle of the action and close to both the Northwest Gate and Gate D for easy entrance to the stadium.
If you'd like to enjoy a scenic stroll through Smale Riverfront Park before going inside, consider using Lot E or Lot ERV.
EV Parking at State Farm Stadium
Electric vehicles can use any available spots that can be reserved or purchased on the day of the event. There are two FLO Charging Station locations near Paycor Stadium if you would like to charge up:
in the parking area off 2nd Street East and J. Nuxhall Way
Closer to the stadium at the Andrew J Brady Music Center.
Accessible Parking Spaces
There are accessible parking spaces within each of the lots operated by the stadium. If you have a pass for parking along with your season tickets, using any of these lots should be a suitable solution.
For those who need to buy a handicap-accessible single-game parking pass, look to Lot 1. It will be necessary to have an official handicap permit from the state in the form of a license plate or tag to be provided with one of the accessible parking spaces.
Third-Party Parking Options at Paycor Stadium
If you aren't finding any of the official lots to work out for your needs, consider a third-party lot using the SpotHero widget below.
There is an assortment of suitable lots just north of the stadium, so you should have plenty of options when making a reservation.
One of your best bets in the area is the Mabley Place Garage at 410 Race Street. Parking here will leave your vehicle inside and out of the elements, and it's just a sevenminute walk to the stadium.
If that garage doesn't work out, also try the 305 Lot at 305 S 5th Street or Lot 35 at 325 John Street.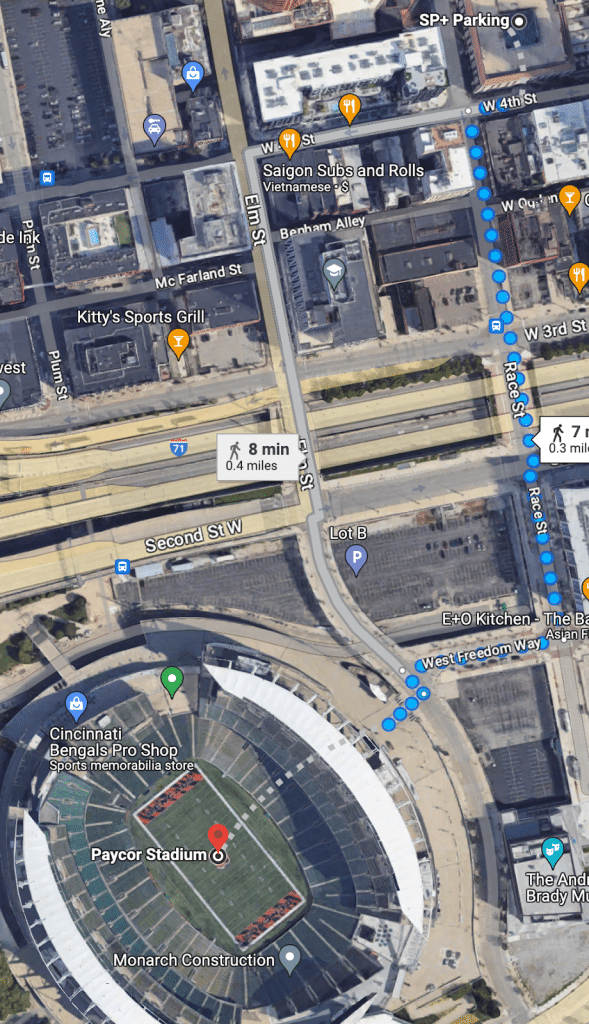 Free Parking at Paycor Stadium
Due to the stadium's location deep in the heart of Cincinnati, you are unlikely to find free parking during a game or other event. You might be able to find somewhere to park on the Kentucky side of the river and then use one of the bridges to walk across to the game. However, this approach might be more of a hassle than the savings on parking would be worth in the end.
Another interesting option to save money on parking at Paycor Stadium is the Queen City Riverboats service. At The Beer Sellar and Hooters on the Kentucky shore just east of the stadium, the riverboats will pick up passengers for $6 each. You can ride on the boat to the stadium for the game, and the ride back is offered after the game at no additional charge.
Public Transportation Options
With plenty of parking available around the stadium in terms of official lots and third-party lots, most people who visit Paycor Stadium will drive their own vehicles. However, you can use the bus system, called Go Metro, if you want to leave your car at home. When looking at the Go Metro bus schedule for the day of an event, pay particular attention to the lines listed below:
Ridesharing to Paycor Stadium
If you opt for a rideshare service to get to and from the event at Paycor Stadium, use the dropoff and pickup zone established on 2nd Street West near Rosa Parks Street. You'll only have a short walk left to reach the stadium entrance.
Paycor Stadium Tailgating
Tailgating is extremely popular at Bengals games and is permitted in all of the official lots around the stadium. If you like to get to the parking lot early to start the fun, you can expect the lots to open four hours before kickoff. And, after the game, they'll remain open for two hours (or will close at midnight, in the case of a night game).
Another notable part of the pregame experience is the pregame at The Banks. You can find this active area on Freedom Way, with plenty of attractions such as live music, interactive games, and much more.
Paycor Stadium Events
This scenic stadium stays busy throughout the year, so look for events in the table below that you might want to attend. Below the events list, we'll offer even more parking advice for Paycor Stadium.
Date
Name
Location
Buy Tickets
November 26, 2023
Cincinnati Bengals vs. Pittsburgh Steelers
Paycor Stadium
Cincinnati, OH, US
Ticketmaster
StubHub

December 10, 2023
Cincinnati Bengals vs. Indianapolis Colts
Paycor Stadium
Cincinnati, OH, US
Ticketmaster
StubHub

August 02, 2024
Luke Combs - Growin' Up and Gettin' Old Tour - 2 Day Ticket
Paycor Stadium
Cincinnati, OH, US
Ticketmaster
StubHub

August 02, 2024
Luke Combs - Growin' Up And Gettin' Old Tour
Paycor Stadium
Cincinnati, OH, US
Ticketmaster
StubHub

August 03, 2024
Luke Combs - Growin' Up And Gettin' Old Tour
Paycor Stadium
Cincinnati, OH, US
Ticketmaster
StubHub

Paycor Stadium Parking Tips for a Great Outing
Everyone who attends big events has a horror story about a parking nightmare that caused them to miss the start of the game or concert. Or, if you got in on time, it might have taken you hours to leave after it was over. Let's review some basic parking tips to ensure that doesn't happen to you at Paycor Stadium.
Arrive Early and Beat Traffic
There is plenty of traffic to navigate in and around Cincinnati, which only multiplies on the day of a game or concert. If at all possible, plan your day to get to the stadium early and secure parking before it gets crazy. Simply check to see when the gates will open and you can arrive early to enjoy as much time inside the facility as possible.
Know What You Can Bring
Like all other stadiums, Paycor Stadium has specific policies regarding what can and can't come into the building. Check these rules in advance so you don't have to leave things in the car.
Remember Where You Parked!
With such a massive parking area around Paycor Stadium, you don't want to be searching for your vehicle at the end of the day. Consider snapping a quick picture of your car's location on your phone so you can get back to it without any trouble.
Look At a Map
This might sound a little old school in the age of GPS, but looking at the map of the area around the stadium before you leave can help you understand where you'll be going and how everything is laid out.
Conclusion
In conclusion, attending an event at Paycor Stadium in Cincinnati, Ohio, can be an exciting experience. Parking can play a crucial role in the day's outcome. The Paycor Stadium parking guide offers a comprehensive look at the official Paycor Stadium parking lots, third-party parking options, information about free parking, handicap parking, public transportation advice, and additional tips to make parking easy.
While official lots are most suitable for parking, third-party options on SpotHero can also be great. Although free parking is not readily available, utilizing public transportation or riverboat services can help save money on parking. Tailgating is permitted in all official lots, and the pregame experience at The Banks adds to the excitement. By following these tips, you can make the most of your time at Paycor Stadium and avoid parking hassles.
Frequently Asked Questions for Parking at Paycor Stadium (FAQs)
How much does parking cost at Paycor Stadium?
You'll find varied parking prices depending on the event you will attend. It's typically about $40 – $60 to park for an NFL game, but preferred lots will be more, and you might find even higher concert prices. It's best to secure your parking as early as possible to give yourself plenty of choices. 
Can I leave my vehicle overnight at Paycor Stadium?
No, no overnight parking is available, so you'll need to return to your vehicle and depart in a reasonable time after the event ends. 
Does Paycor Stadium offer bicycle parking?
Dedicated bike parking is not offered at Paycor Stadium. Most likely, you will want to select a different mode of transportation to reach the stadium and enjoy the event. 
What alternative transportation options are available?
A rideshare service like Uber or Lyft is a great alternative transportation option to reach the stadium. You may also opt for public transit, like the Go Metro, to get to Paycor Stadium.
How early are Paycor Stadium parking lots open?
The timing of parking lots opening up for vehicles to enter will depend on the event you are attending. You can use the CRG West and CRG Mid lots six hours before kickoff for a Bengals game. If parking in the various surface lots around the stadium, look for those to open four hours before the game. 
(Visited 1,392 times, 1 visits today)