The Pittsburgh Pirates of Major League Baseball play their home games at PNC Park. This attractive venue is a great place to enjoy a game, whether you are a fan of the home team or baseball in general. The park is located just down the street from Acrisure Stadium, where the Pittsburgh Steelers play.
This detailed PNC Park parking tips guide offers detailed parking information, including:
The best official PNC Park parking lots
Third-party parking lots near PNC Park you can book in advance
Areas to look for free parking in Pittsburgh
Handicap parking solutions
Public transit options for Pittsburgh Pirates events
Other valuable PNC Park parking tips to save time and money
Get started now figuring out your parking plan for an upcoming Pirates game. This guide will offer all the information you need to avoid parking headaches and hassles while at the event.
PNC Park Parking Summary
PNC Park, home to the Pittsburgh Pirates, is a beautiful stadium, with some of the most picturesque views in all of baseball, thanks to its placement along the Allegheny River.
Regarding parking, there are numerous lots and garages in the downtown area around PNC Park, providing plenty of parking options. Also, the Pittsburgh Light Rail, also known as the "T", offers convenient service to the North Shore, where PNC Park is located, making it a great option for fans.
Traffic congestion around the park, especially after a game, can be a bit of a challenge, and parking costs vary widely based on proximity to the park. If you drive, it's important to read all signs carefully, as regulations may change and enforcement is strict.
Unique to PNC Park is the option to take a boat to the game. The park features a riverwalk and a marina at the riverfront, providing a unique transportation and parking solution for boating enthusiasts.
Ratings
Official PNC Park Parking Lots
There are no official parking lots associated with PNC Park. You'll need to secure parking through a third party before heading to a baseball game, or simply drive around the area when you arrive to find a spot for an affordable price.
Main Parking Lots
As you look for parking for a Pittsburgh Pirates game, consider using ParkPGH as a resource to find lots and garages that can serve your needs. While this is not officially associated with the venue, many good options will be used by countless fans. You can download the ParkPGH app to your phone for easy, on-the-go use.
One of the closest parking options to the stadium is the General Robinson Garage, located between PNC Park and Acrisure Stadium to the west.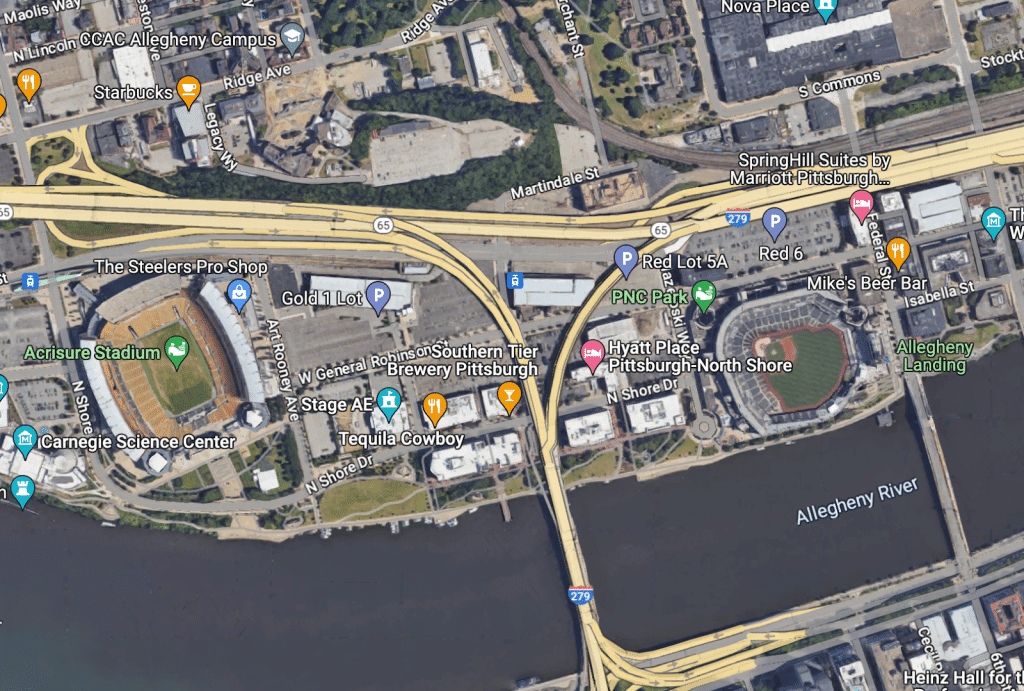 EV Parking at PNC Park
There are some EV charging options between the baseball and football stadiums in the North Shore area, including a ChargePoint charger and a Tesla Destination charger. However, you might find these chargers difficult to access on the day of a game, so it's smart to avoid charging by filling up your batteries before heading to the event.
Accessible Parking Spaces
You should find accessible parking spaces featured in all the lots and garages around PNC Park, as this is required by law. Of course, it's a good idea to confirm ADA availability within any facility you might use for parking just to be sure it will serve your needs properly when you arrive.
Third-Party Parking Options at PNC Park
The third-party parking options available for PNC Park tend to be located across the Allegheny River from the venue. However, that's not a big deal, as many still provide a short and scenic walk to the stadium's gates.
Use the widget below to secure your parking at PNC Park:
Be sure to consider the Riverfront Center Garage as part of your search. Affordable parking rates are offered here, and it's about a 15-minute walk across the river to get to the game.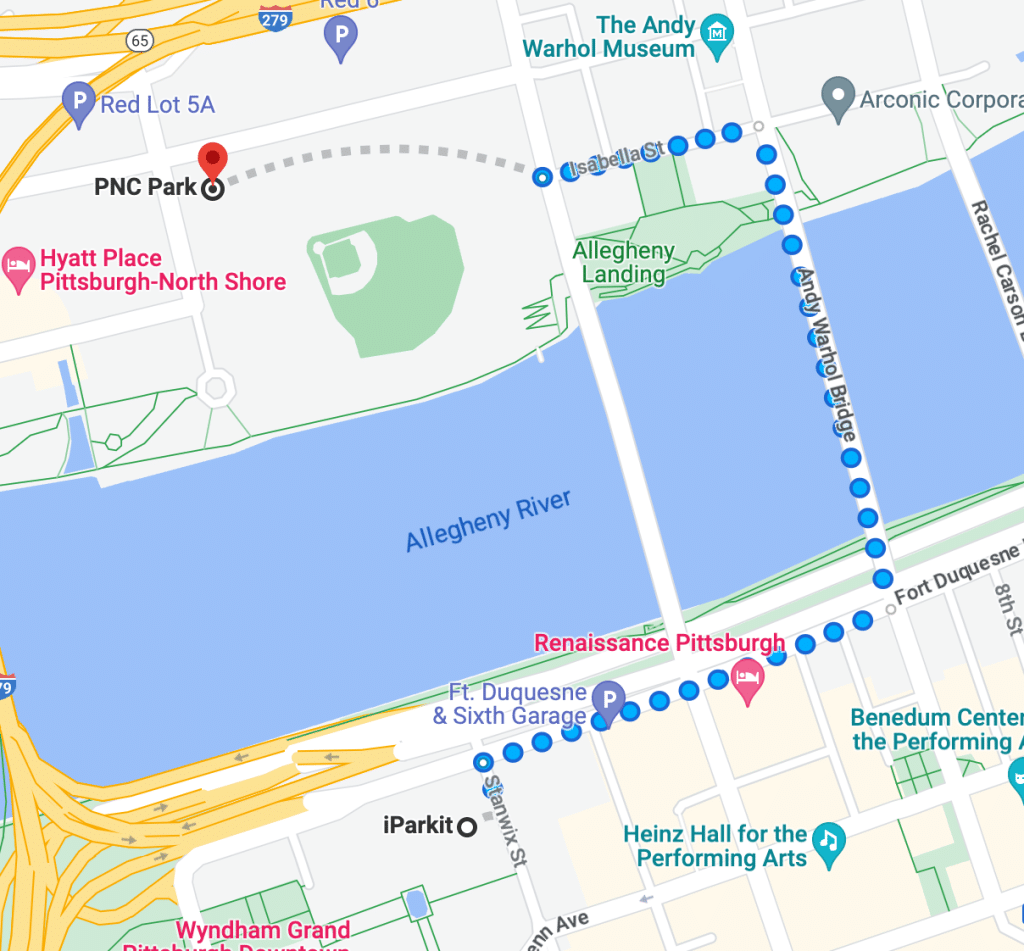 A few other strong parking lots are in this area include:
the Sixth and Penn Garage
parking at the Renaissance Hotel Pittsburgh
the Gateway Towers Garage Valet
Free Parking at PNC Park
Don't plan on finding free parking within walking distance of the venue. It's not always easy to find paid parking options, so free parking is a dream that you'll likely need to set aside.
The best way to avoid paying for parking is to not drive to the game and instead use a different mode of transportation.
Public Transportation to PNC Park
Pittsburgh's public transportation options are plentiful, making it a breeze to get to PNC Park for a baseball game. Here's a closer look at some of the most popular options for reaching the park.
Port Authority "T" Service
For those hailing from the South Hills area, the free "T" service by the Port Authority is a convenient choice. You can park at any of the stations in South Hills and ride the "T" into downtown Pittsburgh.
Look for the Wood Street station or Gateway Center station—both are within an easy walking distance of PNC Park.
Port Authority Bus Service
The Port Authority operates more than 50 bus lines leading to downtown Pittsburgh, making this a highly accessible option from different parts of the city. Given PNC Park's location just across the Allegheny River from downtown, you can select any bus heading towards downtown.
If you're driving from a different area, you can park at one of the bus stations outside downtown and take a bus to PNC Park.
Ridesharing to PNC Park
Given the sometimes limited parking available on game days in this part of Pittsburgh, using a rideshare service is a great choice. Two dedicated zones have been established for pick-up and drop-off use by services such as Lyft and Uber.
The East zone is found on Isabelle Street, just one block east of PNC Park. The west location is a little further from the stadium on Reedsdale. The Reedsdale pickup spot is shared with Acrisure Stadium and the Pittsburgh Steelers if an NFL football game is going on.
Be sure to use one of these two locations, and you should have a smooth experience with your rideshare service.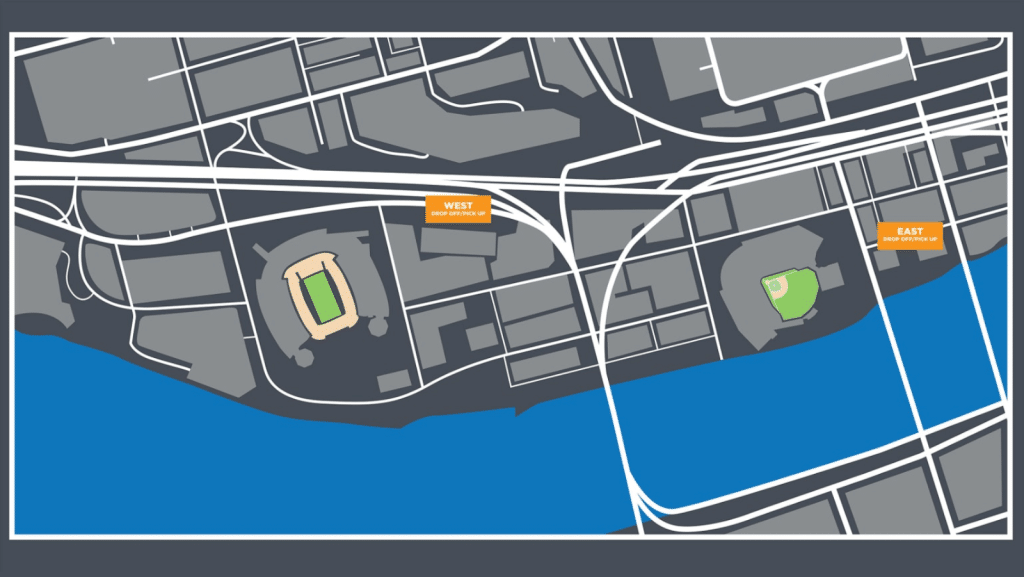 PNC Park Events
PNC Park is not only a great place to catch a ballgame, but it's also an exciting spot for a concert. Check out the table below to see what events are coming up and pick out tickets to the date you'd like to attend.
Bars & Restaurants near PNC Park
There aren't many options for dining around PNC Park, but you will find a few quality options along North Shore Drive to the west of the stadium. If you decide to explore this area, consider:
McFadden's
The Foundry
Tequila Cowboy
Southern Tier Brewery Pittsburgh
You could head south across the Allegheny River into the downtown area for even more options.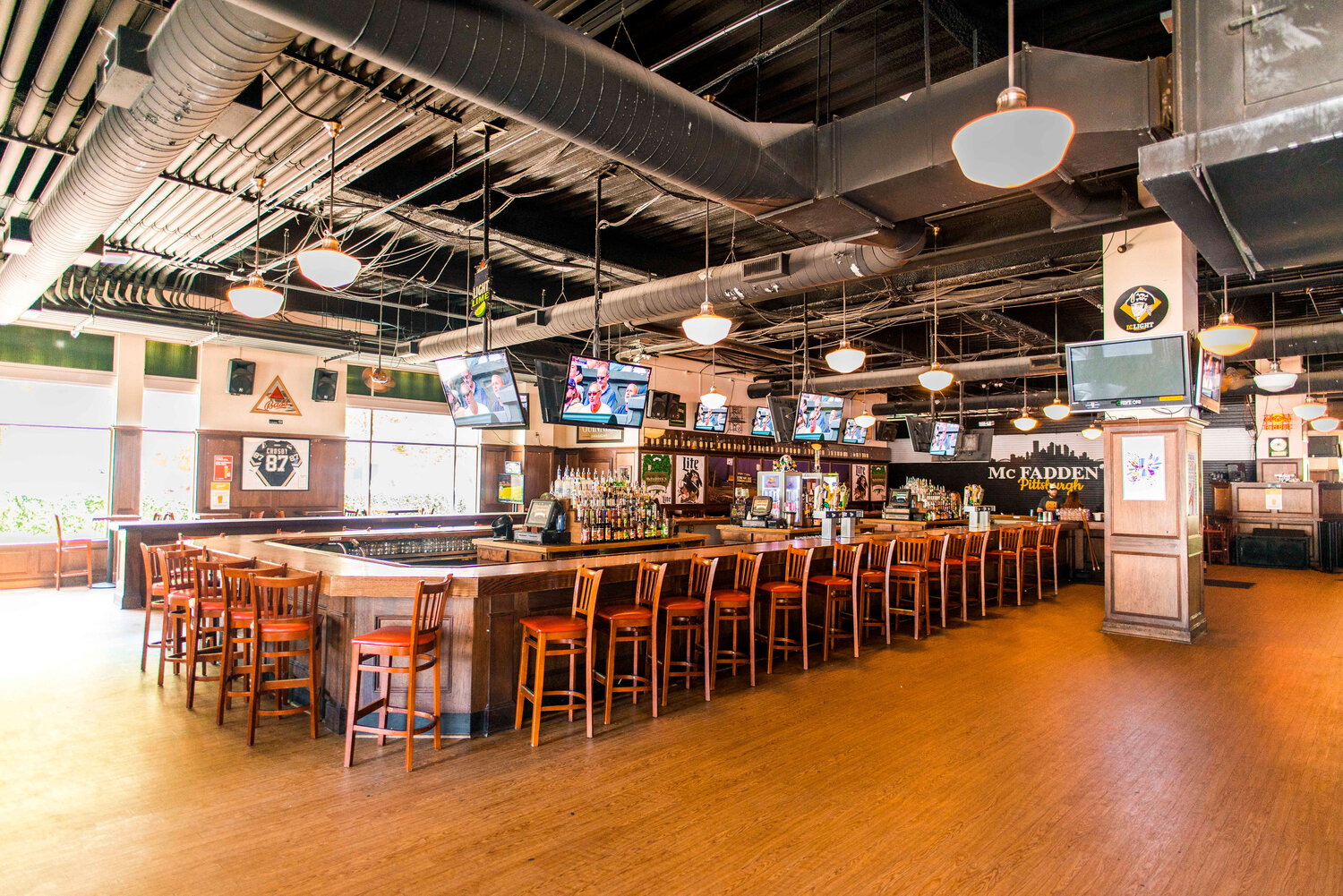 PNC Park Parking Tips for a Great Outing
Everyone who attends big events has a horror story about a parking nightmare that caused them to miss the start of the game or concert. Or, if you got in on time, it might have taken you hours to leave after it was over.
Let's review some basic PNC Park parking tips to ensure that doesn't happen to you at PNC Park.
Arrive Early and Beat Traffic
Traffic in and around Pittsburgh can get difficult to navigate on weeknights, which is when many baseball games are played throughout the summer. Plan your day to get to the stadium early and secure parking before it gets crazy.
Check to see when the gates will open, and you can arrive early to enjoy as much time inside the facility as possible.
Know What You Can Bring
PNC Park has specific policies regarding what can and can't come into the building like all other stadiums. Check these rules in advance so you don't have to leave things in the car.
Remember Where You Parked!
There are tons of parking spaces available in the area around PNC Park. With such a massive parking area to cover, you don't want to be searching for your vehicle at the end of the day. Consider snapping a quick picture or your car's location on your phone so you can get back to it easily.
Don't Leave Things in Your Vehicle
With so many vehicles left unattended for hours, there is always the threat of criminal activity while an event is going on. To reduce the chances of theft, leave any valuable items at home, or at least tuck them away out of sight in your car or truck. And, of course, remember to lock up!
Pick a Gate
Entering the park through a gate close to your seats makes ense. With that in mind, consider trying to park on the same side of the stadium as the gate you'd like to use so that the whole experience can be simple and streamlined.
Look at a map of the venue in advance to chart out your path from parking to take your seat.
Conclusion
In conclusion, planning your parking in advance is essential for a smooth and hassle-free experience at PNC Park. While no official parking lots are associated with the stadium, third-party options and parking apps like ParkPGH and SpotHero offer convenient solutions.
Be sure to arrive early to beat traffic and secure your parking spot. Knowing the stadium's policies on what you can bring and remembering where you parked will save you time and stress. Additionally, it's important to take precautions against theft by not leaving valuable items in your vehicle and locking it properly.
Following these PNC Park parking tips and considering alternative transportation options like public transit or ridesharing, you can enhance your outing at at the next Pittsburgh Pirates game and focus on enjoying the event.
Frequently Asked Questions for Parking at PNC Park (FAQs)
How much does parking cost at PNC Park?
You'll find varied parking prices depending on the event you will attend. It's typically about $20 – $40 to park for an MLB game, but preferred lots will be more, and you might find even higher concert prices. It's best to secure your parking as early as possible to give yourself plenty of choices. 
Is Official PNC Park Parking or a Third-Party Lot the Better Option?
As no official parking is offered at PNC Park, third-party parking will be your only viable choice if you choose to drive your vehicle to the game. 
Can I leave my vehicle overnight at PNC Park?
No, there is no overnight parking available at PNC Park. You will need to return to your vehicle and depart reasonably after the event has ended. 
Does PNC Park offer bicycle parking?
The location of PNC Park makes it suitable for biking to the game as a nice alternative to driving your car. Specifically, you can use the scenic Three Rivers Heritage Trail to make your way toward the stadium area and then secure your bike on one of the many racks located near each gate. 
What alternative transportation options are available?
Public transportation and rideshare services are good options if you'd like to attend PNC Park without needing to drive. 
How early are PNC Park parking lots open?
The timing of parking lots opening up for vehicles to enter will depend on the event you are attending. PNC Park does not offer official parking lots, so the timing of your parking availability will depend on the location you choose and the rules it has in place. 
(Visited 555 times, 3 visits today)