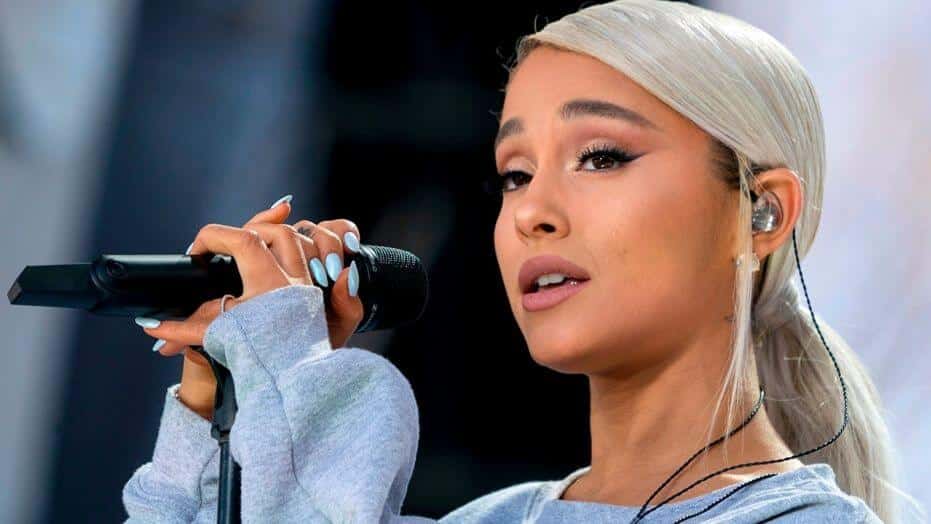 Ariana Grande Tour Guide: Sweetener Setlist, Tickets, Media
Ariana Grande Sweetener Tour Latest News
July 18th: Ariana Grande has released a slight tidbit of information about her upcoming Sweetener tour. On Twitter, Ariana has been answering fan questions about her life and upcoming album. After @jonygrandee asked her, "TOUR DATES, WHERE THEY AT?!", Ariana responded:
"working on them ! y'all still have some time tho don't worry !"
Give us a follow on Twitter and Facebook if you are interested in Ariana Grande tour tickets and we will update you with all of the latest news and information.
June 20th: You can now preorder the Ariana Grande Sweetener album from her website. Fans who do will receive an exclusive presale code for the upcoming Sweetener World Tour if they live in the USA or Canada. Preorder the album now in order to get a future presale code when the tour is announced: Ariana Grande Sweetener Preorder Link.
June 15th: While not officially announced yet, we have good word that Ariana Grande is planning a massive North American tour to accompany her new album, Sweetener, which has a release date this summer.
Ariana Grande Tour Quick Links
Ariana Grande Profile
Ariana Grande is a pop superstar who has released three full albums: Yours Truly, My Everything, and Dangerous Woman. Her fourth album is Sweetener, to be released in summer of 2018. Sweetener comes accompanied by the single "No Tears Left to Cry".

Ariana got her big break as an actress on the Nickelodeon show, Victorious. She left the show after the first season to focus on her music. Some of Ariana Grande's biggest singles include Problem (with Iggy Azalea), Break Free (with Zedd), Dangerous Woman, and Side to Side (with Nicki Minaj).

Over time, Ariana's public image has transformed into a bubblegum pop star into more of a mature woman sound. Journalists and celebrities, such as Taylor Swift, Rita Ora and Selena Gomez, commented favorably on Grande's "empowering" 2015 essay posted on Twitter decrying the double standard and misogyny in the focus of the press on female musicians' relationships and sex lives, instead of "their value as an individual". Grande noted that she has "more to talk about" concerning her music and accomplishments, rather than her romantic relationships. In 2016, E! writer Kendall Fisher called her "a feminist hero" in an essay examining Grande's feminist statements. The same year, Grande was listed among Time's 100 most influential people in the world.

In 2017, while on her Dangerous Woman tour in Manchester, a suicide bomber exploded a bomb in the foyer of her show, causing 23 fatalities and over 300 injuries. Ariana returned to Manchester, organizing a One Love Manchester benefit concert. She was praised for her strength to return and unite the city with her music.
Ariana Grande Presale Codes: Sweetener Presale Information
Click here to see presale code info
Ariana Grande VIP Packages/Special Tickets
Click here to see VIP Packages/Special Tickets
Ariana Grande Tour Dates: Sweetener Tour
Current Ariana Grande tour dates and locations are listed below! Keep checking our home page for updated tour guide information. Underneath the tour dates, check out the Ariana Grande setlist and concert videos, photos, and media.
Tour locations for the new Ariana Grande tour haven't been announced yet! Keep checking StadiumHelp.com for updated information in the near future.
How to Buy Ariana Grande Tickets: Sweetener Tour
Purchase Ariana Grande tickets below now! Both of our options are 100% guaranteed and legitimate. Track prices, find ticket deals, and guarantee your spot for this concert today.
Click here to see available tickets
Click here to puchase Ariana Grande tour tickets directly through Ticketmaster.com.

Ariana Grande Sweetener Setlist
NOTE: When posted, you can click on the links in the setlist to view live concert videos.
The Ariana Grande tour setlist for this artist is not available yet! Keep checking our website for updated Ariana Grande concert information as soon as we have information.
Ariana Grande Media
Stream the Latest Ariana Grande Album
Stream the latest Ariana Grande album on Apple Music by clicking here.
Ariana Grande Tour Media
Check out the
setlist section
for live concert videos.
While waiting for an Ariana Grande tour announcement, check out the video for her latest singles below, as well as concert footage from her One Love Manchester benefit event in 2017.
Ariana Grande – No Tears Left to Cry (Music Video)
Ariana Grande – God Is A Woman (Music Video)
Ariana Grande – One Love Manchester (Full Show)
Concert Travel and Hotel Arrangements
Use our Booking.com tool below to book your travel arranagements for the show and get the guaranteed lowest prices on hotels today.
Search hotels and more...
Did we miss anything in our Ariana Grande tour guide? Make sure to come back and view the updated Ariana Grande setlist for the Sweetener tour if it has not begun let. Comment below if you have any further information to share!