This guide is meant to help Ticketmaster customers who are looking at and want to purchase Platinum tickets. What are these seat? Are they legit? Do you need a presale code in order to access?
Find out all of these details and more below!
What are Ticketmaster Platinum Tickets
Platinum tickets are premium seats to concerts and other events. They are made available by artists and event providers and sold through Ticketmaster alongside all other tickets.
Unlike regular seats, Platinum tickets prices are set by a computer algorithm based on the calculated demand of the show. These tickets are always more expensive than the base value ones and how much more expensive is determined by a calculation.
Are These Tickets Resale?
No, Ticketmaster Platinum tickets are not resale tickets. They have not been purchased by anyone else and are sold by the promoter just like all other tickets.
Ticketmaster uses market-based pricing to adjust prices according to supply and demand. This is similar to how airline tickets and hotel rooms are sold.
The goal is to give the most passionate fans fair and safe access to the best tickets early. The concert promoter receives what Ticketmaster thinks is fair value for these seats.
Examples of resale ticket marketplaces are StubHub and SeatGeek. Instead of prices being determined by a computer, prices are set by the reseller and naturally follow demand for the event.
Do I Need a Presale Code for Ticketmaster Platinum?
No! The best part about these tickets are that you do not need a promo code in order to purchase them.
Even better, Platinum Tickets often go on sale early alongside other early presale chances from Citi credit cards or Ticketmaster Verified Fan.
Are Platinum Tickets Legit?
Yes! These tickets often go on sale before the general public tickets do. This means that platinum tickets are a great way to guarantee your seat into the stadium.
Just to reiterate, these tickets are not resale tickets from any other source. They are first-chance tickets from the official source.
Are Ticketmaster Platinum Tickets Worth It?
The value of platinum tickets depends on how big of a demand there is for tickets.
From our experience, Platinum Tickets are always more expensive than face value tickets. Ticketmaster's algorithm adds extra cost to the tickets to account for that fact that you are getting them before the general public.
For this reason, if you want to guarantee early concert tickets with no promo code, you should always compare the top three choices:
How Do I Buy Platinum Tickets on Ticketmaster?
To buy Platinum Tickets on Ticketmaster, simply head to the website and select a concert event.
On the right side where it shows you available tickets, all platinum tickets will be labelled with "Officlal Platinum" in the ticket type.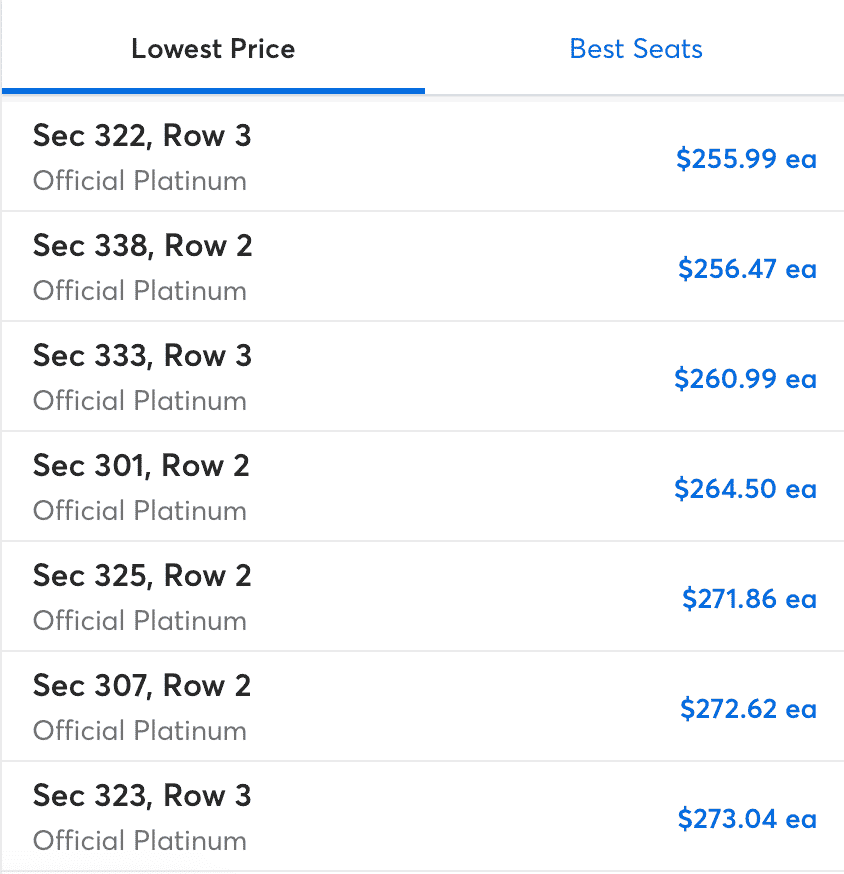 Use the seating chart to review where each seat is located before you buy your ticket.
What are Ticketmaster ticket questions do you have? Comment below and let us answer those questions for you.
Use our ticket options to purchase concert tickets at the best price now.
(Visited 70,673 times, 8 visits today)