In celebration of National Concert week from May 1st to May 7th, 2019 find out how you can get $20 concert tickets from Ticketmaster and Live Nation to summer of the best concerts in 2019. $20 concert tickets apply to a range of genres and all of the details are available in our guide.
If you are looking for information and details on how to get $20 concert tickets to a 2019 show in your area, read our full guide below for all of the details. In celebration of National Concert Week, Live Nation is offering $20 tickets all-in with no strings attached.
The number of tickets available at this price point are limited for each concert and it might be confusing on how to actually redeem them, so follow our guide for the details.
Per Live Nation, "Kickoff the summer concert season with $20 all-in tickets to over 2,800 Live Nation shows. Check out participating artists and events in your area now."
How to get $20 Concert Tickets From Live Nation 2019
First, click on the link below to launch either Live Nation's direct page for $20 concert tickets. Don't worry, it will open in a new tab so that you can follow back and forth:
The page that opens will present you with a giant $20 All-in tickets promotion banner from May 1st to May 7th. If your location is wrong or not configured in the top right corner, click and change it to your closest city (where it says New York, NY in the guide below).
When you select a city, it will show concerts and venues in your area that are apart of the $20 concert tickets promotion.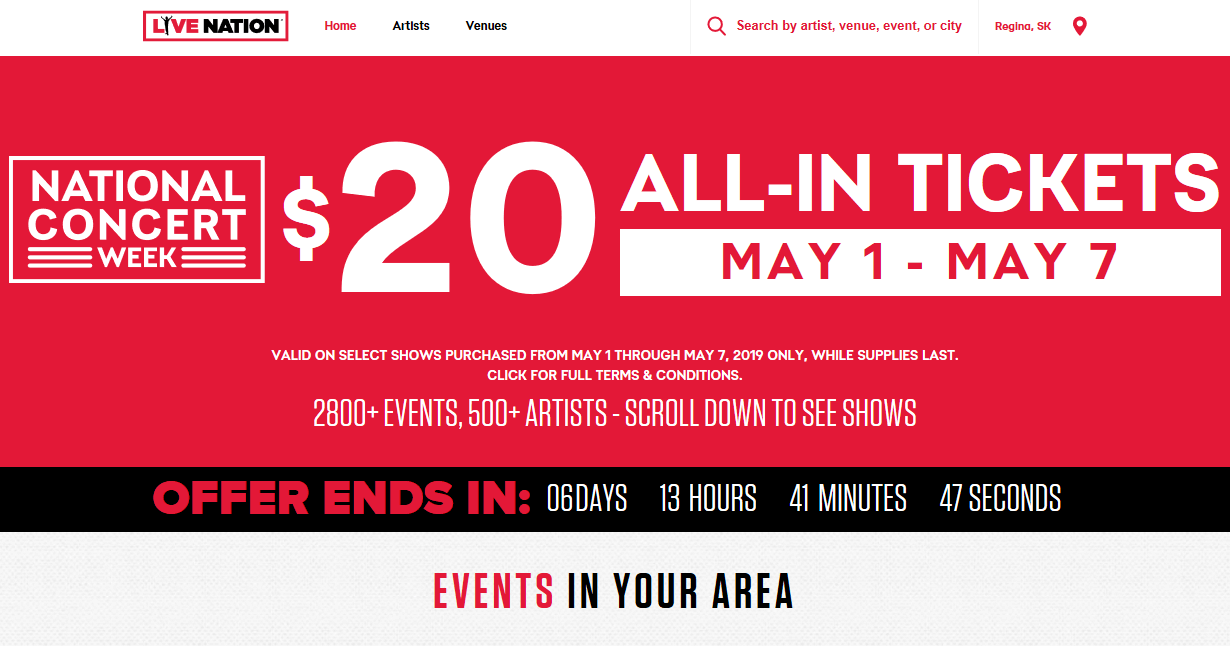 Find a concert you would like to see live. Click on its picture to bring open the tickets page for that show. A clear sign that this show has $20 concert tickets available will be if the "What's your budget per ticket" option shows $20 as the lowest possible option. Shows that do not have cheap concert tickets available will not have a ticket price as low as $20.
To only search for tickets included in the promotion, change your maximum price to also be $20.
All available tickets will be shown on the right side. Tickets included in the $20 concert tickets promotion will be tagged with National Concert Week Offer.
On the right hand side of your screen where it shows you your ticket options, click on the option that corresponds to the $20 concert tickets. It should say "$20 All In Tickets" underneath the ticket type.
Click on the Get Tickets option and follow through the process to purchase your tickets like you normally would. When you get towards the end where it shows you your order details, you can once again verify that you are choosing $20 tickets to your show of choice.
Some delivery options carry additional charges and costs. For a real $20 all in price, consider the Go Mobile options, which is free. You will be able to access your tickets inside of the Live Nation mobile app and also use that to get in the door.
And that's it! Hopefully with the guide above, you will be able to get cheap $20 concert tickets for a show in 2019! Remember, if you do not see an option to filter tickets for only $20, there are no $20 tickets for your concert. Act fast as these tickets will be scooped up fast!
Get in touch with us on Twitter and Facebook if you need any concert tour guide info or tickets, hotels, or stadium tips!
Disclaimer: Offer valid 9 am PST on May 1 to 11:59 pm PST on May 7, 2019 on select shows, while supplies last. Ticket delivery, print at home fees not included. All ticket purchases are subject to the Purchase Policy found here.
(Visited 2,629 times, 1 visits today)