Acrisure Stadium is the home venue for the Pittsburgh Steelers of the National Football League. The Steelers enjoy a large, supportive fan base throughout the Pittsburgh area, so home games on this field are always big events.
This detailed Acrisure Stadium parking tips guide offers detailed parking information, including:
The best official Acrisure Stadium parking lots
Third-party parking lots near Acrisure Stadium you can book in advance
Areas to look for free parking in Pittsburgh
Handicap parking solutions
Public transit options for Pittsburgh Steelers events
Other valuable Acrisure Stadium parking tips to save time and money
If you have tickets to an upcoming game, or another event at this facility, planning your parking is crucial. We hope this guide makes it easy to find an ideal parking space.
Official Acrisure Stadium Parking Lots
Unlike many other major stadiums nationwide, Acrisure Stadium does not operate a large collection of lots immediately surrounding the venue. Real estate in the area is extremely limited due to the presence of the Allegany River, so space for lots is limited. For Steelers games, the lots near the stadium are reserved for season ticket holders and are sold by Alco Parking. 
Main Parking Lots
There aren't main parking lots to reserve for single-game parking as there are for other venues in the NFL. With that said, parking is offered in the Champions Garage, a new facility that has opened up between Acrisure Stadium and the nearby PNC Park where the Pittsburgh Pirates play.
You can purchase parking passes in advance for this location, but be aware that it contains only a few hundred spaces and those spaces will be sold quickly. 
EV Parking at Acrisure Stadium
There are a few EV chargers in the area around Acrisure Stadium. Specifically, there is a Tesla Destination Charger to the east of the stadium, and a ChargePoint Charging Station both on the east and the west. While these chargers are a nice feature of this part of the city, we wouldn't recommend relying on them to be available on the day of an event.
With so many people crowding around the stadium, the chargers may be taken or hard to access. Instead, charge up in advance and forget about that hassle. 
Accessible Parking Spaces
The parking lots that are operated by Alco Parking in the area around the stadium offer accessible spaces for those with a valid ADA plate or placard. Of course, drivers must also have a parking pass for any lot or garage they wish to use.
As an added convenience for accessibility, two drop-off points near the stadium can be used to help those who might have difficulty walking long distances. There is one point at the northeast corner of the stadium, and another at the southwest corner. 
Third-Party Parking Options at Acrisure Stadium
Third-party parking is a good option for your parking needs when attending Acrisure Stadium. Although the third-party lots and garages available through the SpotHero widget below are on the opposite side of the Allegheny River from the stadium, they still offer a manageable walk and convenient access to the venue.
The large Riverfront Center Garage at 625 Stanwix Street is one of the area's best picks for third-party parking. The walk to the stadium from here is roughly 20-minutes, and it's a scenic stroll as you cross the river.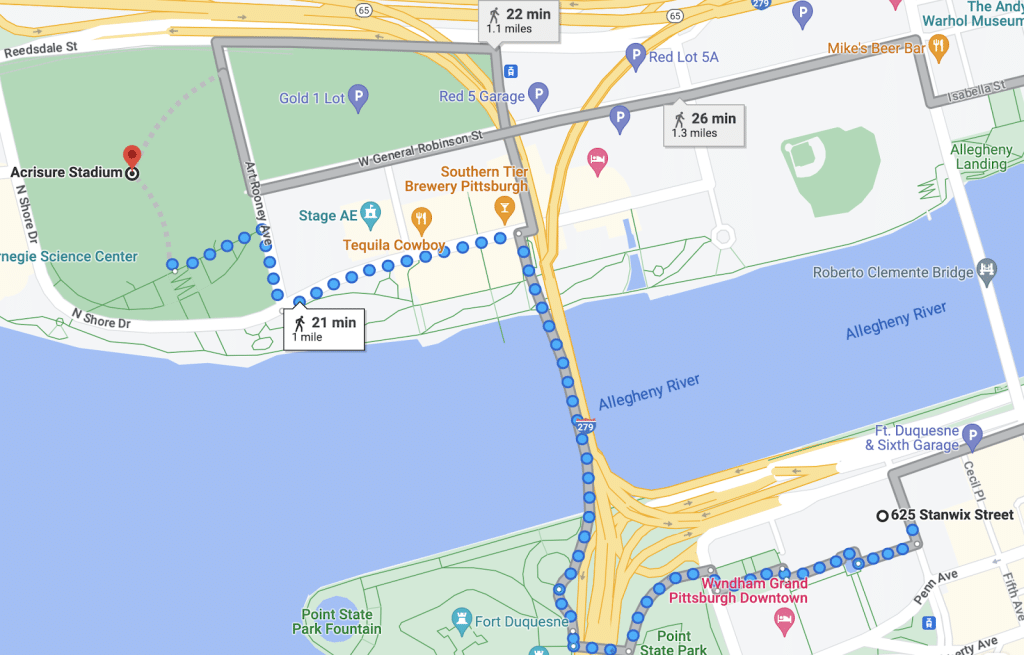 If the Riverfront Center Garage is full, the nearby Sixth and Penn Garage offers a similar walk and similar pricing. Even more affordable options are available on the other side of downtown, but they will leave you more than 30-minutes from the stadium by foot.
Free Parking at Acrisure Stadium
Don't plan on finding free parking anywhere near Acrisure Stadium for a football game, concert, or any other type of event. Parking in the area is limited, and any spot you find will likely come with a price tag.
If you are determined to avoid paying for parking, public transportation or using a rideshare service will get the job done. 
Public Transportation to Acrisure Stadium
Using public transportation to access Acrisure Stadium can be both cost-effective and enjoyable. You can reach Acrisure Stadium using light rail and a unique boat service.
Light Rail to Acrisure Stadium
If you plan to use public transportation, one of the best options available is the light rail, commonly known as the "T". The Blue Line, Red Line, or Silver Line can all bring you to the North Side area where Acrisure Stadium is located.
If you are already in the downtown area near the stadium, the T is particularly attractive because short trips within the Free Fare Zone do not require fare payment. This zone includes the North Side Station, a short walk from Acrisure Stadium. Always check the current schedules and fare rules before planning your trip to ensure a smooth journey.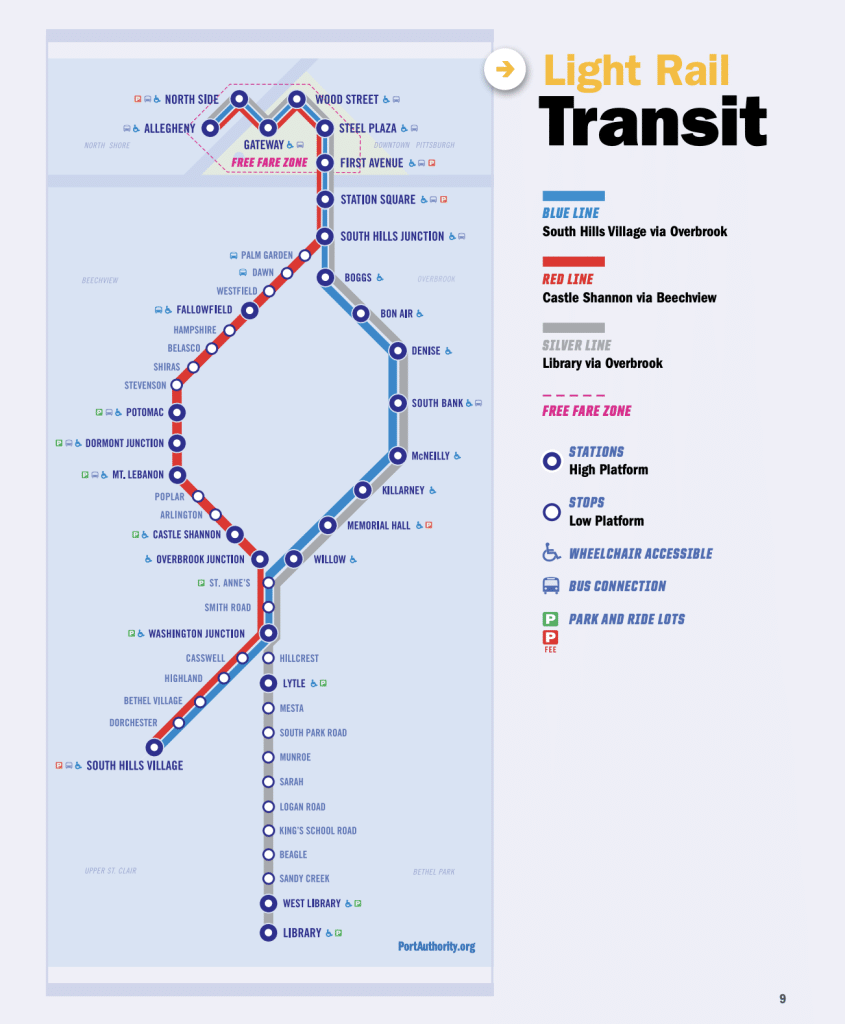 Parking and Gateway Clipper Boat Ride
For a more unique and enjoyable transportation experience, specifically on Pittsburgh Steelers game days, consider parking at Station Square on the south shore of the Monongahela River and taking a scenic boat ride on the Gateway Clipper to the stadium.
Station Square offers parking for a fee of $15. After parking, you can purchase a round-trip ticket for the Gateway Clipper for an additional $15. This boat service offers a fun, scenic, and convenient transportation option that drops you off near the stadium.
Given the high parking fees in areas closer to the stadium, parking at Station Square and taking the Gateway Clipper offers an appealing alternative. You can save money and avoid the traffic and congestion typically associated with gameday parking, making your gameday experience even more enjoyable.
Ridesharing to Acrisure Stadium
Given the limited and sometimes expensive nature of parking near Acrisure Stadium, a rideshare service is a nice alternative to driving. Head to Reedsdale Street, east of Art Rooney Avenue for convenient drop-off and pickup.
Reedsdale Street is the permitted zone for rideshare services and is a short walk from the venue's gates. 
Acrisure Stadium Events
The schedule at Acrisure Stadium throughout the year goes far beyond just football games. Use the table below to look for tickets to any upcoming events you'd like to attend.
Date
Name
Location
Buy Tickets
September 23, 2023
Pittsburgh Panthers Football vs. North Carolina Tar Heels Football
Acrisure Stadium
Pittsburgh, PA, US
Ticketmaster
StubHub

October 08, 2023
Pittsburgh Steelers vs. Baltimore Ravens
Acrisure Stadium
Pittsburgh, PA, US
Ticketmaster
StubHub

October 14, 2023
Pittsburgh Panthers Football vs. Louisville Cardinals Football
Acrisure Stadium
Pittsburgh, PA, US
Ticketmaster
StubHub

October 28, 2023
2023 Hall of Honor Dinner
Acrisure Stadium
Pittsburgh, PA, US
Ticketmaster
StubHub

October 29, 2023
Pittsburgh Steelers vs. Jacksonville Jaguars
Acrisure Stadium
Pittsburgh, PA, US
Ticketmaster
StubHub

November 02, 2023
Pittsburgh Steelers vs. Tennessee Titans
Acrisure Stadium
Pittsburgh, PA, US
Ticketmaster
StubHub

November 04, 2023
Pittsburgh Panthers Football vs. Florida State Seminoles Football
Acrisure Stadium
Pittsburgh, PA, US
Ticketmaster
StubHub

November 11, 2023
2023 Alumni Dinner
Acrisure Stadium
Pittsburgh, PA, US
Ticketmaster
StubHub

November 12, 2023
Pittsburgh Steelers vs. Green Bay Packers
Acrisure Stadium
Pittsburgh, PA, US
Ticketmaster
StubHub

November 16, 2023
Pittsburgh Panthers Football vs. Boston College Eagles Football
Acrisure Stadium
Pittsburgh, PA, US
Ticketmaster
StubHub

December 03, 2023
Pittsburgh Steelers vs. Arizona Cardinals
Acrisure Stadium
Pittsburgh, PA, US
Ticketmaster
StubHub

December 07, 2023
Pittsburgh Steelers vs. New England Patriots
Acrisure Stadium
Pittsburgh, PA, US
Ticketmaster
StubHub

December 23, 2023
Pittsburgh Steelers vs. Cincinnati Bengals
Acrisure Stadium
Pittsburgh, PA, US
Ticketmaster
StubHub

Acrisure Stadium has hosted top acts such as Taylor Swift, Luke Combs, Beyonce, Ed Sheeran, and more.
Tailgating near Acrisure Stadium
Many of the lots around Acrisure Stadium allow tailgating activities before football games, but it's important to check with any specific lot when reserving parking to ensure tailgating is permitted. Typically, the garages will not allow any tailgating near their parking spaces. 
Perhaps the easiest way to enjoy tailgating activities before a Steelers game is to visit Stage AE. This is the official Tailgate Zone of the Steelers, and it can be found just east of the stadium inside the corner of Art Rooney Avenue and North Shore Drive.
Stage AE is free to attend this event, and you'll find a festive atmosphere, TVs with other football games, food and drink for purchase, and a lot more. As game time draws closer, you'll only be a short walk from getting inside and taking your seat.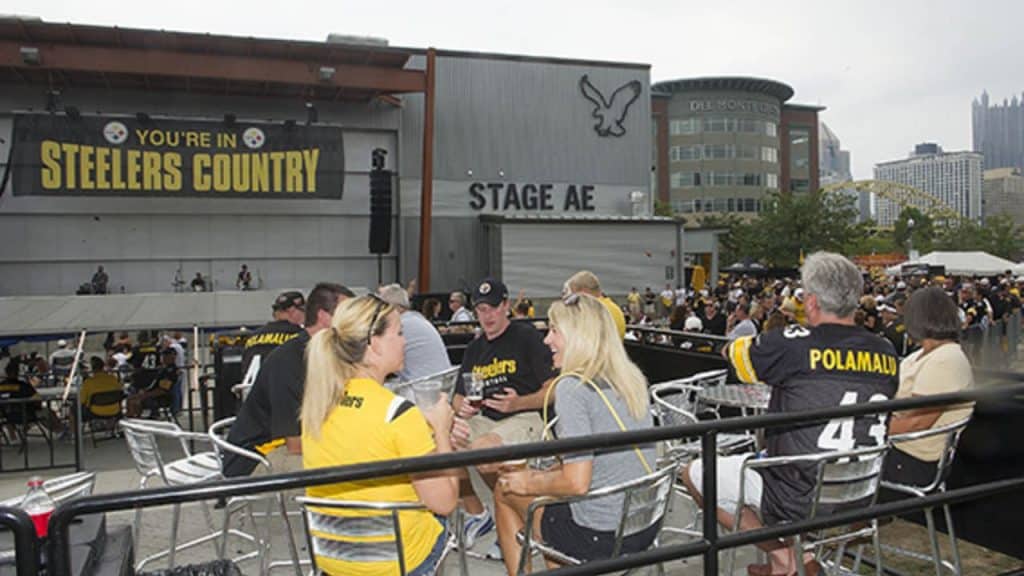 Acrisure Stadium Parking Tips for a Great Outing
Everyone who attends big events has a horror story about a parking nightmare that caused them to miss the start of the game or concert. Or, if you got in on time, it might have taken you hours to leave after it was over.
Let's review some basic parking tips to ensure that doesn't happen to you at Acrisure Stadium.
Arrive Early and Beat Traffic
Pittsburgh traffic could be a major headache depending on the day and time of the event you're attending. Plan your day to get to the stadium early and secure parking before it gets crazy. 
Check to see when the gates will open, and you can arrive early to enjoy as much time inside the facility as possible. 
Know What You Can Bring
Acrisure Stadium has specific policies regarding what can and can't come into the building like all other stadiums. Check these rules in advance so you don't have to leave things in the car.
Remember Where You Parked!
The area around Acrisure Stadium offers a variety of parking options, some quite a distance from the actual venue. With such a massive parking area to cover, you don't want to be searching for your vehicle at the end of the day. Consider snapping a quick picture or your car's location on your phone so you can get back to it easily. 
Don't Leave Things in Your Vehicle
With so many vehicles left unattended for hours, there is always the threat of criminal activity while an event is going on. To reduce the chances of theft, leave any valuable items at home, or at least tuck them away out of sight in your car or truck. And, of course, remember to lock up!
Look At a Map
This might sound a little old school in the age of GPS, but looking at the map of the area around the stadium before you leave can help you understand where you'll be going and how everything is laid out.
Conclusion
In conclusion, planning your parking at Acrisure Stadium is essential for a smooth and enjoyable experience. This comprehensive parking guide provides valuable information on official parking lots, third-party options, free parking areas, accessible parking spaces, and public transportation choices.
While Acrisure Stadium does not have an abundance of official parking lots, options such as the Champions Garage and nearby third-party lots offer convenient access to the venue. Public transportation, including the Light Rail and the Gateway Clipper boat, is a cost-effective and hassle-free alternative.
Following these parking tips can maximize your time and enjoyment at Acrisure Stadium events.
Frequently Asked Questions for Parking at Acriscure Stadium (FAQs)
How much does parking cost at Acrisure Stadium?
You'll find varied parking prices depending on the event you will attend. It's typically about $40 – $60 to park for an NFL game, but preferred lots will be more, and you might find even higher concert prices. It's best to secure your parking as early as possible to give yourself plenty of choices. 
Is Official Acrisure Stadium Parking or a Third-Party Lot the Better Option?
The official parking options at Acrisure Stadium are limited, especially for Pittsburgh Steelers games when the spaces are taken up by season ticket holders. Most people attending an event at this facility will need to either use third-party parking facilities or opt for another transportation to get into the area. 
Can I leave my vehicle overnight at Acrisure Stadium?
No, there is no overnight parking available. You must return to your vehicle and depart reasonably after the event ends. 
Does Acrisure Stadium offer bicycle parking?
Bicycles are not permitted on the grounds of the stadium on event days. 
What alternative transportation options are available to Acrisure Stadium?
Public transportation or a rideshare service are the two best options to get to the stadium without driving. Also, those who live in downtown Pittsburgh and the surrounding area may be able to walk to the venue. 
(Visited 766 times, 3 visits today)