The Caesars Superdome is one of the iconic stadiums in the National Football League. The New Orleans Saints call this facility home, and attending a game here is a dream for many fans.
This detailed Caesars Superdome parking tips guide offers detailed parking information, including:
The best official Caesars Superdome parking lots
Third-party parking lots near Caesars Superdome you can book in advance
Areas to look for free parking in New Orleans
Handicap parking solutions
Public transit options for New Orleans Saints events
Other valuable Caesars Superdome parking tips to save time and money
Whether you'll be visiting the Superdome for a football game or another type of event, it's never too soon to make a parking plan. Use the guide below to find a great spot!
Official Caesars Superdome Parking Lots
There are a few official parking garages around the Caesars Superdome. While some of these garages are limited to season ticket holders for Saints games, others are open to all other fans.
If you want to park in the official garages, you'll need to arrive promptly as they are sold on a first-come, first-served basis.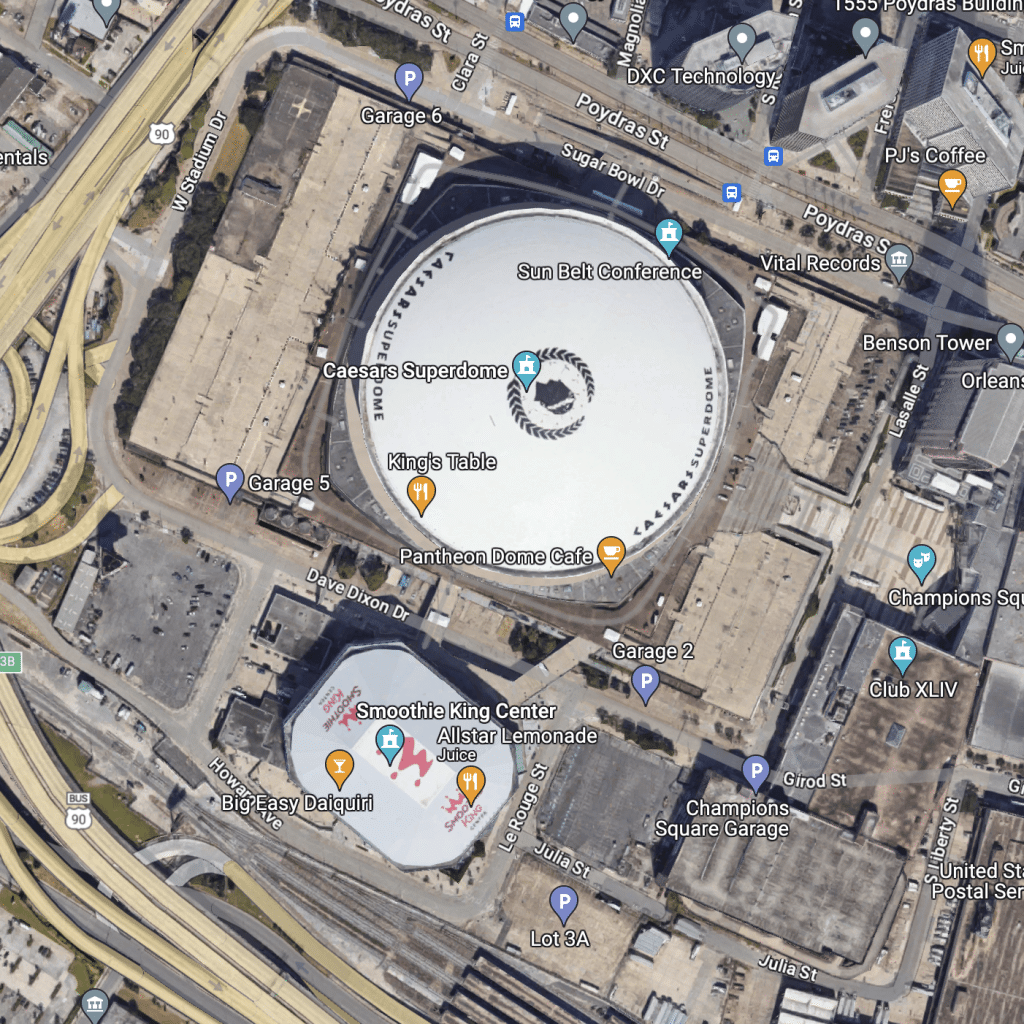 Main Parking Lots
The main parking areas to target for fans that are not season ticket holders are Garage 1A, Lot 3, Lot 3A, and the Champions Garage. If you arrive early enough to get a spot in one of these locations, you'll have easy access to the entrances of the Superdome just a short walk away.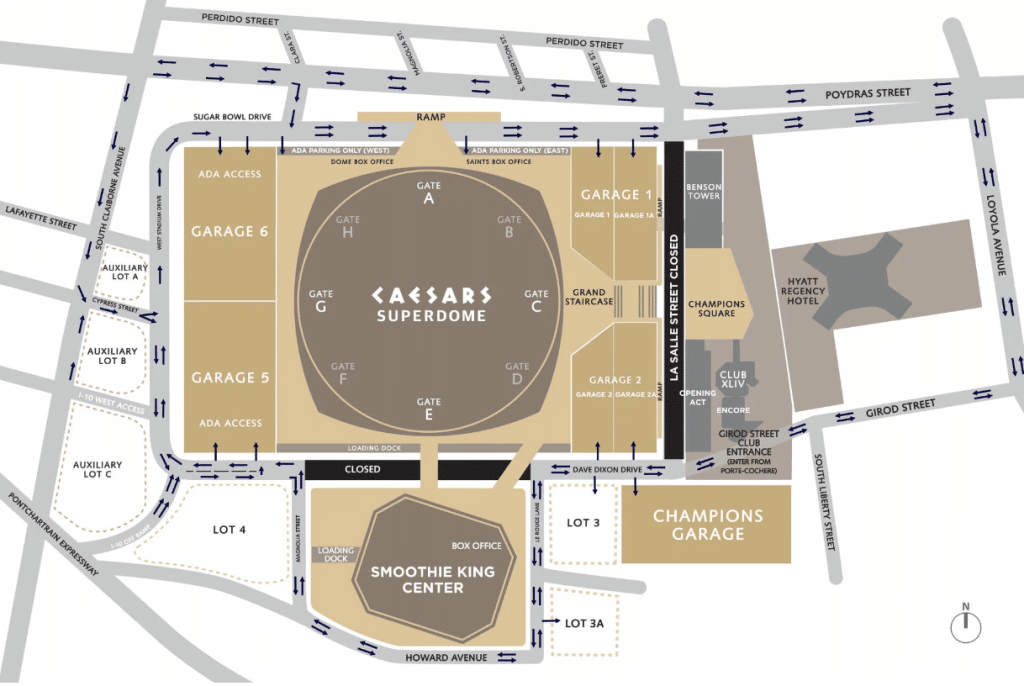 EV Parking at Caesars Superdome
Charging options for electric vehicles are extremely limited around the Caesars Superdome. If you are driving an EV to an event at this venue, it's best to charge it in advance so you don't need to find a charger while in the area. 
Accessible Parking Spaces
For accessible parking, you'll want to head to Garage 1A. There are ADA parking spaces offered on the first level of this garage. Also, small ADA East and ADA west lots are located along Sugar Bowl Drive to the north of the stadium. 
If you would like to drop off an individual with accessibility needs near the stadium, you can do so on Poydras Street. From here, the stadium can be entered on the ground level at Gate A, the dedicated spot for fans with ADA who need to enter the venue. 
Third-Party Parking Options at Caesars Superdome
Using SpotHero to reserve third-party parking is a great way to make your day at the Superdome more convenient and enjoyable. There are plenty of available lots and garages to the east of the stadium, so use the widget below to pick out something that will serve you well.
If you want to get as close to the venue as possible, consider the garage at 1615 Poydras Street. It's less than a 10-minute walk from this location to the gates of the Caesars Superdome, and the prices are rather reasonable given the proximity it offers.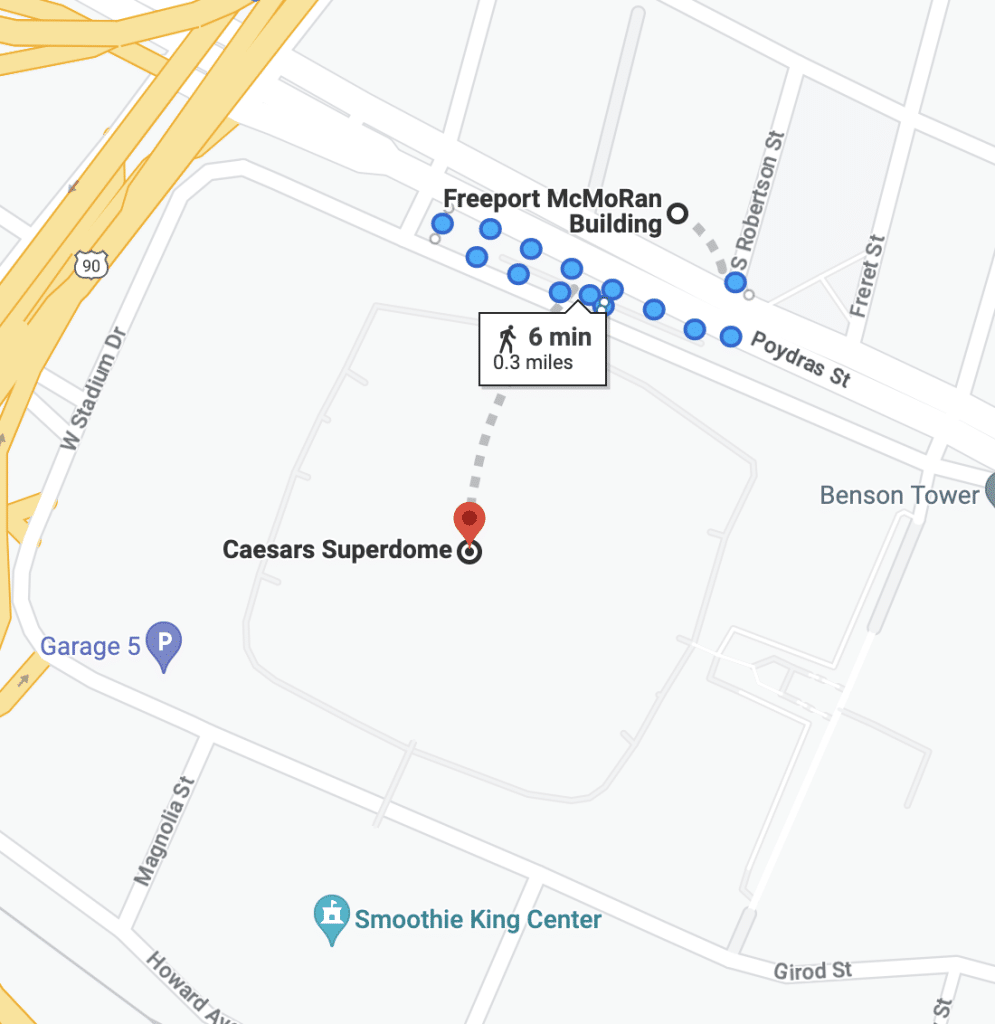 While the rates for the garage on Poydras Street are quite reasonable, you can save a little money if you are willing to walk farther.
For example, the 200 North Rampart Street garage often has rates for game days under $20, but it's a 20-minute walk back to the stadium. The garage at 618 Magazine Street is similar, with great prices in exchange for a longer stroll to the Superdome. 
Free Parking at Caesars Superdome
If there is no event going on at the time, the streets near the Superdome often have free parking spaces available. Of course, as you might expect, that story changes when a game or concert occurs.
With an event underway, those spots are going to be filled many hours before the event, and you are unlikely to find any free spots open in the blocks around the venue. If you want to show up early and look around, you might get lucky and find an available spot but have a backup plan in mind if that doesn't work out. 
Public Transportation to Caesars Superdome
To avoid paying for parking, consider using the options available through the Regional Transit Authority, or RTA, to get to the area around the Superdome. One of the best options to get to the Superdome if you are already in the city is to use the famous streetcar system.
Getting off at Poydras Street will leave you just a few minutes by foot from the entrance to the stadium.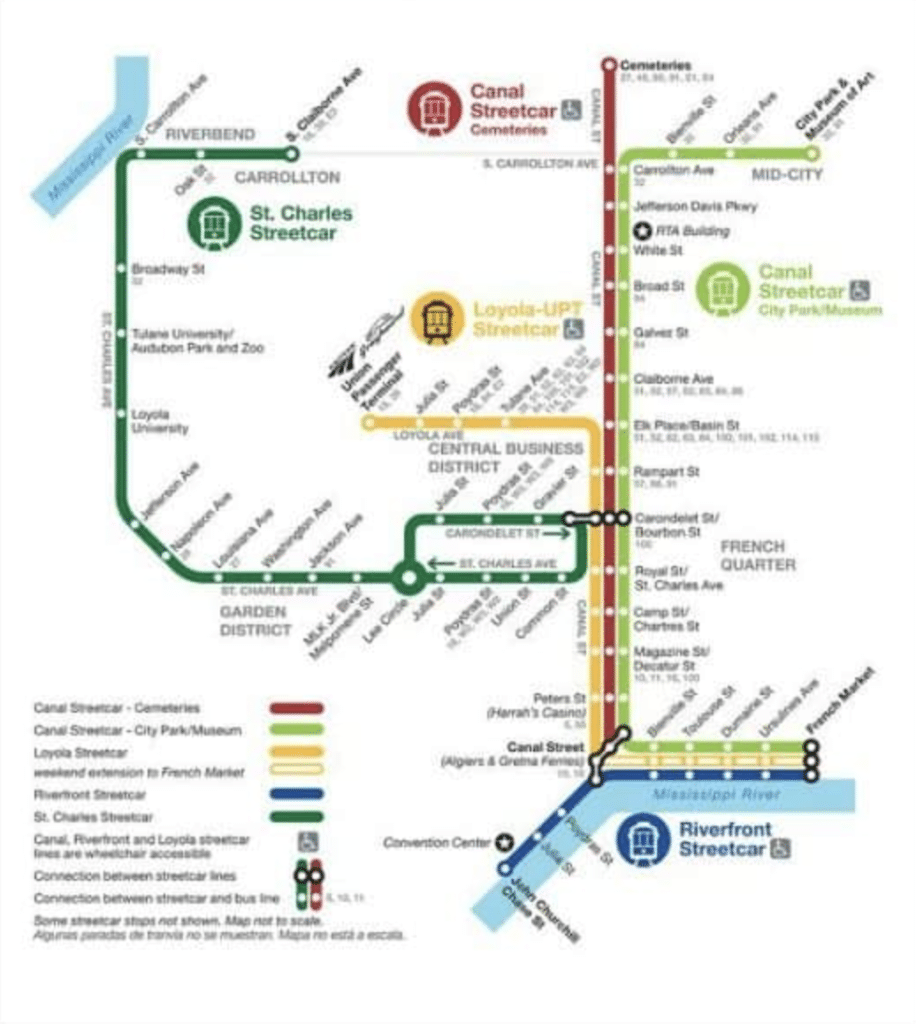 You'll need a Jazzy Pass to ride the streetcars or any of the bus lines in the city. A one-day pass is only $3 and is good for as many trips as you would like to take. Compared to some of the parking prices, this makes public transportation an excellent and affordable solution to your transportation needs. 
Ridesharing to Caesars Superdome
Although there isn't an official rideshare zone or lot to use for the Caesars Superdome, this is an excellent transportation option. Using Sugar Bowl Drive, or Poydras Street, both north of the stadium should work well for drop-offs and pickups.
The hours before and after an event can get quite busy, so arrange a ride a block or two away to avoid some congestion. 
Caesars Superdome Events
Events of all types take place in the Superdome throughout the year. Whether you want to see a college or NFL football game, or a big concert, the table below will help you find the right tickets.
Date
Name
Location
Buy Tickets
September 10, 2023
New Orleans Saints vs. Tennessee Titans
Caesars Superdome
New Orleans, LA, US
Ticketmaster
StubHub

September 27, 2023
BEYONCÉ - RENAISSANCE WORLD TOUR
Caesars Superdome
New Orleans, LA, US
Ticketmaster
StubHub

October 01, 2023
New Orleans Saints vs. Tampa Bay Buccaneers
Caesars Superdome
New Orleans, LA, US
Ticketmaster
StubHub

October 19, 2023
New Orleans Saints vs. Jacksonville Jaguars
Caesars Superdome
New Orleans, LA, US
Ticketmaster
StubHub

November 05, 2023
New Orleans Saints vs. Chicago Bears
Caesars Superdome
New Orleans, LA, US
Ticketmaster
StubHub

November 24, 2023
Battle of the Bands & Greek Show 2023
Caesars Superdome
New Orleans, LA, US
Ticketmaster
StubHub

November 25, 2023
50th Annual Bayou Classic: Southern v Grambling Football pres. by P&G
Caesars Superdome
New Orleans, LA, US
Ticketmaster
StubHub

December 03, 2023
New Orleans Saints vs. Detroit Lions
Caesars Superdome
New Orleans, LA, US
Ticketmaster
StubHub

December 10, 2023
New Orleans Saints vs. Carolina Panthers
Caesars Superdome
New Orleans, LA, US
Ticketmaster
StubHub

December 17, 2023
New Orleans Saints vs. New York Giants
Caesars Superdome
New Orleans, LA, US
Ticketmaster
StubHub

January 01, 2024
2024 CFP Semifinal at the Allstate Sugar Bowl
Caesars Superdome
New Orleans, LA, US
Ticketmaster
StubHub

October 25, 2024
Taylor Swift | The Eras Tour
Caesars Superdome
New Orleans, LA, US
Ticketmaster
StubHub

October 26, 2024
Taylor Swift | The Eras Tour
Caesars Superdome
New Orleans, LA, US
Ticketmaster
StubHub

October 27, 2024
Taylor Swift | The Eras Tour
Caesars Superdome
New Orleans, LA, US
Ticketmaster
StubHub

Tailgating near Caesars Superdome
There are a couple of different options for a fun tailgating experience before a New Orleans Saints game at the Superdome. The official pregame activities operated by the team take place in Champions Square, adjacent to the stadium. You'll be able to get into this area with your game ticket, and there will be concessions available in the party atmosphere.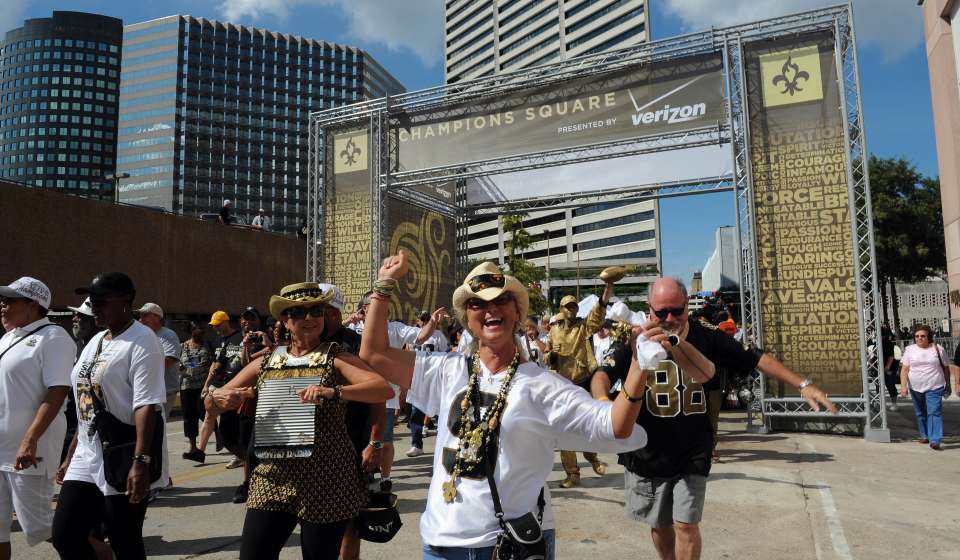 As an alternative to Champions Square, consider The Saints VIP Tailgate @ the Benson Tower. This is a separate event location on the 5th floor of Benson Tower, and you'll need to purchase a ticket for access (separate from your game ticket). 
An all-inclusive event, you'll have access to food and drinks, broadcasts of other NFL games, a gaming area, a comfortable lounge, and much more. 
The Saints VIP Tailgate opens three hours before the game, so you'll have plenty of time to have fun before walking across to the stadium. 
Caesars Superdome Parking Tips for a Great Outing
Everyone who attends big events has a horror story about a parking nightmare that caused them to miss the start of the game or concert. Or, if you got in on time, it might have taken you hours to leave after it was over.
Let's review some basic parking tips to ensure that doesn't happen to you at Caesars Superdome.
Arrive Early and Beat Traffic
Given its location in the heart of New Orleans, the Superdome can be hard to reach during certain times of day. Plan your day to get to the stadium early and secure parking before it gets crazy.
Simply check to see when the gates will open, and you can arrive early to enjoy as much time inside the facility as possible.
Know What You Can Bring
Caesars Superdome has specific policies regarding what can and can't come into the building, like all other stadiums. Check these rules in advance so you don't have to leave things in the car. 
Remember Where You Parked!
There are tons of parking spaces available in the area around the Caesars Superdome. With such a massive parking area to cover, you don't want to be searching for your vehicle at the end of the day. Consider snapping a quick picture or your car's location on your phone so you can get back to it easily. 
Don't Leave Things in Your Vehicle
With so many vehicles left unattended for hours, there is always the threat of criminal activity while an event is going on. To reduce the chances of theft, leave any valuable items at home, or at least tuck them away out of sight in your car or truck. And, of course, remember to lock up!
Look At a Map
This might sound a little old school in the age of GPS, but looking at the map of the area around the stadium before you leave can help you understand where you'll be going and how everything is laid out.
Conclusion
Attending an event at the Caesars Superdome in New Orleans can be an exciting experience, but it requires careful planning for a good parking spot. This comprehensive parking guide provides valuable tips and information to help visitors navigate the parking options efficiently.
From official parking lots to third-party alternatives, handicap accessibility, and public transportation, the guide covers various aspects to suit different preferences and needs. Following these tips, visitors can ensure a smooth and enjoyable parking at Caesars Superdome.
Frequently Asked Questions for Parking at Caesars Superdome (FAQs)
How much does parking cost at Caesars Superdome?
You'll find varied parking prices depending on the event you will attend. It's typically about $40 – $60 to park for an NFL game, but preferred lots will be more, and you might find even higher concert prices. It's best to secure your parking as early as possible to give yourself plenty of choices. 
Is Official Caesars Superdome Parking or a Third-Party Lot the Better Option?
There isn't a clear winner in the debate between official parking and third-party lots and garages. You'll be closer to the stadium in the official garages but will almost certainly pay more for the proximity. If you don't mind walking, plenty of great choices are offered on SpotHero for modest prices. 
Can I leave my vehicle overnight at Caesars Superdome?
No, there is no overnight parking available. You must return to your vehicle and depart reasonably after the event ends. 
Does Caesars Superdome offer bicycle parking?
If you are close enough to the Superdome to ride your bike rather than drive, you can save money on parking and avoid sitting in traffic. Look to Lot 3 for available bike racks you can lock up before entering. There are gates at the corner of LeRouge St. and Dave Dixon Dr. that you can easily use to get to the bike racks. 
What alternative transportation options are available to Caesars Superdome?
Public transportation and rideshare services are useful options that can take you to and from the Superdome quickly and at an affordable rate. 
How early are Caesars Superdome parking lots open?
The timing of parking lots opening up for vehicles to enter will depend on the event you are attending. Also, official garages near the Superdome may open at a different time than third-party facilities. Confirm opening times with your chosen lot or garage before you head out.
(Visited 227 times, 19 visits today)