Have tickets to an upcoming Highmark Stadium event? Before the day arrives, plan out your parking strategy with the help of this guide.
We'll cover plenty of Highmark Stadium parking tips, including the following:
Official lot options
Third-party parking lo options
Areas to look for free parking at Highmark Stadium
Handicap parking solutions
Public transit options for Highmark Stadium events
Other valuable parking tips to save time and money
Given the popularity of the NFL in this part of New York, Buffalo Bills home games are certainly the highlight of the year at Highmark Stadium. Other great events happen here as well, and it's always good to know where you will park so no surprises get in your way at the last second.
Highmark Stadium Parking Summary
Highmark Stadium has a large number of parking spaces available in its official lots, providing ample space for fans attending events. The parking facilities around the stadium are mostly surface lots, making it easier to find a spot.
Parking prices around Highmark Stadium can vary, with some options being more affordable than others. Street parking is available in the area but might be subject to restrictions and limited availability. Traffic congestion in the Buffalo region, particularly during peak times and on event days, can make navigating to the stadium and finding parking more challenging.
Public transportation options to Highmark Stadium are limited, with buses being the primary mode of public transit available. The stadium is outside of the downtown core.
Official Highmark Stadium Parking Lots
Most of the Highmark Stadium parking will be in the official lots. Since this stadium is located in the suburbs away from the city, plenty of space is available, and the official lots have huge capacity.
There are 14,000 parking spots within a 10-minute walk from Highmark Stadium.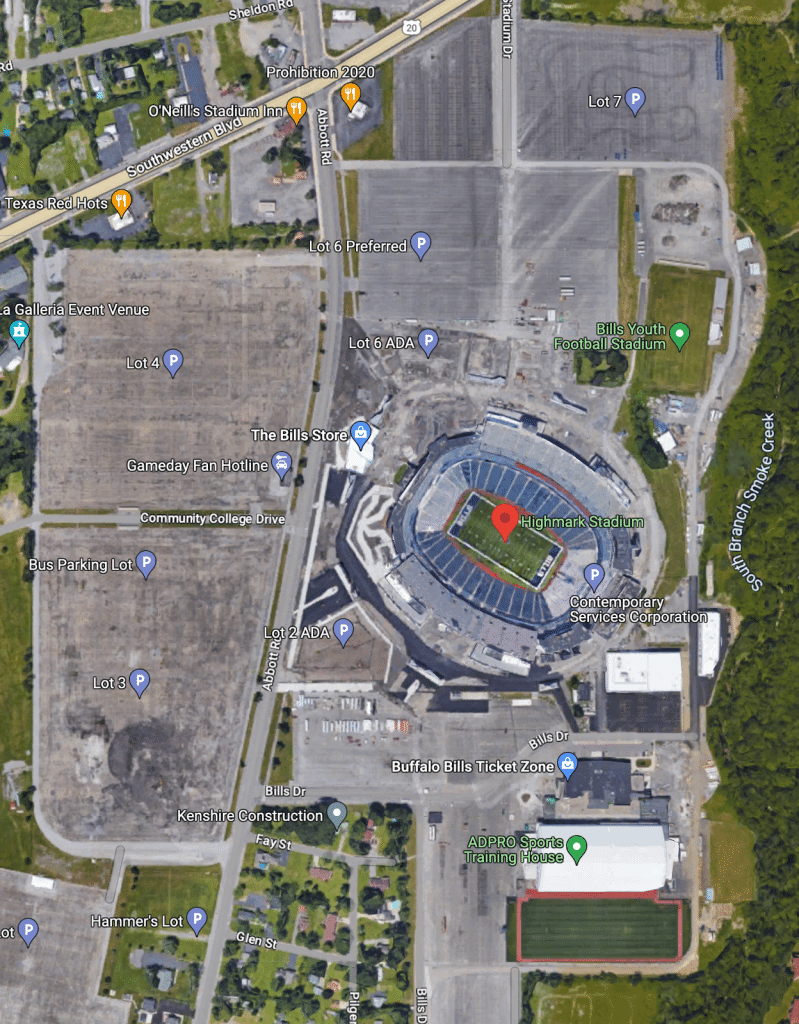 The only notable downside to using the official lots is the time it can take to leave the area after a game or concert. However, there isn't much you can do about this delay, so it's best to plan it into your day.
Main Parking Lots
Of the collection of official lots serving Highmark Stadium, Lot 4 – across Abbott Road from the stadium – is the largest. There is also quite a lot of parking in Lot 7, just north of the youth football stadium.
If you are looking for the prime Bills gameday experience and easy access to the stadium and the team store, Lot 4 is the way to go.
Expect to pay $40 for standard parking on Bills game day.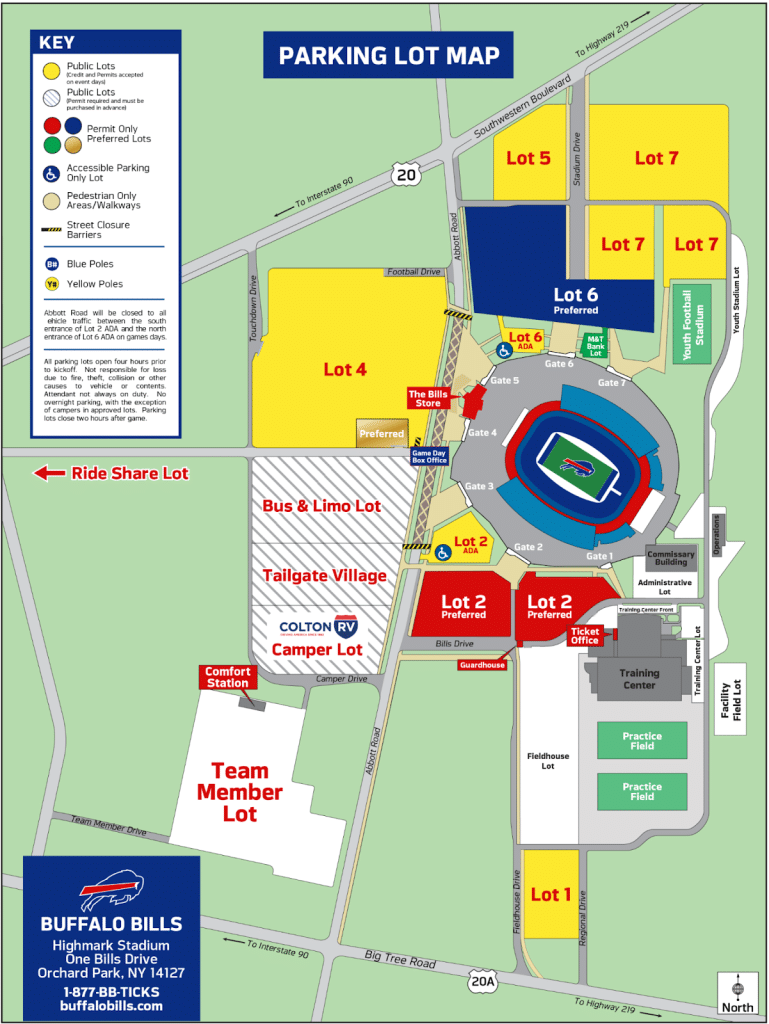 Premium Parking Lots
Several premium or "preferred" lots are available outside Highmark Stadium. Specifically, Lots 2 and 6 fit into this category, each offering a convenient location and quick access to the stadium entrances.
To park in one of the preferred lots, you'll need a permit before the event, as parking in these areas is not available to purchase on game day. If you are buying tickets second-hand, look for tickets that include a preferred parking spot.
Accessible Parking Spaces
Those who need accessible parking will find such accommodations on either side of the stadium. On the north side, it's ADA Lot 6 that you'll want to use, while the south side of the stadium offers ADA Lot 2.
Third-Party Parking Options at Highmark Stadium
As mentioned above, almost all practical parking options are found within the official stadium lots.
While you can use a tool like SpotHero to look for third-party options in the area, you likely won't find many viable alternatives to parking in one of the dedicated lots at Highmark Stadium.
Feel free to browse the SpotHero widget below for a better deal:
Free Parking at Highmark Stadium
Due to the location of this stadium in the suburbs, free street parking is difficult, if not impossible, to find. If you do find somewhere to park your car legally without charge, you will be facing a long walk to the stadium.
If you don't want to pay for parking, using alternative transportation like a rideshare service is probably your best bet.
Public Transportation to Highmark Stadium
To avoid parking, consider riding on the Metro Game Day Express for Bills home games at Highmark Stadium. This is an affordable option – tickets are only $5 – and you can board your bus 30 minutes or 60 minutes after the game.
There are four departure locations around Buffalo so you can pick the most convenient location for your needs. No matter which express bus you choose, you will be dropped off south of Gate #2. A general map of your dropoff spots is below.
Ridesharing to Highmark Stadium
There is a dedicated rideshare lot for Highmark Stadium if you use a service like Uber or Lyft. This lot can be found on the campus of SUNY Erie Community College, just a short walk to the west.
It is worth noting that wait times for rideshares after games can be long because fewer drivers work in this area than in the downtown area.
Highmark Stadium Tailgating
As in most NFL cities, tailgating is a beloved tradition in Buffalo. Bills fans are known for being extremely passionate about their team and tend to go all out for the tailgating experience.
Most of the lots at Highmark Stadium allow tailgating. However, tailgating is prohibited in the Team Member Lot, Tunnel Lot, and Youth Stadium Lot. You can park and start your tailgating experience four hours before the game, and you need to exit the lot no more than two hours after the game.
Other important tailgating rules to note are that you must have a ticket to the game, you need to toss out all trash, and no saving parking spaces for other vehicles are allowed.
The Bills also offer Tailgate Village, a special area created in the Bus & Limo lot for pregame activities.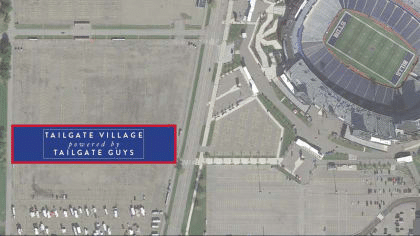 Highmark Stadium Events
This stadium stays busy throughout the year, so look for events in the table below that you might want to attend. Below the events list, we'll offer even more parking advice for Highmark Stadium.
Date
Name
Location
Buy Tickets
October 01, 2023
Buffalo Bills vs. Miami Dolphins
Highmark Stadium
Orchard Park, NY, US
Ticketmaster
StubHub

October 15, 2023
Buffalo Bills vs. New York Giants
Highmark Stadium
Orchard Park, NY, US
Ticketmaster
StubHub

October 26, 2023
Buffalo Bills vs. Tampa Bay Buccaneers
Highmark Stadium
Orchard Park, NY, US
Ticketmaster
StubHub

November 13, 2023
Buffalo Bills vs. Denver Broncos
Highmark Stadium
Orchard Park, NY, US
Ticketmaster
StubHub

November 19, 2023
Buffalo Bills vs. New York Jets
Highmark Stadium
Orchard Park, NY, US
Ticketmaster
StubHub

December 17, 2023
Buffalo Bills vs. Dallas Cowboys
Highmark Stadium
Orchard Park, NY, US
Ticketmaster
StubHub

December 31, 2023
Buffalo Bills vs. New England Patriots
Highmark Stadium
Orchard Park, NY, US
Ticketmaster
StubHub

Highmark Stadium Parking Tips for a Great Outing
Everyone who attends big events has a horror story about a parking nightmare that caused them to miss the start of the game or concert. Or, if you got in on time, it might have taken you hours to leave after it was over.
Let's review some basic parking tips to ensure that doesn't happen to you at Highmark Stadium.
Arrive Early and Beat Traffic
For a Sunday Bills game at Highmark Stadium, traffic in the Buffalo area might not be too bad – but the area directly around the stadium will likely be a different story. Plan your day to get to the stadium early and secure parking before it gets crazy.
Simply check to see when the gates will open, and you can arrive early to enjoy as much time inside the facility as possible.
Know What You Can Bring
Highmark Stadium has specific policies regarding what can and can't come into the building like all other stadiums. Check these rules in advance so you don't have to leave things in the car.
Remember Where You Parked!
There are tons of parking spaces available in the area around Highmark Stadium. With such a massive parking area to cover, you don't want to be searching for your vehicle at the end of the day. Consider snapping a quick picture of your car's location on your phone so you can get back to it without any trouble.
Look At a Map
This might sound a little old school in the age of GPS, but looking at the map of the area around the stadium before you leave can help you understand where you'll be going and how everything is laid out.
Conclusion
In conclusion, attending events at Highmark Stadium can be a fun and exciting experience, but proper planning for parking is crucial to avoiding unnecessary headaches. This page provides several parking options, including official lots and accessible parking.
Highmark Stadium allows tailgating in most lots, but certain rules must be followed. We suggest arriving early to avoid traffic and recommend checking for parking updates before the event. By following these tips, visitors can have a hassle-free experience at Highmark Stadium.
Frequently Asked Questions for Parking at Highmark Stadium (FAQs)
How much does parking cost at Highmark Stadium?
You'll find varied parking prices depending on the event you will attend. It's typically about $40 – $60 to park for an NFL game, but preferred lots will be more and you might find even higher concert prices. It's best to secure your parking as early as possible to give yourself plenty of choices. 
Are oversized vehicles allowed in the Highmark Stadium lots?
A dedicated Bus and Limo lot serves the stadium, which also serves as the home for pregame tailgating activities. You'll need to secure parking in advance for a bus or limo in this lot. Also, an RV Camper Lot is offered off of Abbott Road, although spots sell out well before the season. 
Can I leave my vehicle overnight at Highmark Stadium?
No, there is no overnight parking available. You will need to return to your vehicle and depart reasonably after the event has ended. 
Does Highmark Stadium offer bicycle parking?
Riding a bicycle to an event at Highmark Stadium is not recommended due to the stadium's location compared with the rest of the Buffalo area. This stadium is in the suburbs outside the city, and traveling to the game on bike would be difficult. An alternative mode of transportation is likely a better bet. 
What alternative transportation options are available?
A rideshare service like Uber or Lyft is likely your best alternative transportation option to reach the stadium. 
How early are Highmark Stadium parking lots open?
The timing of parking lots opening up for vehicles to enter will depend on the event you are attending. For a Bills game, expect the lots to open four hours before kickoff. Take a moment to confirm this information with the venue or parking facility in advance so you aren't caught off-guard. 
(Visited 1,054 times, 4 visits today)