Gainbridge Fieldhouse is the home venue for the Indiana Pacers of the NBA. If you have tickets for an upcoming event at this venue, knowing where you will park is a big part of having a great time. 
This detailed Gainbridge Fieldhouse parking tips guide offers detailed parking information, including:
The best official Gainbridge Fieldhouse parking lots
Third-party parking lots near Gainbridge Fieldhouse you can book in advance
Areas to look for free parking in Indianapolis
Handicap parking solutions
Public transit options for Indiana Pacers events
Other valuable Gainbridge Fieldhouse parking tips to save time and money
Various parking and transportation options are available for Gainbridge Fieldhouse, but you don't want to wait until the last moment to figure out your plan. Use this guide to get organized today!
Official Gainbridge Fieldhouse Stadium Parking Lots
Gainbridge Fieldhouse does not operate any official parking lots associated with the venue. While there is a lot of parking in the area in the form of various lots and garages, you won't be able to book parking directly through the arena.
As you can see in the Google Maps overview below, the stadium is right in the middle of a cluster of downtown buildings.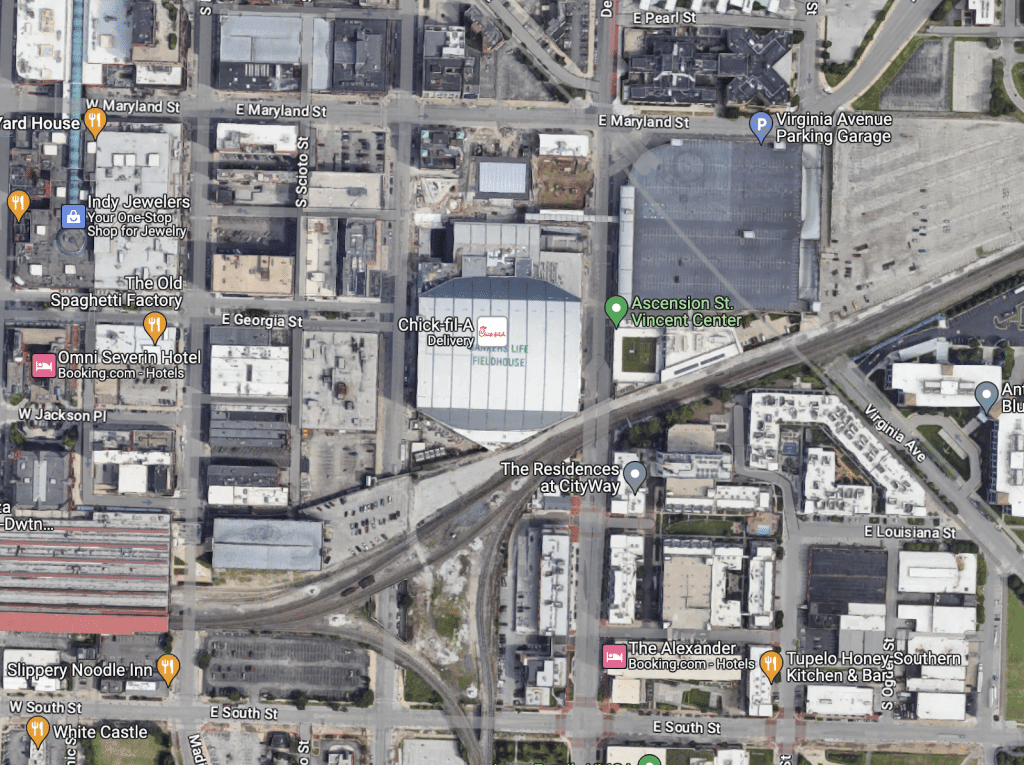 Main Parking Lots
As mentioned above, no main parking lot is associated with Gainbridge Fieldhouse. However, if there is one option that "feels" like a main parking lot, it's the Virginia Avenue Parking Garage. Since this is the closest garage to the venue, and it is even connected to the Fieldhouse via skybridge, you'll feel like you are using official parking when you choose this location. 
To book parking in advance in the Virginia Avenue Parking Garage, you can go through the SpotHero widget below. While you can't beat this parking option's convenience, you will likely pay a bit more here than with some of the other third-party options highlighted later on this page. 
EV Parking at Gainbridge Fieldhouse
Several EV charging stations are found just to the west of Gainbridge Fieldhouse alone E. Maryland Street. If you need to charge up, you might be able to use one of these spots, but we would recommend charging ahead of time instead. The area will be crowded when a game or concert is going on, and you might not find an available charger in an area where you can park.
It's best not to give yourself the headache and additional stress of needing to charge up while at a basketball game.
Accessible Parking Spaces
Since there are no official parking lots, you'll need to pay attention to any accessibility information offered by the lot or garage you choose to use for parking. Most facilities will be required to have ADA spaces as part of their layout, but the location of some lots and garages may make it difficult for people with mobility limitations to get to the gates of the arena.
Consider dropping off any individuals with accessibility needs near the entrances before proceeding to your chosen parking spot. 
Third-Party Parking Options at Gainbridge Fieldhouse
Using third-party parking is an excellent strategy for attending events at Gainbridge Fieldhouse. We've made it particularly easy by including a SpotHero widget below. Use that widget to pick the event you will attend and choose from the many available parking options.
If proximity is your primary concern, look at the lot at 240 S. Pennsylvania St. It's an easy walk from this lot to the arena, although you will pay more than some other third-party options nearby.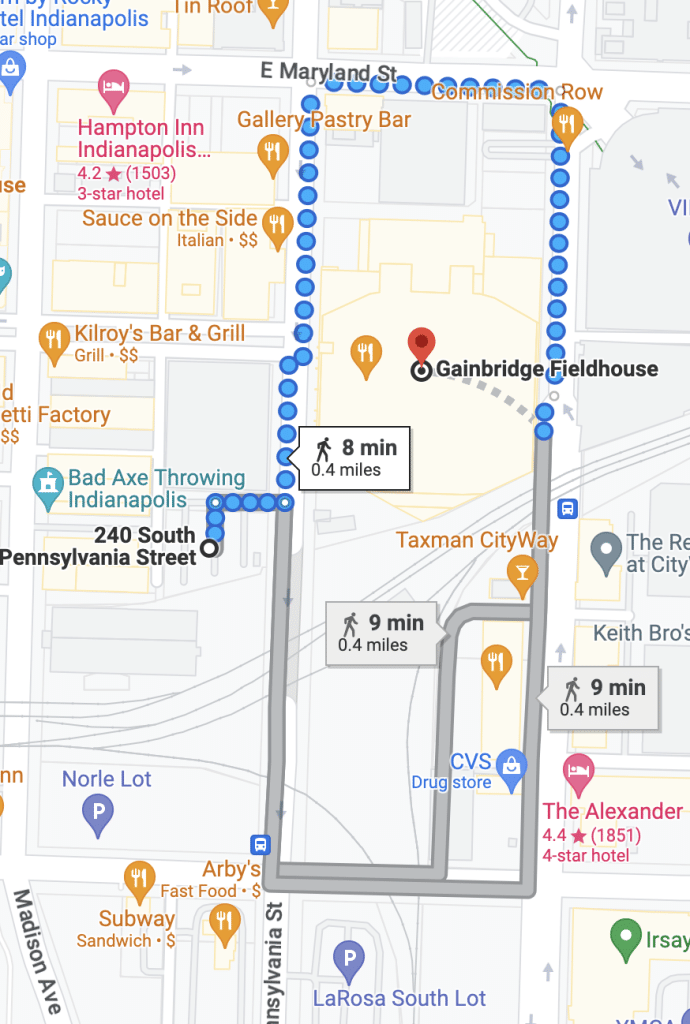 To save money, you must walk a little farther from your car to the gates. For that, look at the area north of the venue to find options such as the lot at 26 N. Delaware St.
Depending on the event you are attending, you can find parking here for as little as $10. 
Free Parking at Gainbridge Fieldhouse
It's difficult, but not necessarily impossible, to find free parking when attending a game or concert at Gainbridge Fieldhouse. First, as a starting point, you'll need to be willing to walk if you are looking for free parking, as spots close to the venue are sure to have a price tag. 
If you happen to be going to an event on a Sunday, the parking meters are turned off and you can park for free wherever you find availability. Heading north from the arena up toward E. Ohio Street might open up plenty of street parking for you to use.
If you aren't going on a Sunday, the metered parking won't be free, but it might still be rather affordable if spaces are available. 
Public Transportation to Gainbridge Fieldhouse
Want to avoid driving and paying for parking? Public transportation is the way to go.
IndyGo
You can get to the area around Gainbridge Fieldhouse by using IndyGo, and plenty of different routes will serve you well from around the city. 
The Julia M. Carson Transit Center highlighted on the map below is just a few blocks from Grainbridge Fieldhouse. Any routes stopping in this area will work nicely for your needs.
If you visit the IndyGo website, you can use the Quick Trip Planner feature to enter your starting location. With Gainbridge Fieldhouse entered as the destination, you will get all the information you need about what line to ride and what schedules are offered for each day.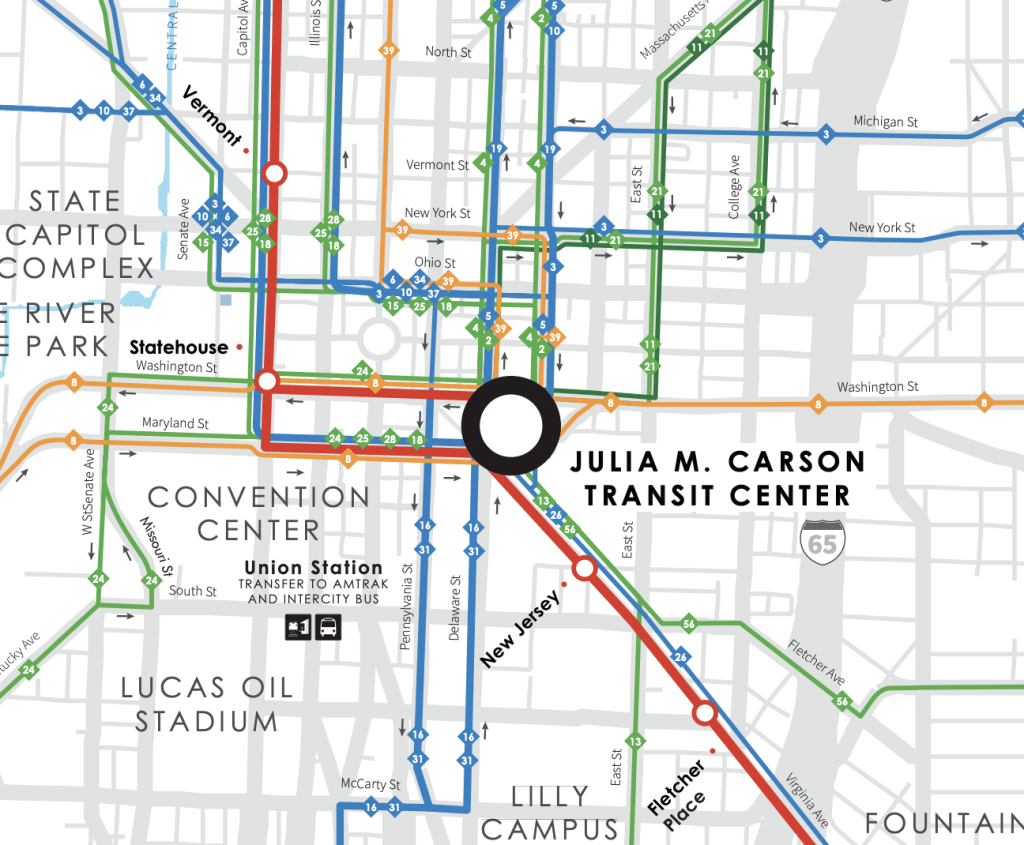 Ridesharing to Gainbridge Fieldhouse
There is no dedicated zone for drop-offs and pick-ups at the Gainsbridge Fieldhouse. Instead, you will have to coordinate with your driver for the best place to drop off or connect after the event.
As a good rule of thumb, walking a block or two away from the venue after the event to meet your driver is easier and will result in less congestion. 
Gainbridge Fieldhouse Events
The Indiana Pacers play more than 40 home games in the Gainbridge Fieldhouse each season, but those dates are only the start of the activity at this venue. No matter what type of event you would like to attend, you can look for great tickets in the table below. 
| Date | Name | Location | Buy Tickets |
| --- | --- | --- | --- |
Bars and Restaurants near Gainbridge Fieldhouse
If you are hungry on your way to an event at Gainbridge Fieldhouse, you will have plenty of excellent options nearby. The area just to the west of the area is full of fun choices for food and drinks, so there is sure to be something to suit just about every taste. 
While it's a national chain that might not have the local feel of some other establishments, Yard House is a good spot to stop for a bite or a drink before you attend a game. With a sports-bar feel, there will surely be a lively atmosphere here before your fellow fans walk just down the street to find the gates of Gainbridge Fieldhouse. S
poke & Steele, Nada, and Pearl Street Pizzeria & Pub are nearby reststaurants you might want to check out.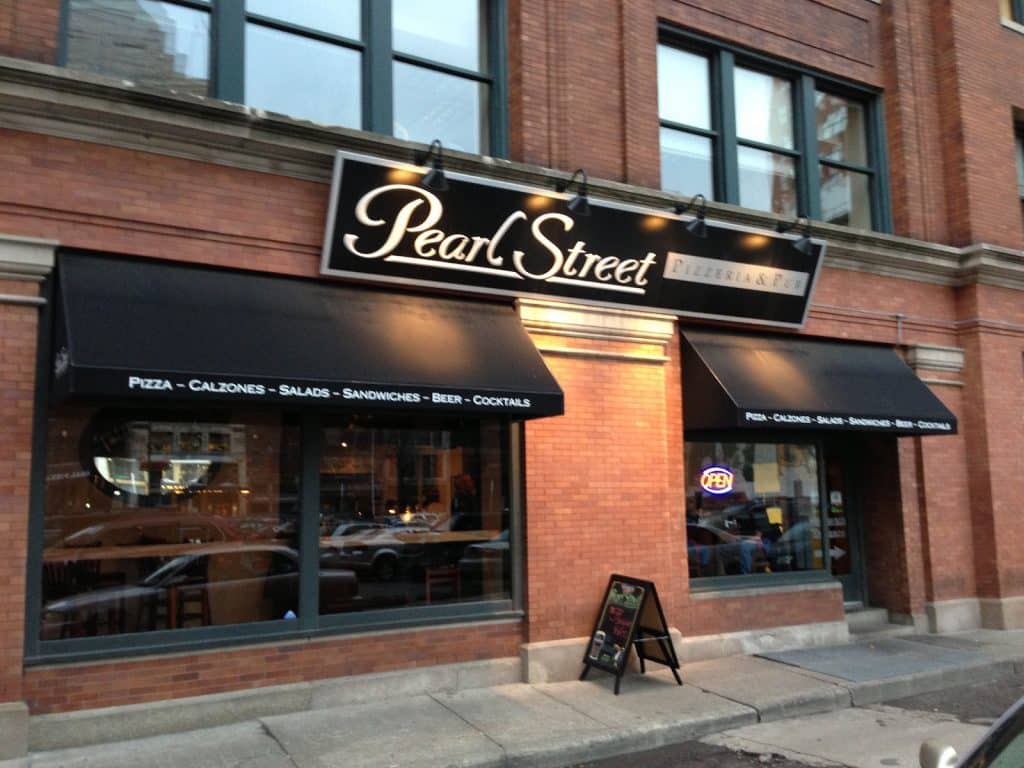 Gainbridge Fieldhouse Parking Tips for a Great Outing
Attending an event at an NBA arena should be a relaxing, enjoyable experience. Sometimes, however, traffic and transportation issues get in the way and turn the outing into a bit of a nightmare.
Let's review some basic parking and travel tips to ensure that doesn't happen to you at Gainbridge Fieldhouse.
Arrive Early and Beat Traffic
Indianapolis doesn't have the horrific traffic of some larger cities, but there is still plenty of congestion to deal with during parts of the week. Plan your day to get to the arena early and secure parking before it gets crazy.
Check to see when the gates will open, and you can arrive early to enjoy as much time inside the facility as possible. 
Know What You Can Bring
Gainbridge Fieldhouse has specific policies regarding what can and can't come into the building like all other stadiums. Check these rules in advance so you don't have to leave things in the car.
Remember Where You Parked!
There are plenty of parking spaces available in the area around Gainbridge Fieldhouse. With such a massive parking area to cover, you don't want to be searching for your vehicle at the end of the day. Consider snapping a quick picture of your car's location on your phone so you can get back to it easily.
Take Security Measures
You should always consider safety when parking for an event at a popular arena. Be sure to lock your vehicle as a starting point and remove anything valuable from the car or truck before leaving home. You might want to park in a well-lit area for more security.
Have a Backup Plan
Unless you have purchased a parking pass in advance, it's a good idea to have at least a few parking options in mind when you head out. That way, if your first option is full or otherwise unavailable, you won't have to scramble to figure out where to go next.
Conclusion
Planning your parking ahead of time is essential for a hassle-free experience at Gainbridge Fieldhouse, the home venue of the Indiana Pacers. This comprehensive parking guide provides information on official and third-party parking options, including the convenient Virginia Avenue Parking Garage connected to the Fieldhouse.
Remember to arrive early, familiarize yourself with venue policies, and take necessary security precautions. Having a backup plan for parking ensures a smooth outing at Gainbridge Fieldhouse.
Frequently Asked Questions for Parking at Gainbridge Fieldhouse (FAQs)
How much does parking cost at Gainbridge Fieldhouse?
You'll find varied parking prices depending on the event you will attend. It's typically about $20 to $40 to park for an NBA or NHL game, but preferred lots will be more, and you might find even higher concert prices. It's best to secure your parking as early as possible to give yourself plenty of choices.
Is Official Gainbridge Fieldhouse Parking or a Third-Party Lot the Better Option?
This venue has no official Gainbridge Fieldhouse parking, so third-party parking is the default winner. Fortunately, some many nearby lots and garages offer affordable rates and close proximity to the venue. 
What is the closest parking lot to Gainbridge Fieldhouse?
The closest parking option for Gainbridge Fieldhouse is the Virginia Avenue Parking Garage, located just across Delaware Street to the east. If you decide to park here, you'll have a quick, covered walk to get to the gates and get inside the arena. Do note that parking here comes at a premium compared to other nearby lots and garages. 
Does Gainbridge Fieldhouse offer bicycle parking?
If you would like to ride your bike to an event at Gainbridge Fieldhouse, bicycle parking is nearby to accommodate that plan. Specifically, you'll want to head toward the Virginia Avenue Garage, where you can find bike racks near Maryland Street. Just bring a good bike lock and you'll be all set. 
What alternative transportation options are available to Gainsbridge Fieldhouse?
Both public transportation through IndyGo and various rideshare services like Uber and Lyft will work nicely as alternatives to driving your own vehicle. 
How early are Gainbridge Fieldhouse parking lots open?
The timing of parking lots opening up for vehicles to enter will depend on the event you are attending. If you buy parking in advance, the opening time of the lot should be included with your pass. Take a moment to confirm this information with the venue or parking facility in advance so you aren't caught off-guard.
(Visited 43 times, 1 visits today)