The Cincinnati Reds of Major League Baseball call Great American Ball Park home. This scenic stadium is a popular attraction for residents of Ohio and beyond.
This detailed Great American Ball Park parking tips guide offers detailed parking information, including:
The best official Great American Ball Park parking lots
Third-party parking lots near Great American Ball Park you can book in advance
Areas to look for free parking in Cincinnati
Handicap parking solutions
Public transit options for Cincinnati Reds events
Other valuable Great American Ball Park parking tips to save time and money
With a reputation for offering up a lot of home runs, Great American Ball Park is undoubtedly an exciting venue to catch a game. Make your parking plan so you are ready when gameday arrives.
Official Great American Ball Park Parking Lots
As a starting point when looking for parking for an upcoming Reds game, check out the options that are available in the official parking lots associated with the stadium.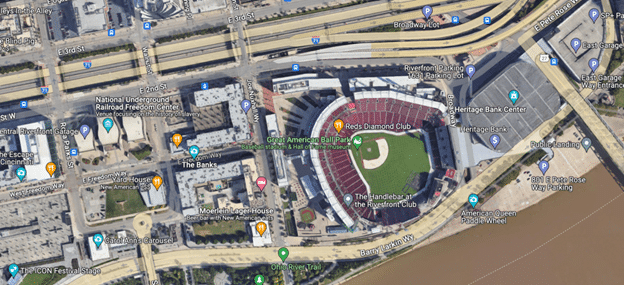 Any of the official parking lots will leave you with easy access to the gates of Great American Ball Park. And, since the stadium is sandwiched between I-71 and Barry Larkin Way, you'll have plenty of options for leaving the area when the game ends.
Main Parking Lots
There are a total of 8 official parking lots offered by the stadium. The map below clearly outlines the layout of those lots in relation to the park's location.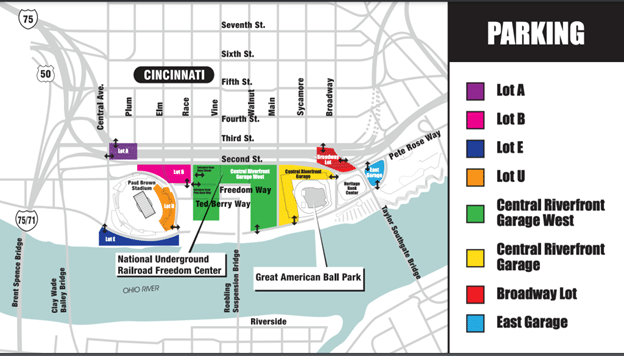 Without a doubt, the Central Riverfront Garage will place you the closest to the Great American Ball Park entrances, but Central Riverfront Garage West is also nearby. You can prepay for parking in either of those two garages and the East Garage.
You can purchase your passes single-game for any of those three garages listed above by visiting the Cincinnati Reds' official website. If you want to save a few dollars, the East Garage is generally the cheapest, offering the longest walk to the stadium. Some of these parking options may sell out for games where a large crowd is expected, so it's a good idea to reserve your spot as soon as possible.
EV Parking at Great American Ball Park
There is a FLO Charging Station located within the East Garage. You won't be able to secure a charging spot when you make your reservation, so you'll need to check for availability once you arrive. Please ensure your vehicle is sufficiently charged for the day ahead of time so you aren't stuck if the chargers are taken.
Accessible Parking Spaces
There is first-come, first-served accessible parking in both the Central Riverfront Garage and the East Garage. These two lots are a great place to start when arriving for the game, but other lots in the area will have accessible spots included in their layout, as well.
Third-Party Parking Options at Great American Ball Park
Using the SpotHero widget belowis a great way to get affordable parking for an upcoming event at Great American Ball Park. There are many parking options north of the stadium, so plenty of inventory should be available for the day you have in mind.
My favorite third-party lot is the Mabley Place Garage at 410 Race Street. You will have to walk less than 10 minutes from this location and have the luxury of parking inside. If Mabley Place is full, you can also look into the 305 Lot on 5th Street, as it's only a short distance from the stadium.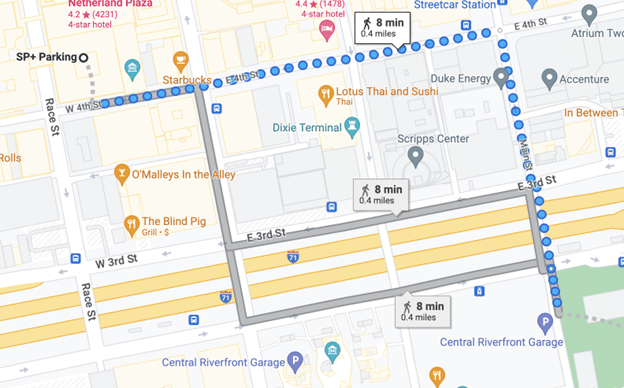 Free Parking at Great American Ball Park
In some Cincinnati neighborhoods, the parking meters are only enforced until 6 pm, meaning you may be able to park after those meters are turned off for the night. However, such locations will likely leave you a long walk from the park.
As one option, you can find free parking well away from the stadium and then use the city's bike share program or the public streetcar to make the rest of the trip. More information about the bike share program is in the FAQs at the bottom of this page, and we discuss the streetcar in the next section.
Public Transportation and Ridesharing to Great American Ball Park
When visiting the Great American Ball Park in Cincinnati, both public transportation and rideshare services offer convenient options for reaching the venue. Below are some methods you might consider:
Cincinnati Bell Connector
The Cincinnati Bell Connector streetcar system is a great choice for getting to the game. It services 18 stations across the city, making it a convenient way to move around town. The key station for reaching the Great American Ball Park is Station 1 at The Banks. This station provides direct access to the stadium, making your arrival and departure quick and straightforward.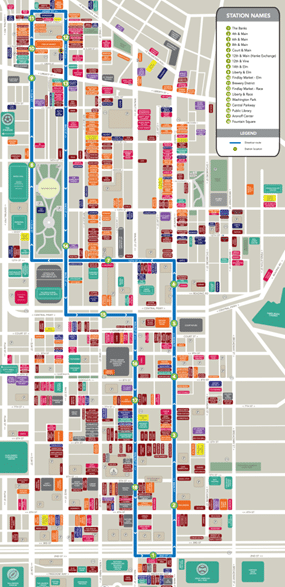 An additional benefit of the Cincinnati Bell Connector is that it's free to use. This means you can park in a less expensive area of the city and take a free ride to the stadium, potentially saving on parking costs.
Rideshare services like Uber and Lyft are popular options for getting to the Great American Ball Park. These services are easy to use—simply request a ride through the app. There are plenty of surface streets near the venue that can serve as convenient pickup and drop-off locations.
Remember, planning your transportation in advance can help you avoid last-minute hassles and fully enjoy your visit to the Great American Ball Park.
Great American Ball Park Events
Still need to secure tickets to a game or another event at Great American Ball Park? The listings below are a great place to start your search.
Date
Name
Location
Buy Tickets
July 26, 2023
P!NK: Summer Carnival 2023
Great American Ball Park
Cincinnati, OH, US
Ticketmaster
StubHub

Bars and Restaurants Near Great American Ball Park
The best place to look for food and drink before or after a game at Great American Ball Park is between the baseball stadium and nearby Paycor Stadium. Freedom Way serves as the primary connection between these two destinations.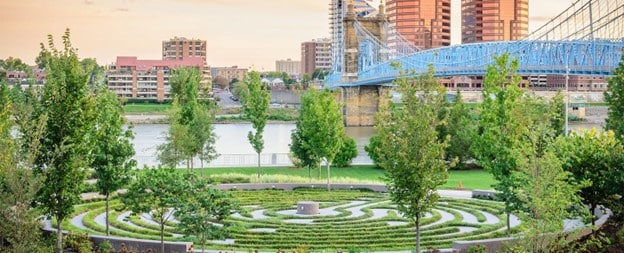 Among your options in this district near the Ohio River includes:
Yard House
Condado Tacos
the Holy Grail Tavern & Grille
Moerlein Lager House
A stroll down to the river's shores is also an enjoyable pregame activity on a nice day.
Great American Ball Park Parking Tips for a Great Outing
Everyone who attends events has a horror story about a parking nightmare that caused them to miss the start of the game or concert. Or, if you got in on time, it might have taken you hours to leave after it was over.
Let's review some essential parking tips to ensure that doesn't happen to you at Great American Ball Park.
Arrive Early and Beat Traffic
The traffic in the heart of Cincinnati can be challenging at certain times of the week, potentially causing you to be late for the game. Plan your day to get to the stadium early and secure parking before it gets crazy.
Check to see when the gates will open, and you can arrive early to enjoy as much time inside the facility as possible.
Know What You Can Bring
Great American Ball Park has specific policies regarding what can and can't come into the building, like all other stadiums. Check these rules in advance so you don't have to leave things in the car.
Remember Where You Parked!
There are tons of parking spaces available in the area around Great American Ball Park. With such a massive parking area to cover, you want to avoid searching for your vehicle at the end of the day. Consider snapping a quick picture of your car's location on your phone so you can get back to it quickly.
Look At a Map
Reviewing the map of the area around the stadium before you leave can help you understand where you'll be going and how everything is laid out.
Conclusion
Visiting Great American Ball Park for a Cincinnati Reds game or other events can be an exciting experience. Planning your parking strategy ahead of time will ensure a smooth outing.
This article provided detailed information on various parking options, including official lots, third-party options, and accessible parking solutions. It also highlighted the availability of public transit options and rideshare services for convenient access to the stadium. By following these parking tips, you can maximize your enjoyment of the event and avoid any parking-related issues.
Frequently Asked Questions for Parking at Great American Ball Park (FAQs)
How much does parking cost at Great American Ball Park?
You'll find varied parking prices depending on the event you will attend. It's typically about $20 – $40 to park for an MLB game, but preferred lots will be more, and you might find even higher concert prices. It's best to secure your parking as early as possible to give yourself plenty of choices.
Can I leave my vehicle overnight at Great American Ball Park?
No, there is no overnight parking available. You must return to your vehicle and depart reasonably after the event ends.
Does Great American Ball Park offer bicycle parking?
The City of Cincinnati operates the Red Bike program, a bike-share system you can use to get around town. Multiple bike docks are located around the stadium, so this is a great option to get down to the park without bringing a vehicle. You can download the app for this system to track inventory and find a bike.
What alternative transportation options are available?
Public transportation or rideshare services like Uber or Lyft are likely your best alternative transportation option to reach the stadium (in addition to the idea of using the bike-share service, as mentioned above).
How early are Great American Ball Park parking lots open?
The timing of parking lots opening up for vehicles to enter will depend on the event you are attending. Typically, the gates to the park will open 90 minutes before the first pitch, but be sure to take a moment to confirm this information with the venue or parking facility in advance so you are aware of the situation.
(Visited 62 times, 1 visits today)