Nissan Stadium in Nashville is the home venue for the Tennessee Titans of the National Football League. Countless great events are held here each year, with plenty of concerts in addition to the football schedule.
This detailed Nissan Stadium parking tips guide offers detailed parking information, including:
The best official Nissan Stadium parking lots
Third-party parking lots near Nissan Stadium you can book in advance
Areas to look for free parking in Nashville
Handicap parking solutions
Public transit options for Tennessee Titans events
Other valuable Nissan Stadium parking tips to save time and money
Don't let parking woes trouble you on the day of an event at Nissan Stadium. Use our guide below to find the right parking solution for your needs.
Official Nissan Stadium Parking Lots
There is a collection of parking lots on the property of Nissan Stadium in Nashville. Since the stadium is close to the eastern shore of the Cumberland River, most of the parking is to the east of the venue. Although, a couple of small lots are tucked between the building and the river.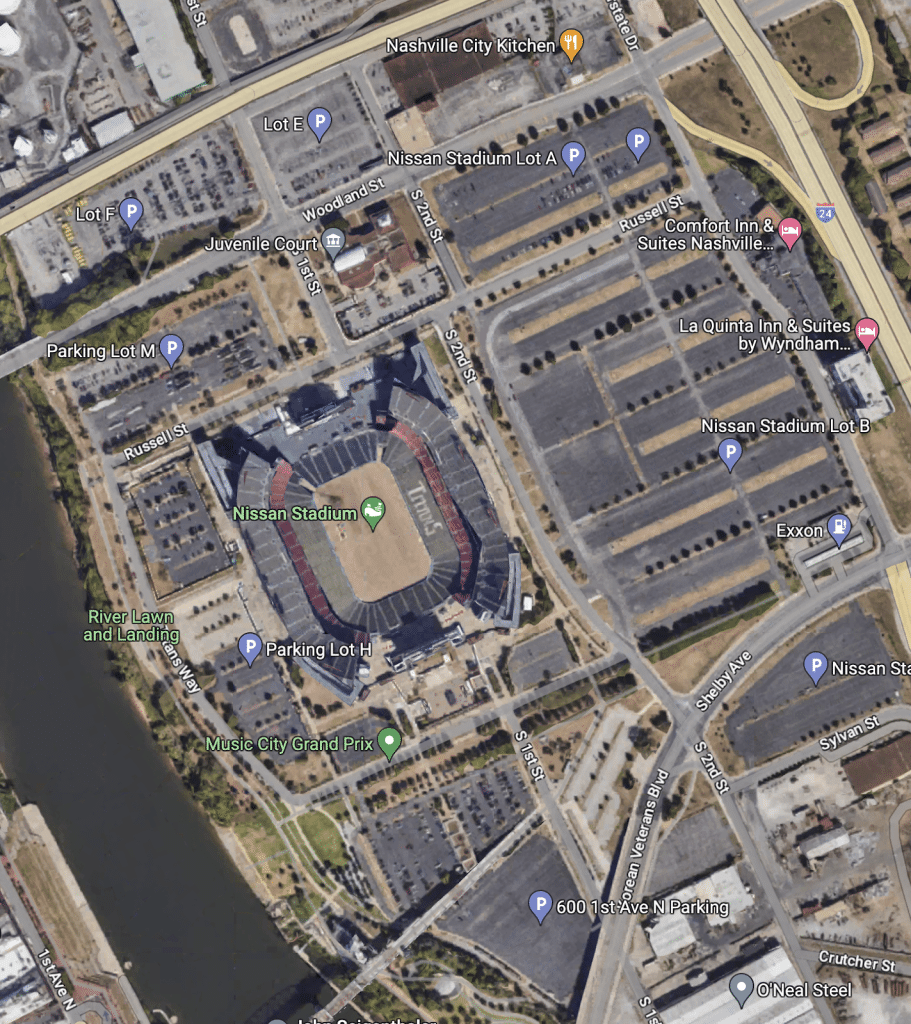 Main Parking Lots
The good news regarding parking at Nissan Stadium is that several parking lots are on site, each identified with a letter. Lot B is the largest main lot, but many others are available, including Lot A, Lot N, Lot H, and Lot S.
The bad news, however, is that you won't be able to use these lots as a single-game ticket holder when attending a Titans game at this venue. All spaces are reserved for season ticket holders, so no parking is available on-site for single games.
To drive your vehicle to a game if you don't have season tickets, you'll need to look at the nearby third-party options (which we have highlighted later on this page).
EV Parking at Nissan Stadium
You will most likely need to charge up your vehicle in advance and not plan on plugging it in while attending a game or another event. You may be able to find a third-party parking facility with an available EV charger, but you don't want to plan on that outcome.
Instead, get ahead of the game by starting your day with a full charge so you don't have to worry about it later.
Accessible Parking Spaces
There are more than 100 accessible parking spaces on the property of Nissan Stadium. If you have a parking pass and an ADA placard, you can use one of these spaces when you arrive.
Of course, as mentioned above, parking on-site is not available for Titans games. You may be able to reserve a spot if you are attending something like a concert rather than a game, but otherwise, you'll want to look at third-party options. Fortunately, any third-party lot or garage is also going to feature ADA parking as required by law.
If you need to drop off an individual with a disability before parking elsewhere, you can use the ADA drop off and pick up area by Gates 2 and 3. There is a dedicated lane to use at Woodland and 1st Street to enter the property, drop off your passenger, and then loop around on 2nd Street to get back to Woodland.
Third-Party Parking Options at Nissan Stadium
There are many excellent third-party parking options available for Nissan Stadium events. Some of these lots and garages will require you to walk a bit, but more are less than 20 minutes away by foot, and some prices are quite affordable. Use the SpotHero widget below to find and reserve the ideal spot for your outing.
One of the best picks for third-party parking when attending Nissan Stadium is the Whitefront Garage at 205 2nd Avenue North. The walk is less than 15 minutes, and pricing for a football game is often under $30.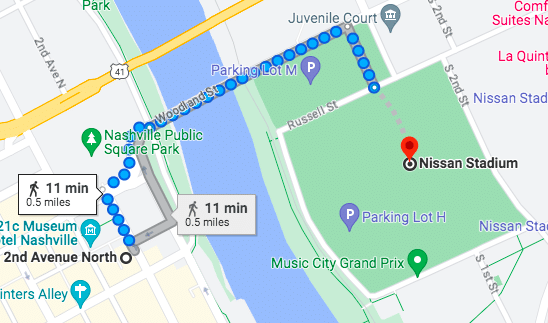 If the Whitefront Garage is booked or doesn't suit your needs, there are plenty of other good choices. The Court Square Lot at 300 James Robertson Parkway is also a convenient and affordable pick, as is the 4th & Commerce Garage.
Looking for the lowest possible price? Check out the Library Garage, which may be available for as little as $10, although the walk is a little longer.
Free Parking at Nissan Stadium
Don't plan on finding anywhere near Nissan Stadium to park for free when attending an event. As with most urban areas around the country, free parking is hard to find under any circumstances – and it is particularly scarce when something like a football game or concert is going on.
If you don't want to pay for a parking spot so you can drive your vehicle, plan on using public transportation or a rideshare service to make the trip.
Public Transportation to Nissan Stadium
If you're heading to a game or event at Nissan Stadium, consider utilizing the city's public transportation options to save on parking and avoid heavy traffic.
Titan Fan Express
One of the best options for Tennessee Titans games is the Titan Fan Express provided by InShuttle. This dedicated service is available for all Titans home games during the regular season.
The Titan Fan Express operates from various Park & Ride locations, allowing you to park your car at a distance from the stadium and ride the bus to and from the event. This is a cost-effective choice and helps you avoid the stress of stadium-area traffic.
WeGo Public Transit
If the Titan Fan Express doesn't suit your needs, take a standard city bus operated by WeGo Public Transit. This public transportation option provides regular service to the area around Nissan Stadium.
If you plan to take this route, be sure to check the schedule for the day of the event. It's important to ensure there will be service before and after the event. Given the popularity of this option, you might also want to plan to arrive at your bus stop early.
Specific bus lines that serve Nissan Stadium include routes 23, 4, and 52. These buses stop near the stadium, offering you an easy and convenient way to attend your event. As with any public transit, double-check the schedule and routes in advance to ensure a smooth trip.
Ridesharing to Nissan Stadium
Rather than looking for a parking space, you might decide to use a rideshare service instead to get to and from the stadium.
If that is your plan, Lot E on the property of Nissan Stadium is the location you should use for pickup and drop-off.
Unlike the rideshare zones that have been set up at some other venues across the country, this rideshare area is near the entrances to the stadium. This will leave you with only a short walk to and from the gates.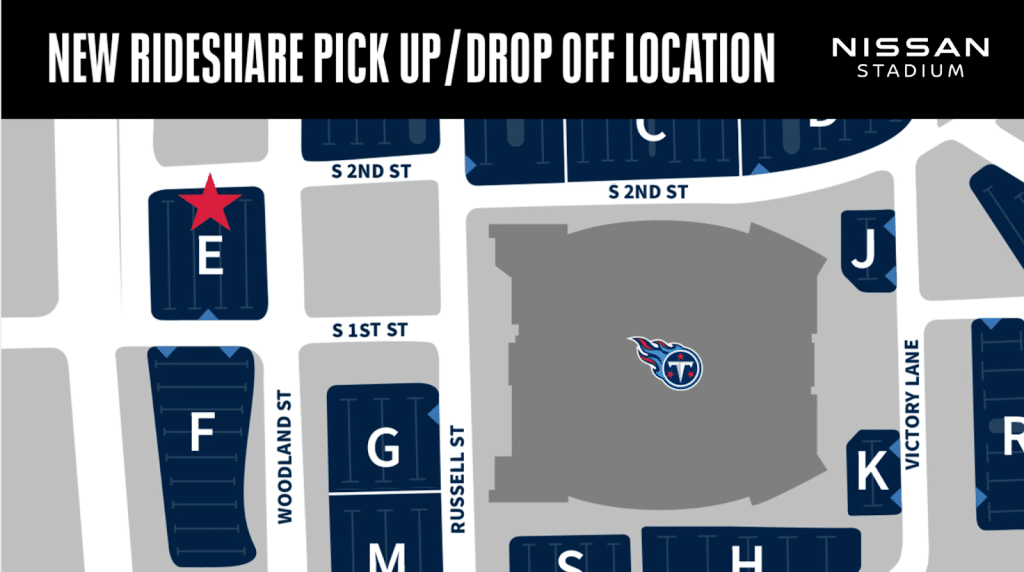 Nissan Stadium Events
There are plenty of events beyond football games that happen at Nissan Stadium each year. Use the table below to look for tickets to any upcoming event that you want to attend.
Date
Name
Location
Buy Tickets
October 01, 2023
Tennessee Titans vs. Cincinnati Bengals
Nissan Stadium
Nashville, TN, US
Ticketmaster
StubHub

October 14, 2023
Tennessee State Tigers vs. Norfolk State University
Nissan Stadium
Nashville, TN, US
Ticketmaster
StubHub

October 21, 2023
Tennessee State Tigers vs. Lincoln University Football
Nissan Stadium
Nashville, TN, US
Ticketmaster
StubHub

October 28, 2023
Tennessee State Tigers vs. Lindenwood University Lions Football
Nissan Stadium
Nashville, TN, US
Ticketmaster
StubHub

October 29, 2023
Tennessee Titans vs. Atlanta Falcons
Nissan Stadium
Nashville, TN, US
Ticketmaster
StubHub

November 18, 2023
Tennessee State Tigers vs. Tennessee Tech University Golden Eagles Football
Nissan Stadium
Nashville, TN, US
Ticketmaster
StubHub

November 26, 2023
Tennessee Titans vs. Carolina Panthers
Nissan Stadium
Nashville, TN, US
Ticketmaster
StubHub

December 03, 2023
Tennessee Titans vs. Indianapolis Colts
Nissan Stadium
Nashville, TN, US
Ticketmaster
StubHub

December 17, 2023
Tennessee Titans vs. Houston Texans
Nissan Stadium
Nashville, TN, US
Ticketmaster
StubHub

December 24, 2023
Tennessee Titans vs. Seattle Seahawks
Nissan Stadium
Nashville, TN, US
Ticketmaster
StubHub

June 06, 2024
2024 CMA Fest - FOUR-NIGHT STADIUM PASS
Nissan Stadium
Nashville, TN, US
Ticketmaster
StubHub

Tailgating near Nissan Stadium
Given the difficulty of securing an on-site parking pass for a Titans game, you probably aren't be able to tailgate in the traditional way at Nissan Stadium.
That's okay, however, as there are a couple of different pregame party options that you might want to consider.
First, there is the Tailgreeter event, which takes place outside Gate 3 on the stadium's north side. When you buy a ticket to this event, you enjoy all-inclusive food, an open bar, live music, and much more. This is a family-friendly setting where kids under 10 are free.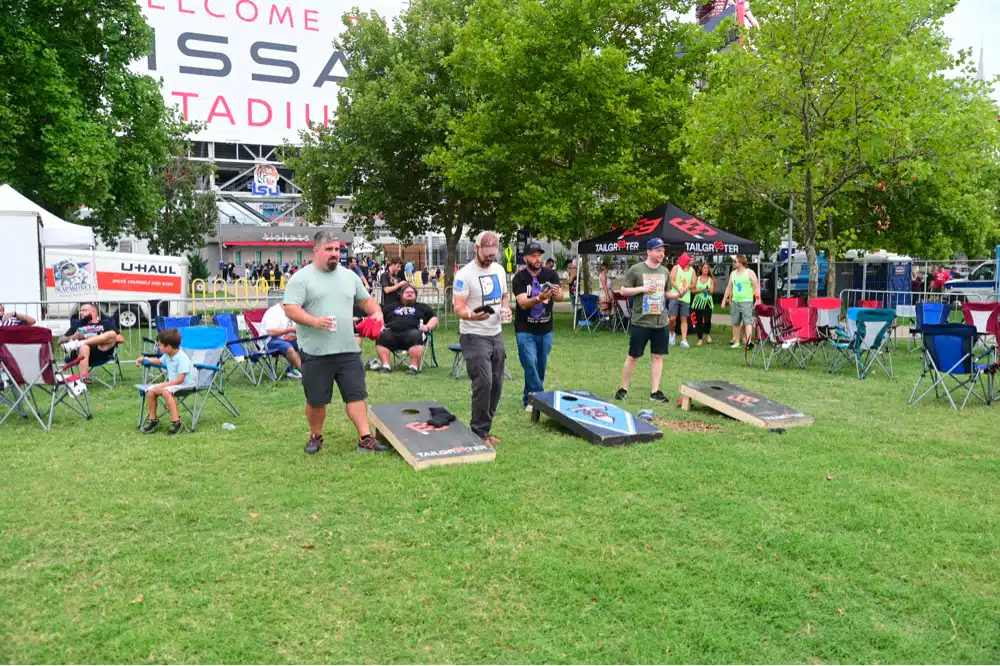 Another option is the Bullseye VIP Tailgate Experience in the Bridge Building just south of the stadium. Here, you'll also find an all-inclusive food and drink experience when you purchase a ticket, and there are other amenities like video game stations and a live auction.
Be sure to purchase your ticket in advance for either of these tailgate options and remember that you'll still need a parking solution as these locations don't include parking with your ticket.
Nissan Stadium Parking Tips for a Great Outing
Everyone who attends big events has a horror story about a parking nightmare that caused them to miss the start of the game or concert. Or, if you got in on time, it might have taken you hours to leave after it was over.
Let's review some basic parking tips to ensure that doesn't happen to you at Nissan Stadium.
Arrive Early and Beat Traffic
The amount of traffic you face will depend on the day and time of the event you are attending. Traffic on Sundays might not be too bad, but weeknight events can present traffic hassles on your way to the stadium. Plan your day to get to the venue early and secure parking before it gets crazy.
Simply check to see when the gates will open, and you can arrive early to enjoy as much time inside the facility as possible.
Know What You Can Bring
Nissan Stadium has specific policies regarding what can and can't come into the building like all other stadiums. Check these rules in advance so you don't have to leave things in the car.
Remember Where You Parked!
There are tons of parking spaces available in the area around Nissan Stadium, especially across the river to the west. With such a massive parking area to cover, you don't want to be searching for your vehicle at the end of the day. Consider snapping a quick picture or your car's location on your phone so you can get back to it easily.
Don't Leave Things in Your Vehicle
With so many vehicles left unattended for hours, there is always the threat of criminal activity while an event is going on. To reduce the chances of theft, leave any valuable items at home, or at least tuck them away out of sight in your car or truck. And, of course, remember to lock up!
Look At a Map
This might sound a little old school in the age of GPS, but looking at the map of the area around the stadium before you leave can help you understand where you'll be going and how everything is laid out.
Conclusion

In conclusion, Nissan Stadium, home of the Tennessee Titans, offers a variety of parking options, ensuring your visit is hassle-free. This comprehensive guide covers official stadium parking (mostly reserved for season ticket holders), third-party parking options with some affordable choices just a short walk away, and public transit or rideshare possibilities.
We've included a fun alternative to traditional tailgating with options like Tailgreeter and Bullseye VIP Tailgate Experience. Use these valuable Nissan Stadium parking tips to save time and money, ensuring a smooth and enjoyable visit.
Be sure to plan ahead, arrive early, understand the stadium's policies, remember where you parked, and safeguard your valuables. A perfect Nissan Stadium experience is only a parking spot away.
Frequently Asked Questions for Parking at Nissan Stadium (FAQs)
How much does parking cost at Nissan Stadium?
You'll find varied parking prices depending on the event you will attend. It's typically about $40 – $60 to park for an NFL game, but preferred lots will be more, and you might find even higher concert prices. It's best to secure your parking as early as possible to give yourself plenty of choices. 
Is Official Nissan Stadium Parking or a Third-Party Lot the Better Option?
If you are attending a single Titans game at Nissan Stadium, you must use a third-party parking lot or garage if you plan to drive. The official parking on the stadium's property is sold to season ticket holders and is unavailable on the day of the game. Official parking and third-party lots can work nicely for concerts and other events. 
Can I leave my vehicle overnight at Nissan Stadium?
No, there is no overnight parking available. You must return to your vehicle and depart reasonably after the event ends. 
Does Nissan Stadium offer bicycle parking?
Riding your bike to the stadium is a creative way to avoid paying for parking, and to skip some of the waiting in traffic that often comes along with big events. At Nissan Stadium, bicycle parking is available across from Gates 1,3, 6, and 8. Bring your own lock with you to secure the bike while you are inside enjoying the action. 
What alternative transportation options are available to Nissan Stadium in Tennessee?
Rideshare services and public transportation are two good options to get to the area around Nissan Stadium without needing to drive your own vehicle and pay for parking. 
How early are Nissan Stadium parking lots open?
The timing of parking lots opening up for vehicles to enter will depend on the event you are attending. Take a moment to confirm this information with the venue or parking facility in advance so you aren't caught off-guard. 
(Visited 722 times, 1 visits today)