Do you want to buy cheap MLB tickets and see a live baseball game this year? In this guide, we'll show you the best ways to buy cheap baseball tickets and how to purchase them today.
Specifically, we'll go over:
A summary of every baseball team you can buy tickets for
The best places to buy cheap baseball tickets
How to buy MLB tickets for less price
If you've been to a live game, comment down at the bottom and tell us what your favorite ball stadium is.
RELATED: Learn how to buy cheap Broadway tickets in New York City.
MLB Baseball Overview
MLB is an acronym for Major League Baseball. Headquartered in Midtown Manhattan, MLB is a professional baseball organization that was formed in 1903 after the merger of the two US baseball leagues: the American League (AL) and the National League (NL). The merger was led by the Commissioner of Baseball.
Right now, the MLB consists of 30 teams, with 1 in Canada and the remaining 29 in the United States. The American League (AL) and the National League (NL) were formed in 1901 and 1876 respectively. Major League Baseball runs from late March or early April to late September or early October. The postseason often runs into November each year.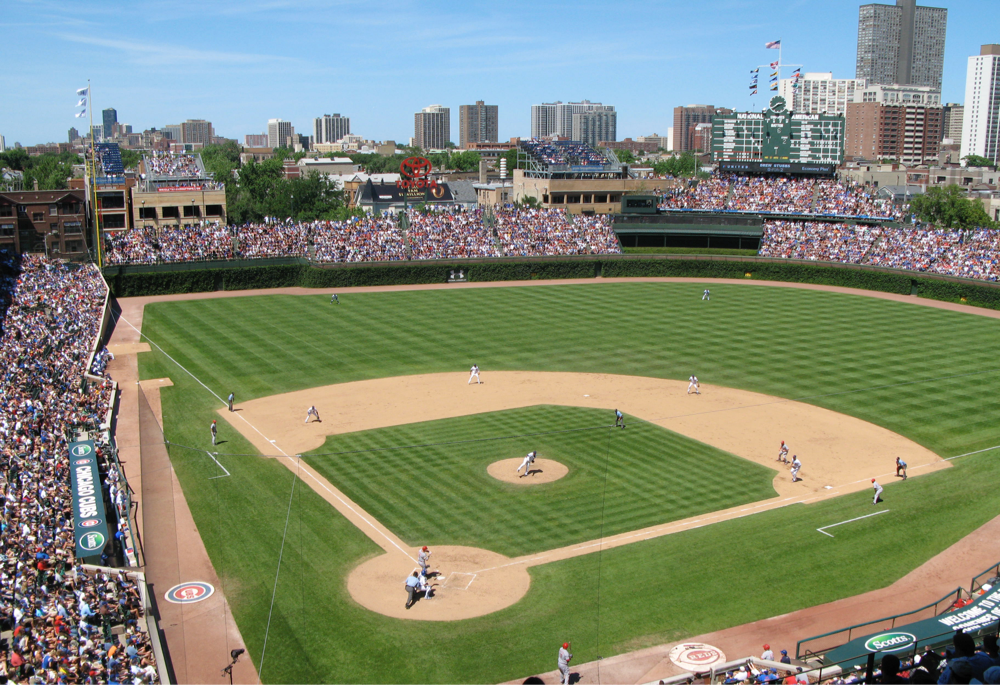 MLB Baseball Stadiums
There are 30 stadiums in use by MLB teams. The table below shows the stadiums, teams, and their locations.
Click on the team name below to head directly to the official ticket home for that stadium on Ticketmaster. Keep that tab open as it will come in handy later on in this guide!
| | | |
| --- | --- | --- |
| Stadium Names | Teams | Locations |
| American Family Field | Milwaukee Brewers | Milwaukee, Wisconsin |
| Angel Stadium | Los Angeles Angels | Anaheim, California |
| Busch Stadium | St. Louis Cardinals | St. Louis, Missouri |
| Chase Field | Arizona Diamondbacks | Phoenix, Arizona |
| Citi Field | New York Mets | Queens, New York |
| Citizens Bank Park | Philadelphia Phillies | Philadelphia, Pennsylvania |
| Comerica Park | Detroit Tigers | Detroit, Michigan |
| Coors Field | Colorado Rockies | Denver, Colorado |
| Dodger Stadium | Los Angeles Dodgers | Los Angeles, California |
| Fenway Park | Boston Red Sox | Boston, Massachusetts |
| Globe Life Field | Texas Rangers | Arlington, Texas |
| Great American Ball Park | Cincinnati Reds | Cincinnati, Ohio |
| Guaranteed Rate Field | Chicago White Sox | Chicago, Illinois |
| Kauffman Stadium | Kansas City Royals | Kansas City, Missouri |
| LoanDepot Park | Miami Marlins | Miami, Florida |
| Minute Maid Park | Houston Astros | Houston, Texas |
| Nationals Park | Washington Nationals | Washington, D.C. |
| Oakland Coliseum | Oakland Athletics | Oakland, California |
| Oracle Park | San Francisco Giants | San Francisco, California |
| Oriole Park at Camden Yards | Baltimore Orioles | Baltimore, Maryland |
| Petco Park | San Diego Padres | San Diego, California |
| PNC Park | Pittsburgh Pirates | Pittsburgh, Pennsylvania |
| Progressive Field | Cleveland Guardians | Cleveland, Ohio |
| Rogers Centre | Toronto Blue Jays | Toronto, Ontario |
| T-Mobile Park | Seattle Mariners | Seattle, Washington |
| Target Field | Minnesota Twins | Minneapolis, Minnesota |
| Tropicana Field | Tampa Bay Rays | St. Petersburg, Florida |
| Truist Park | Atlanta Braves | Cumberland, Georgia |
| Wrigley Field | Chicago Cubs | Chicago, Illinois |
| Yankee Stadium | New York Yankees | Bronx, New York |
How Much Are Baseball Tickets?
Baseball ticket prices vary based on a number of factors, including team, opponent, date and time of the game, and seat location. Many franchises sell baseball tickets for as low as $10, whereas others sell their lowest tickets for $50. Tickets can also cost hundreds or even thousands of dollars on the upper end, depending on the game and seat location.
Since the merger of the American League (AL) and the National League (NL), the most expensive ticket sold in a season was during the 2016 World Series Game 7. It was sold for over $1,000,000.
When Do Baseball Tickets Go on Sale?
Baseball tickets sale dates usually vary from team to team. However, most teams typically offer advance ticket sales in February or March, before the start of the season. You can find individual game tickets later in the spring and buy right up to the start of any game.
How to Get Cheap Baseball Tickets
There are several ways to get cheap baseball tickets through official sources like Ticketmaster or third party hubs StubHub or Vivid Seats. Unlike most concerts where we recommend getting an early presale code, baseball tickets can be purchased all the way up to game time.
Below, let's take a look at some of the ways to get cheap baseball tickets:
Ticketmaster
Ticketmaster is the perfect place to buy baseball tickets online. As one of the largest ticket outlets in the US, Ticketmaster is the go-to platform for official tickets. All MLB baseball teams have partnered with Ticketmaster to sell tickets to their games in a safe and secure manner.
The biggest complaint against Ticketmaster is that it has a lot of selling fees attached to its ticket sales. Due to these fees, you may not get the cheapest tickets here. But, they are transparent, as they get their tickets straight from teams or their ballparks.
Click here to buy MLB baseball tickets on Ticketmaster.

StubHub
It is easier to get cheap baseball tickets on StubHub because they are MLB's official ticket resale partner. They have a big selection and fluctuating prices based on demand and supply.
Joining their reward programs will also enable you to store credits for your ticket purchases. You can save even more cash by earning "Fan Codes," which you can later apply in future ticket purchases.
All tickets purchased through StubHub are 100% guaranteed. And as baseball's official ticket resale partner, they make the process as simple as possible. As the top alternative to Ticketmaster, we fully recommend StubHub.
Click here to buy MLB baseball tickets on StubHub.
Check out our full StubHub guide here.

Vivid Seats
While Vivid Seats may not be as popular as Ticketmaster and StubHub, they also offer cheap baseball tickets for you to go see your favorite team. Vivid has a great customer service reputation and good fan protection guarantees.
When it comes to compensating baseball fans if something goes wrong or resolving customers' complaints, Vivid Seats is a great ticket resale company. If you want a balance between peace of mind and discounted prices, Vivid Seats has got you covered.
Click here to buy MLB baseball tickets on Vivid Seats.

Last Minute Tickets
If you know how to game the system, you will find cheap tickets on StubHub. Some ticket holders use StubHub to unload their tickets when they can't attend a game themselves. They drop ticket prices as game-day approaches so as to sell out and not be at the losing end.
So, if you are looking to purchase cheap baseball tickets, your best bet is to wait for last minute tickets, usually a few hours before the game. Because StubHub (and Vivid Seats) are ticket resellers, they work on supply and demand. Therefore, it is a good idea to check in a few times leading up to your game in order to see what the prices are doing.
Tips for Buying Cheap Baseball Tickets
Want even more tips for buying cheap MLB baseball tickets? Here are some other good ideas to consider.
Go to weekday games
One of the best ways to get cheap baseball tickets is to attend weekday games. This strategy boils down to the law of demand and supply, as most baseball enthusiasts prefer to watch their favorite teams over the weekend and at night during the week. These are peak periods and tickets are usually very expensive.
If you can take a day off work to attend a midweek day game, you will save plenty of money in ticket and parking fees. Tuesdays and Wednesdays are the cheapest days of the week to keep in mind.
Skip games against rivals or popular teams
Generally, avoid buying tickets to a single-game where your favorite team is playing against a popular local rival or a team with a huge fan base. In these cases, fans will travel to see these games from out-of-town. This means higher ticket prices due to the increased demand.
Some teams that have this effect include the San Francisco Giants, St. Louis Cardinals, New York Yankees, Chicago Clubs, and Boston Red Sox. These teams have big fanbases that love to travel and see their team play. This tip is very useful if you are a fan of any of these teams.
Watch StubHub and Vivid Seats for games with a lower starting ticket price
Another strategy you can adopt to get cheap baseball tickets is to lookout for games with lower starting ticket prices on StubHub and Vivid Seats. The moment you see a game with a ticket price that matches your budget, don't hesitate to click the buy button.
StubHub and Vivid Seats, unlike Ticketmaster, work on a supply and demand model. If there is a big selection of tickets available, the prices are driven down. Each website shows you if you are getting a good or a bad deal on the tickets you are buying.
Take advantage of ticket package offers
If you plan to visit your team's ballpark more than once in a season, see if you can purchase a bulk ticket package in advance. If you can't afford the cost of a bulk ticket package, you can split the cost with your friends or other baseball lovers close to you, and then decide who is going to which games.
You will save plenty of money this way. In fact, some clubs will honor you for being a season ticket holder and give you discounts on merchandise or concessions.
Avoid advance sales
Most clubs offer advance ticket sales before the start of the season. Buying tickets during this period will get you the best seats, but it comes at a high cost. If you want better prices, it is better you wait until the season has actually started or close to the start of the season.
And don't worry yourself about sellouts, as most teams usually reserve some tickets from the presale so that interested fans who desire to purchase tickets via other avenues will get a chance to see their favorite teams.
Buy tickets on game day
You can grab cheap tickets on the resale market, like StubHub, if you buy on game day. In other words, a good time to buy cheap tickets is to buy a few hours before game-time.
Conclusion
As you can see, there are plenty of ways to buy cheap baseball tickets online. Official sources like Ticketmaster, or third parties like StubHub and Vivid Seats, both offer good deals and chances to buy tickets. Use the links above to browser and buy your tickets above. We get a small kickback if you buy to keep this site running at no addition cost to you!
In addition, there are a number of good tips you can use to buy cheaper tickets. Avoid weekend and high-demand games and see if you can buy tickets closer to the game day. Consider sharing a ticket package with a friend to save big bucks.
If you have any other tips on how to buy cheap baseball tickets, comment down below and let us know. Good luck seeing a ball game this year!
(Visited 6,395 times, 1 visits today)