The concert and events industry has been decimated in the wake of COVID-19. But as States begin to open up and others start experimenting with socially distanced, reduced-capacity events, companies are preparing for shows to return safely.
Ticketmaster has recently introduced a new tool called SmartEvent to help event planners comply with COVID-19 safety protocols. The tool also helps fans to safely attend events during the COVID-19 pandemic. In this guide, we'll go over exactly what Ticketmaster SmartEvent is and how it will get you attending concerts in the future again!
Sounds great, right?
Then let's dive in!
What is Ticketmaster SmartEvent?
The Ticketmaster SmartEvent is a tool designed to help event organizers to adapt to COVID-19 safety measures. The tool also helps fans to safely return to live events. Thec ompany separates its new SmartEvent solutions into three sections:
access and seating design
contactless and self-service experiences,
integration with other apps and services.
Whether it's sports games, concerts, comedy shows, or any other event, SmartEvent is perfect for event organizers. This tool promises to give fans and event organizers value for their money.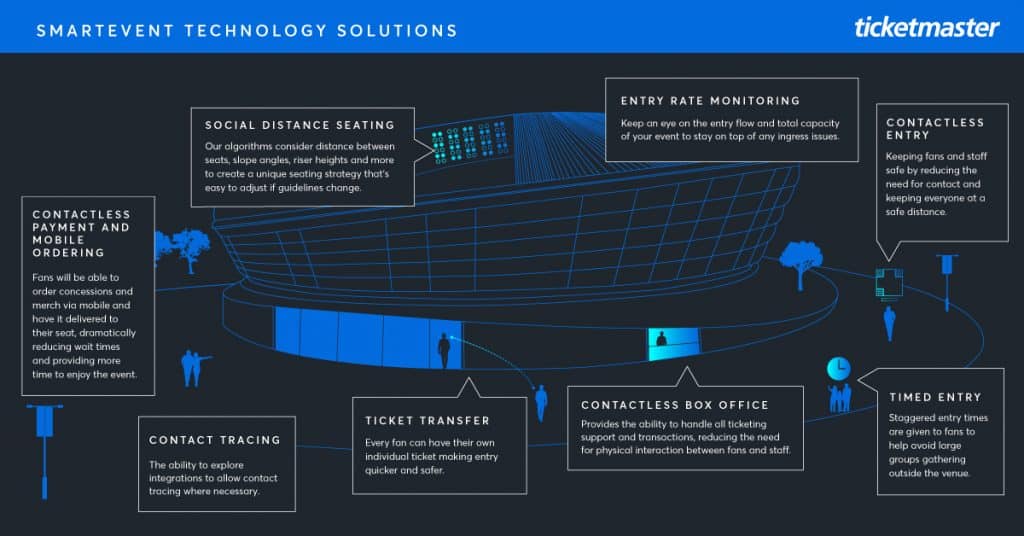 SmartEventFeatures
Below are the features of Ticketmaster SmartEvent:
More Communication
SmartEvent enables personalized communication between event planners and fans. Event planners can communicate directly with fans before or after the event to share useful information.
This means that you'll get live updates on any event changes straight to your phone. When thousands of fans are converging together for a show, this can make the different between fun and chaos.
Entry Rate Monitoring
With Entry Rate Monitoring, event organizers will be able to manage long lines and avoid entryway congestion. They'll be able to see how many people are entering each door and at what rate.
This way, they can send you notifications if there are important entry changes you should know about.
Social Distance Seating
SmartEvent considers a venue's size and distance between seats to create unique seating strategies for each event. The tool can quickly adjust seating arrangements for various events and adapts to the ever-changing COVID-19 guidelines in each market.
Most arenas are allowing six feet of distance between each party. This means that if you have a family party of 6, you'll still be seated six feet away from the couple beside you.
Contactless Entry
Ticketmaster SmartEvent allows fans to check themselves into an event using contactless scanners; thus, reducing interaction between fans and event organizers' staff members.
At the door, which means fewer workers standing around to take and scan your tickets. These points of contact are very important in reducing the spread of COVID-19.
Geo-Fenced Push Notifications
SmartEvent allows delivering relevant, well-timed location-based push notifications to fans. Event organizers can use SmartEvent to set virtual boundaries around a specific location. This will trigger message delivery as soon as a fan enters the target zone.
For example, the app can inform a ticket holder which event gate has the shortest line. Or you will be notified when certain amenities in the area like the bathroom or concession stand is free.
This app makes your communications way more engaging!
Ticket Transfer
Powered by SafeTix, SmartEvent permits ticket transfer from one fan to the other. All of this happens without any interaction or touch contact. SafeTix also has some other security built in so that you don't have to worry about false purchases.
This tool also records the number of ticket transfers in a single event.
Contactless Box Office
The tool helps event organizers to reduce the physical interactions between fans and staff. For instance, with SmartEvent, the venue's box office can now handle things like ticketing transactions, refunds, will-call, and account support.
Timed Entry
Timed Entry is a feature of SmartEvent that allows event organizers to provide specific arrival times to ticket holders. This ensures that fans can enter the venue in a safe and efficient manner.
For example, sections around the arena can be given different entry times into the building. This can prevent congestion and the number of people accessing a single area at a time.
Like everything else, expect to spend more time at the concert by arriving early and waiting your turn to leave. SmartEvent Timed Entry will help to optimize that.
Contact Tracing
Contact Tracing is a feature of SmartEvent that allows event organizers to know each ticket holder in the building. This feature gives event organizers the ability to facilitate contact tracing if necessary. SmartEvent does this regardless of how many times a ticket has been transferred.
Should a positive case of COVID-19 appear in the arena, you will be notified in general and extra if you are a close contact of that person.
What do you think about the new solution introduced by Ticketmaster? Is it enough to want you to go back to attending concerts?
Shoot us your feedback in the comment section below.
(Visited 953 times, 1 visits today)