If you have tickets to an upcoming Red Sox game in Boston, you'll need to determine exactly how you will get to and from Fenway Park on the day of the game.
This guide will offer detailed Fenway Park parking tips and information, including:
The best official Fenway Park parking options
Third-party parking lots near Fenway Park
Areas to look for free parking in Boston
Handicap parking solutions
Public transit options for Fenway Park events
Other valuable parking tips to save time and money 
Seeing a game at Fenway Park is a once-in-a-lifetime experience for many baseball fans. A classic ballpark with many quirks and unique features, some of the most memorable plays in the game have happened on this field.
Fenway Park Parking Summary
Fenway Park is easily accessible by the MBTA, or "T," with both subway and bus stops located nearby, which is a popular choice for many fans. Pre-booking options are available and recommended due to the limited parking availability in the area. This can be done through the Red Sox's official website or third-party apps.
The area around Fenway Park is densely populated, which reduces parking availability. Pricing for parking can be expensive due to the high demand and limited supply. The traffic congestion in Boston, particularly during peak times and on game days, can make navigating to the stadium and finding parking more challenging. The parking facilities are typically smaller, independently owned garages and lots.
Street parking in the Fenway/Kenmore area is highly limited and often restricted to resident permit holders only, making it nearly impossible for most fans to utilize this option.
Ratings
Related Parking Tips:
Official Fenway Park Parking Lots
Official parking is very difficult in the area around Fenway Park. Limited parking spots are available, and the streets get very congested when events occur.
I recommend finding another way to get to Fenway rather than driving your car. If you do plan to drive, it's essential to know in advance where you are going to park and to have your reservations in place.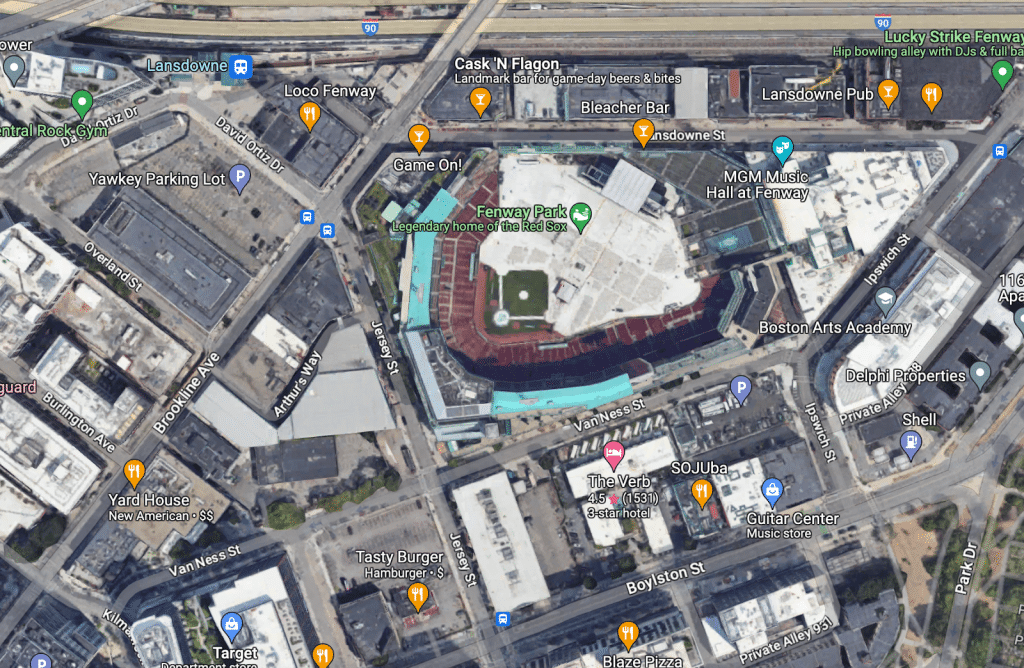 Main Parking Lots 
Only a couple of small parking lots are officially associated with the Red Sox. You can reserve these spots using SpotHero, but they tend to fill up quickly, and you may not have any options available in these official lots on the day of an event.
Official Fenway Parking is offered at the locations listed below:
55 Jersey Street
Ipswich Street Swan Lot
160 Ipswich Street Valet Garage
Of these, the 55 Jersey Street lot is the closest to Fenway and will put you across the street from the entrance. If spots are still available for the day of your event, book quickly and don't be surprised if you have to pay a significant price to reserve a space.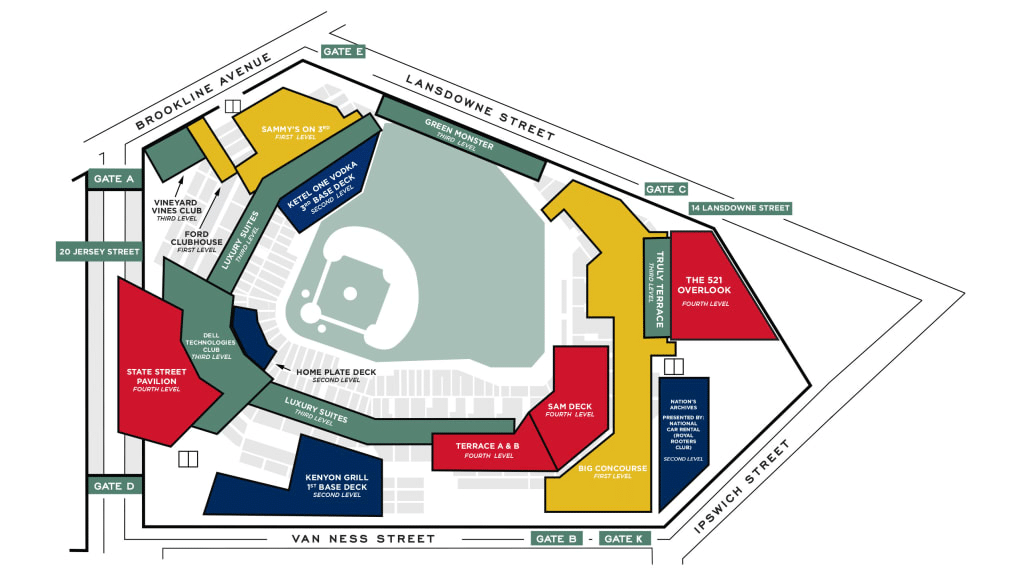 EV Parking at Fenway Park
Some EV charging options around Fenway include a Tesla Supercharger and some ChargePoint Charging Stations. If you are going to drive an electric vehicle, you might be able to find a spot to plug in for a while.
However, there won't be parking spots where you can leave your vehicle during the game, so you'll still need to consider other parking options allowing you to stay for a few hours.
Accessible Parking Spaces
Given the limited parking offered at Fenway, it's no surprise that accessible parking options are also scarce. If you want to look for parking spaces, first-come, first-served options are available on Jersey Street, Ipswich Street, and Overland Street.
To avoid not securing any of these first-come, first-served options, you might want to consider making a reservation at a third-party facility in the area that offers accessible parking.
Third-Party Parking Options at Fenway Park
Given the lack of large parking lots around Fenway Park, securing a spot in advance through a third party is a great way to go. By booking with SpotHero using the widget below, you'll know you have somewhere to park and can focus your energy on enjoying the day.
One of the best options for a third-party lot is the Fenway Center Bower Garage. While prices are rather high, you'll face a very short walk to the park's gates.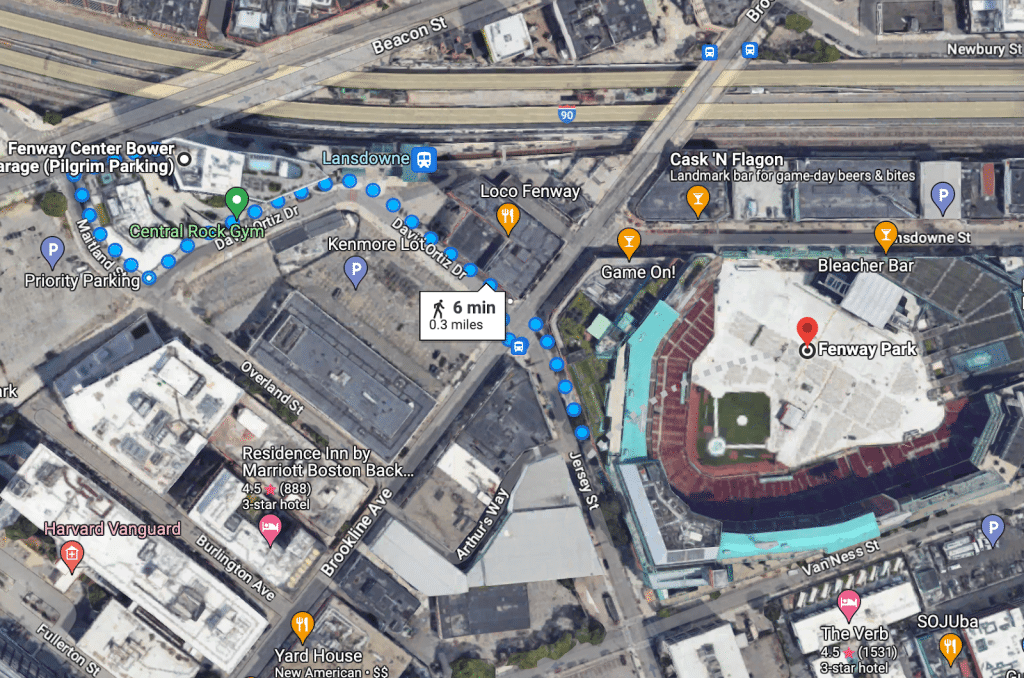 If you park slightly further away in the lot at 819 Beacon Street, you may save about $10. Those willing to walk more like 15-20 minutes to get to Fenway Park can find parking for significantly less by reserving spots in the Longwood area to the southwest of the venue.
Free Parking at Fenway Park
Don't plan on finding free parking near Fenway Park on the day of a Red Sox game. Street parking in this area is metered. If you do find a spot on the street, you'll still need to pay a lot.
Avoiding paying for parking is best achieved by leaving your vehicle at home and finding another way to get to the park. This could be by using a rideshare service or public transportation, or you may be able to walk or ride your bike.
Public Transportation and Ridesharing to Fenway Park
When visiting Fenway Park, it is recommended to use public transportation or rideshare services due to limited and often expensive parking options. Below are some options for getting to Fenway Park.
Public Transportation
Subway (The "T")
The Massachusetts Bay Transportation Authority (MBTA) operates the subway system, commonly known as the "T". The nearest station to Fenway Park is the Kenmore T station, which is serviced by the Green Line. You can board the Green Line from various locations west of the park, and it will transport you to Kenmore station on time.
If you don't live within walking distance of a T station, consider parking at one of the T stations for a modest fee and riding from there.
MBTA Bus
Taking an MBTA bus is another affordable and convenient option for reaching Fenway Park. Several bus routes serve the area, including:
The most convenient bus stops for Fenway Park are Brookline & Yawkey, located right next to the stadium, and the Kenmore Station Busway.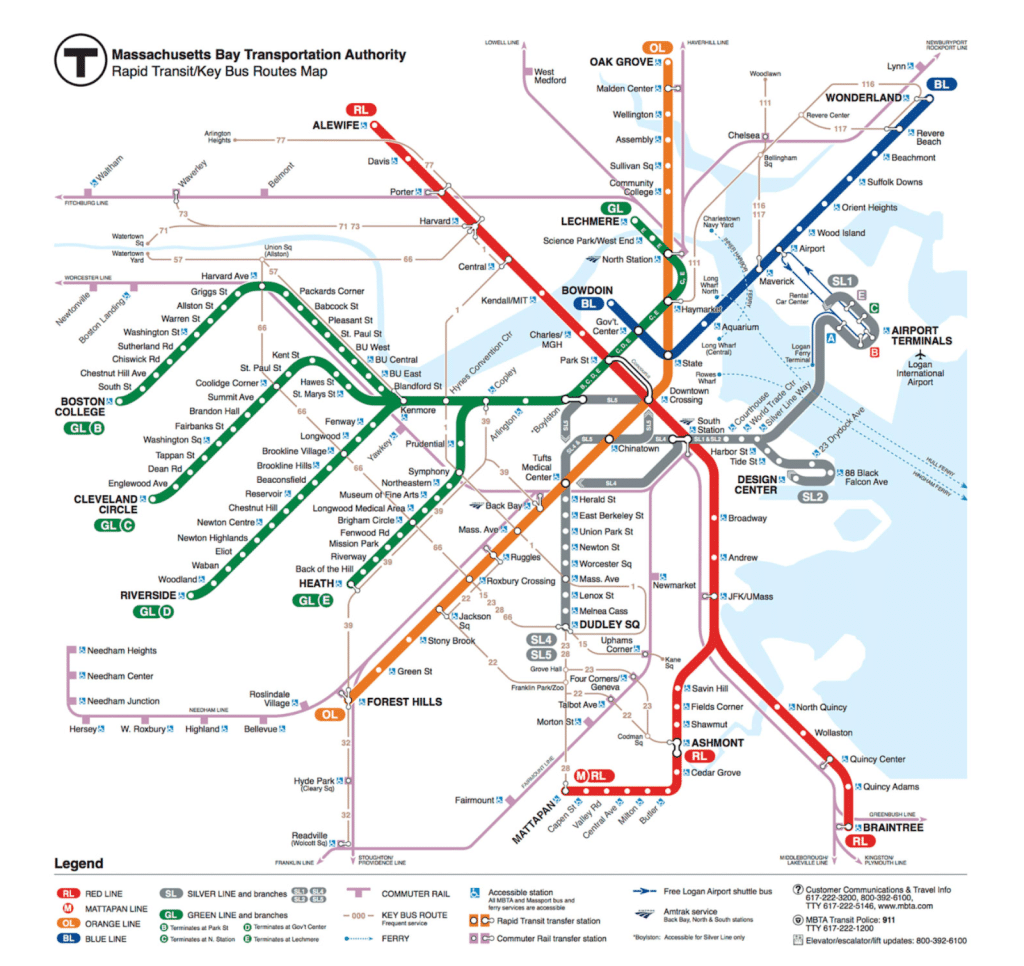 Rideshare services like Uber and Lyft are popular options for getting to Fenway Park. There are designated pickup and drop-off areas near the venue:
Beacon Street: To the west of Fenway Park
Boylston Street: Just to the south of the park
While Boylston Street is closer to the park, it may have more traffic, making Beacon Street a potentially quicker option even if it requires walking a bit further.
Fenway Park Events
While Fenway Park is famous for hosting Boston Red Sox games, other events take place at this great venue during the year. Check out the list of events below and grab your tickets while they are still available.
Date
Name
Location
Buy Tickets
September 19, 2023
Gorillaz - The Getaway Shows - Platinum Tickets
Fenway Park
Boston, MA, US
Ticketmaster
StubHub

September 22, 2023
Boston Red Sox vs. Chicago White Sox
Fenway Park
Boston, MA, US
Ticketmaster
StubHub

September 23, 2023
Boston Red Sox vs. Chicago White Sox
Fenway Park
Boston, MA, US
Ticketmaster
StubHub

September 24, 2023
Boston Red Sox vs. Chicago White Sox
Fenway Park
Boston, MA, US
Ticketmaster
StubHub

September 26, 2023
Boston Red Sox vs. Tampa Bay Rays
Fenway Park
Boston, MA, US
Ticketmaster
StubHub

September 27, 2023
Boston Red Sox vs. Tampa Bay Rays
Fenway Park
Boston, MA, US
Ticketmaster
StubHub

November 30, 2023
2023 Fenway Park Series Seats

, ,
Venue
StubHub

November 30, 2023
2023 Fenway Park Season

, ,
Venue
StubHub

November 30, 2024
2024 Fenway Park Wait List

, ,
Venue
StubHub

December 31, 2024
2024 Season Tickets
Fenway Park
Boston, MA, US
Live Nation
StubHub

Bars and Restaurants Around Fenway Park 
If you choose to arrive early for an event at Fenway Park, or you'd like to hang around after the game, you'll have plenty of popular establishments to pick from in the area around this venue. Brookline Avenue, just to the west of Fenway Park, is a great place to focus your search. The whole area has a ton of options to check out.
For a great ballpark experience, consider stopping by The Bullpen Kitchen + Tap on Jersey Street adjacent to the stadium.
Fenway Park Parking Tips for a Great Outing
Everyone who attends big events has a horror story about a parking nightmare that caused them to miss the start of the game or concert. Or, if you got in on time, it might have taken you hours to leave after it was over.
Let's review some basic parking tips to ensure that doesn't happen to you at Fenway Park.
Arrive Early and Beat Traffic
For locals, the brutal Boston traffic needs no introduction. If you aren't as familiar with the city, know you should expect plenty of traffic, especially on weekdays. Plan your day to get to the stadium early and secure parking before it gets crazy.
Simply check to see when the gates will open, and you can arrive early to enjoy as much time inside the facility as possible.
Know What You Can Bring
Fenway Park has specific policies regarding what can and can't come into the building like all other stadiums. Check these rules in advance so you don't have to leave things in the car.
Remember Where You Parked!
There are tons of parking spaces available in the area around Fenway Park. With such a massive parking area to cover, you don't want to be searching for your vehicle at the end of the day. Consider snapping a quick picture or your car's location on your phone so you can get back to it easily.
Look At a Map
This might sound a little old school in the age of GPS, but looking at the map of the area around the stadium before you leave can help you understand where you'll be going and how everything is laid out.
Conclusion
In conclusion, attending a Red Sox game at Fenway Park can be a memorable experience, but parking can be challenging. It is highly recommended to explore alternative transportation options such as public transit or rideshare services to avoid the hassle of finding parking.
However, if you choose to drive, planning and making parking reservations in advance is crucial. By following these parking tips and considering alternative transportation, you can enhance your outing at Fenway Park and enjoy the game without parking issues.
Frequently Asked Questions for Parking at Fenway Park (FAQs)
How much does parking cost at Fenway Park?
You'll find varied parking prices depending on the event you will attend. It's typically about $20 – $40 to park for an MLB game, but preferred lots will be more, and you might find even higher concert prices. It's best to secure your parking as early as possible to give yourself plenty of choices. 
Can I leave my vehicle overnight at Fenway Park?
No, there is no overnight parking available. You must return to your vehicle and depart reasonably after the event ends. 
Does Fenway Park offer bicycle parking?
Yes, Fenway Park offers one of the best biking experiences in baseball. If you have a ticket for the game, you will have access to free valet bike parking. Simply visit the bike valet location near Gate D to drop off your bike and return to pick it up after the game has ended. 
What alternative transportation options are available to Fenway Park?
In the middle of a big city like Boston, public transportation is an excellent option when attending a game. Also, a rideshare service like Uber or Lyft is a good alternative to bringing your own car and paying for parking. 
How early are Fenway Park parking lots open?
The timing of parking lots opening up for vehicles to enter will depend on the event you are attending. Parking lots often open around two hours before a baseball game, but that will vary from lot to lot and place to place. Take a moment to confirm this information with the venue or parking facility in advance so you aren't caught off-guard. 
(Visited 2,380 times, 22 visits today)