The San Antonio Spurs of the National Basketball Association play their home games at Frost Bank Center, formerly AT&T Center. Use the guide below to ensure a smooth parking experience when you attend a game or concert. 
This detailed Frost Bank Center parking tips guide offers detailed parking information, including:
The best official Frost Bank Center parking lots
Third-party parking lots near Frost Bank Center you can book in advance
Areas to look for free parking in San Antonio
The best place to get San Antonio Spurs tickets
Handicap parking solutions
Public transit options for San Antonio events
Other valuable Frost Bank Center parking tips to save time and money
Some good parking options are available around Frost Bank Center, but you don't want to wait until the last minute to figure out your plan. Reserve a parking spot today, so you are all set when the day arrives.
Official Frost Bank Center Parking Lots
Frost Bank Center is on the property of Bexar County Community Arenas. There are several official parking lots because serve the various venues. While some of these lots are closer than others to the gates of Frost Bank Center, any of them will leave you within easy walking distance of the gates.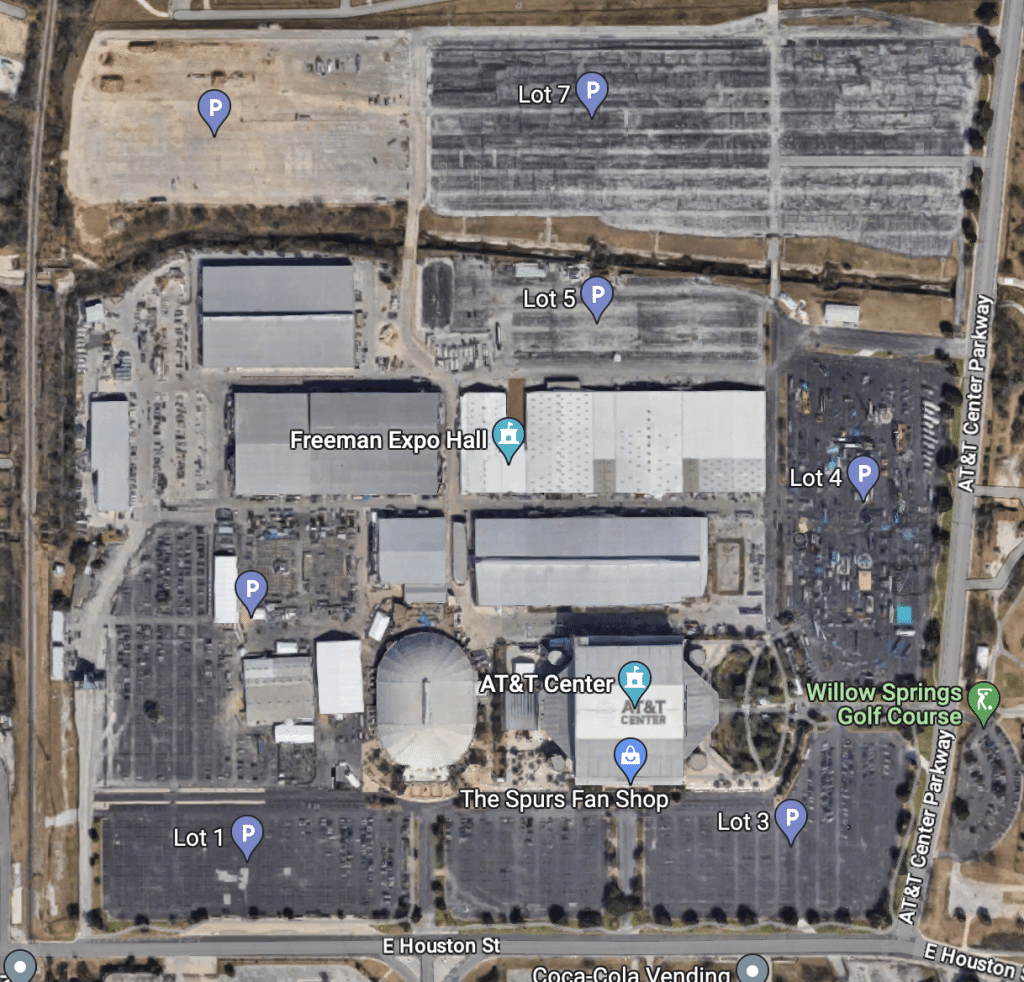 NOTE: AT&T Center was renamed to Frost Bank Center in 2023.
Main Parking Lots 
The property has seven lots, and they are identified with numbers 1 – 7. Lots 2 and 3 are the ones that are closest to the arena, with lots 6 and 7 being the furthest away. 
The parking spaces within these lots are sold in advance through Ticketmaster. When you visit the Frost Bank Center page on Ticketmaster, you'll be able to see which lots have availability for the date you are attending and make your purchase accordingly. As you might imagine, the lots closest to the entrance are more expensive than the outer lots, although the difference is insignificant. 
One of the nice things about having so much on-site parking available is that the prices are rather reasonable. For concerts, for example, you may find plenty of on-site options for less than $20. 
EV Parking at Frost Bank Center
You should not plan on charging your EV while at Frost Bank Center. If you are driving an electric vehicle to the event, ensure it is charged in advance so you have enough range to go through the day without recharge. 
Accessible Parking Spaces
There are accessible parking spaces included in each of the lots at Frost Bank Center. While you can make a parking reservation for your chosen lot in advance, the ADA spaces are not specifically reserved, so you'll want to arrive early for the best chance of availability.
You will need to present a valid ADA placard and your ID to access these spots. 
Third-Party Parking Options at Frost Bank Center
While SpotHero is an excellent tool for finding third-party parking locations in many cities around the country, no lots or garages are available through this platform within a convenient distance of Frost Bank Center.
Parking through SpotHero is available in the Downtown San Antonio area, but that is too far from the arena to be a viable option. You can browse the SpotHero widget below to see for yourself.
Free Parking at Frost Bank Center
It will be difficult to find free parking during an event at Frost Bank Center. Since the official parking lots take up the immediate area around the arena, you'd need to walk quite a distance to get into other areas.
And, much of the space beyond the perimeter of the property is taken up by places you won't be able to park, such as commercial properties and a golf course. Plan on paying for parking or using an alternative mode of transportation. 
Public Transportation to Frost Bank Center
Public transportation options in San Antonio are limited due to the location of Frost Bank Center and the spread-out, wide-open spaces of Texas.
Here's an organized view of your options:
VIA Metropolitan Transit – Bus Line 24
VIA Metropolitan Transit manages San Antonio's public transportation system, and it does offer a way to get close to Frost Bank Center.
Line 24: This bus line serves the area around the arena and is the most direct public transportation option available. You must check the schedule and plan ahead, as this route may have limited frequency, especially during non-peak hours.
Park & Ride for Special Events: Occasionally, VIA offers special Park & Ride services for major events at Frost Bank Center. These services typically run directly from convenient locations around the city to the arena. It's always good to check the VIA website or contact their customer service for information on any special services planned for the event you're attending.
Ridesharing to Frost Bank Center
For rideshare pickup and drop-off, drivers are asked to use the entrance at Gate G to get onto the property. Then after proceeding past Lots 6 and 7, they can come around by the side of Lot 5 to either pick up or drop off a passenger. Then, Gate E can be used as an exit, and the driver will be on their way. 
Frost Bank Center Events
Whether going to a basketball game, a concert, or another event, you'll want to get tickets as soon as possible. Use the table below to find available seats.
| Date | Name | Location | Buy Tickets |
| --- | --- | --- | --- |
Bars and Restaurants near Frost Bank Center
Frost Bank Center is located on the grounds of Bexar County Community Arenas, along with other facilities like Freeman Expo Hall and Freeman Coliseum. Given that the area surrounding the arena is taken up by parking and other arenas, there isn't a dining or shopping district to explore near this venue. A golf course is immediately east of the stadium.
For food and drink, you'll either want to eat before you get to this area or plan on having something to eat once you get inside. The closest restaurants are on North New Braunfels Avenue, over a mile west of the stadium! Here is where you will find La Coronela, one of my favorite Mexican restaurants in San Antonio.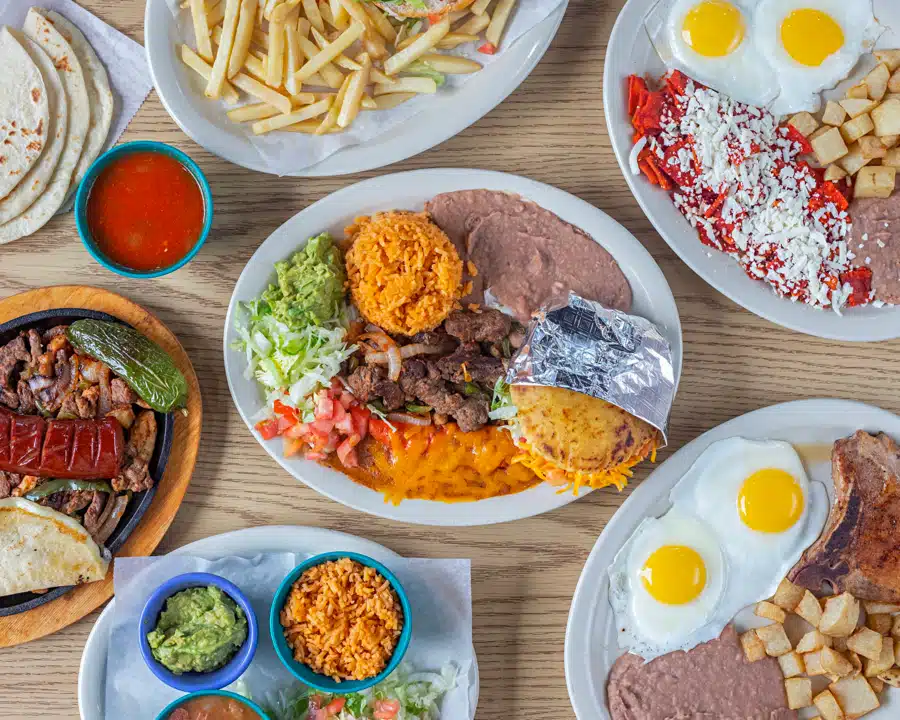 Frost Bank Center Parking Tips for a Great Outing
Attending an event at an NBA arena should be a relaxing, enjoyable experience. However, traffic and transportation issues sometimes get in the way and turn the outing into a nightmare.  
Let's review some basic parking and travel tips to ensure that doesn't happen to you at Frost Bank Center.
Arrive Early and Beat Traffic
Don't let sticky San Antonio traffic ruin your outing to this enjoyable venue. Plan your day to get to the arena early and secure parking before it gets crazy.
Check to see when the gates will open, and you can arrive early to enjoy as much time inside the facility as possible. 
Know What You Can Bring
Like all other stadiums, Frost Bank Center has specific policies regarding what can and can't come into the building. Check these rules in advance so you don't have to leave things in the car. 
Remember Where You Parked!
There are plenty of parking spaces available in the area around Frost Bank Center. With such a massive parking area to cover, you don't want to be searching for your vehicle at the end of the day. Consider snapping a quick picture of your car's location on your phone so you can get back to it easily.
Take Security Measures
You should always consider safety when parking for an event at a popular arena. Be sure to lock your vehicle as a starting point and remove anything valuable from the car or truck before leaving home. You might want to park in a well-lit area for more security.
Have a Backup Plan
Unless you have purchased a parking pass in advance, it's a good idea to have at least a few parking options in mind when you head out. That way, if your first option is full or otherwise unavailable, you won't have to scramble to figure out where to go next.
Conclusion
This comprehensive parking guide makes a seamless Frost Bank Center for a San Antonio Spurs game or concert effortless. We have the best information about official and third-party parking, public transit options, and more.
Pre-booking a parking spot, knowing arena policies, keeping track of your parking location, prioritizing security measures, and having contingency plans all contribute to a stress-free visit to Frost Bank Center.
These parking tips will undoubtedly enhance your overall enjoyment of the event, allowing you to focus on the excitement and entertainment within the arena.
Frequently Asked Questions for Parking at Frost Bank Center (FAQs)
How much does parking cost at Frost Bank Center?
You'll find varied parking prices depending on the event you will attend. It's typically about $20 to $40 to park for an NBA or NHL game, but preferred lots will be more, and you might find even higher concert prices. It's best to secure your parking as early as possible to give yourself plenty of choices.
Is Official Frost Bank Center Parking or a Third-Party Lot the Better Option?
Frost Bank Center official parking will be your best option. Third-party options are hard to come by in San Antonio and most of these lots are a long distance to the gate.
What is the closest parking lot to Frost Bank Center?
The closest parking lots to Frost Bank Center are Lots 2 and 3, within the official parking area on the property of this venue. 
Does Frost Bank Center offer bicycle parking?
There is no official bicycle parking at Frost Bank Center, and the location of this arena doesn't make it particularly easy to reach by bike. Most likely, you'll want to opt for another form of transportation to get to a game or concert here. 
What alternative transportation options are available to Frost Bank Center?
You could use public transportation instead of driving to Frost Bank Center, or you might want to use a rideshare service to make the trip without paying for parking. 
How early are Frost Bank Center parking lots open?
The timing of parking lots opening up for vehicles to enter will depend on the event you are attending. If you buy parking in advance, the opening time of the lot should be included with your pass. Take a moment to confirm this information with the venue or parking facility in advance so you aren't caught off-guard.
(Visited 43 times, 1 visits today)