This is the ultimate guide if you want to buy cheap Cincinnati Bengals tickets and see an NFL football game in Ohio. I'll show you how to buy cheap Bengals tickets and tips for saving money for a football game.
I'll also go over:
An overview of the Bengals and their stadium, Paycor Stadium
Different ways to purchase cheap tickets for the Cincinnati Bengals
How to buy premium suites and upgraded seats at Paycor Stadium
Tips for buying discounted and last-minute tickets and parking to a Bengals football game
The goal is to provide you with all the information you need to make the most of your NFL gameday experience without breaking the bank. If you have been to a Cincinnati Bengals game live in Cincinnati, comment below and let us know how you bought your tickets.
Cincinnati Bengals Tickets
In a rush? Use these buttons to browse the cheapest Bengals tickets to a football game today.
Other Cincinnati Sports Guides:
Cheap Cleveland Browns tickets
Cincinnati Bengals Overview
The Cincinnati Bengals, a professional National Football League (NFL) team, are based in Cincinnati, Ohio. They are part of the American Football Conference (AFC) North Division, alongside teams like the Pittsburgh Steelers, the Baltimore Ravens, and the Cleveland Browns.
The Bengals were established in 1968 by former Cleveland Browns head coach Paul Brown, who became their first head coach and eventually, the namesake of their current stadium. Despite the relatively younger history compared to some NFL franchises, the Bengals have had periods of significant success.
Their highest achievements to date have been reaching the Super Bowl twice, in the 1981 and 1988 seasons, under the leadership of head coach Forrest Gregg and Sam Wyche, respectively. The team was led by quarterback Ken Anderson in Super Bowl XVI and Boomer Esiason in Super Bowl XXIII, but they were defeated on both occasions by the San Francisco 49ers.
Throughout its history, the Bengals have fielded several notable players. Anthony Munoz, an offensive tackle widely regarded as one of the finest linemen in NFL history, played his entire career with the Bengals and was inducted into the Pro Football Hall of Fame in 1998.
Other standouts include quarterback Ken Anderson, who was named NFL Most Valuable Player (MVP) in 1981, and wide receiver Chad Johnson, who earned six Pro Bowl selections during his tenure with the Bengals.
Despite periods of adversity, the Bengals have shown resilience and the potential for strong performance. The energy and excitement of a Bengals game today is high, with Joe Burrow leading the team as their franchise quarterback.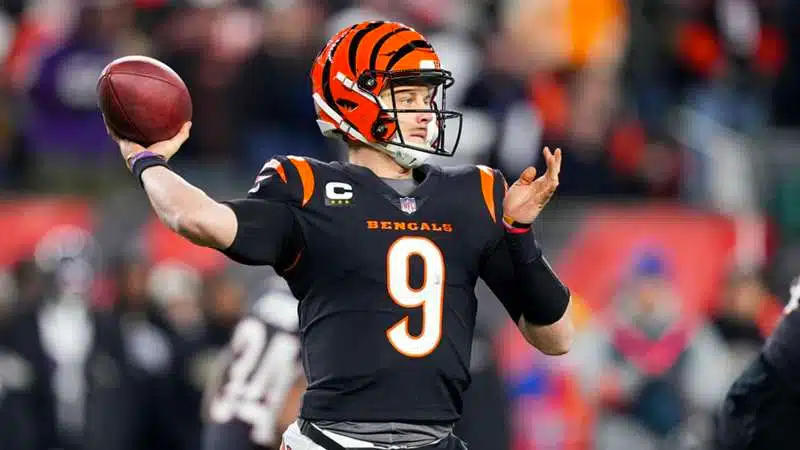 Browse Cheap Cincinnati Bengals Tickets
The Cincinnati Bengals schedule below lets you pick a specific game and browse Bengals football tickets. Below the table are some tips for buying the best Cincinnati Bengals tickets for cheap.
Date
Name
Location
Buy Tickets
September 17, 2023
Cincinnati Bengals vs. Baltimore Ravens
Paycor Stadium
Cincinnati, OH, US
Ticketmaster
StubHub

September 25, 2023
Cincinnati Bengals vs. Los Angeles Rams
Paycor Stadium
Cincinnati, OH, US
Ticketmaster
StubHub

October 15, 2023
Cincinnati Bengals vs. Seattle Seahawks
Paycor Stadium
Cincinnati, OH, US
Ticketmaster
StubHub

November 05, 2023
Cincinnati Bengals vs. Buffalo Bills
Paycor Stadium
Cincinnati, OH, US
Ticketmaster
StubHub

November 12, 2023
Cincinnati Bengals vs. Houston Texans
Paycor Stadium
Cincinnati, OH, US
Ticketmaster
StubHub

November 26, 2023
Cincinnati Bengals vs. Pittsburgh Steelers
Paycor Stadium
Cincinnati, OH, US
Ticketmaster
StubHub

December 10, 2023
Cincinnati Bengals vs. Indianapolis Colts
Paycor Stadium
Cincinnati, OH, US
Ticketmaster
StubHub

August 02, 2024
Luke Combs - Growin' Up and Gettin' Old Tour - 2 Day Ticket
Paycor Stadium
Cincinnati, OH, US
Ticketmaster
StubHub

August 02, 2024
Luke Combs - Growin' Up And Gettin' Old Tour
Paycor Stadium
Cincinnati, OH, US
Ticketmaster
StubHub

August 03, 2024
Luke Combs - Growin' Up And Gettin' Old Tour
Paycor Stadium
Cincinnati, OH, US
Ticketmaster
StubHub

How to Buy Cheap Cincinnati Bengals Tickets
Ticketmaster
Ticketmaster is the largest official ticket outlet in North America for sports tickets. Many sports teams, including the Bengals, have partnered with Ticketmaster to sell tickets for their games safely and securely.
A notable feature of Ticketmaster is its large inventory of third-party verified tickets available from season ticket holders. These ticket holders can list their tickets directly on Ticketmaster for a small fee, which are then available for fans to purchase.
The only drawback to Bengals tickets on Ticketmaster is the high fees compared to StubHub or Gametime. Therefore, comparing similar seats on each platform is recommended to ensure you secure the best deal on Bengals tickets.
The only downside to Angels Ticketmaster tickets is that the fees attached are high compared to StubHub or Gametime below. Comparing similar seats on each site to ensure you get the best deal on Angels tickets is a good idea.
StubHub
Our top pick for a third-party ticket marketplace is StubHub. You can often find numerous cheap tickets for a Bengals game on StubHub. Most sports leagues have partnered with StubHub to sell and advertise game tickets.
StubHub boasts the largest selection of resale event tickets, often pricing them below face value.
StubHub provides information on whether the listed ticket is reasonably priced compared to the average price and the location of the seat. Their "FanProtect" policy guarantees that your tickets are 100% legitimate.
StubHub also features a rewards program that allows you to earn credits with each ticket purchase. You can apply these to purchase once you've accumulated enough credits, making your tickets even cheaper.
It's highly recommended to check out Bengals StubHub tickets for great deals.
GameTime
One of the best tips for buying cheap Bengals tickets is through Gametime. Known for its last-minute ticket deals for all professional sports, Gametime's tickets are 100% guaranteed and often the most affordable.
Gametime partners with teams and venues to acquire blocks of unsold tickets, which they advertise as last-minute deals. By selling tickets that would otherwise remain unsold, Gametime offers low prices and minimal fees.
You'll likely find extremely cheap tickets available if you can wait until a few hours before the game starts. These tickets are delivered almost instantly to your smartphone and offer event cancellation protection.
Gametime is a top pick for finding the cheapest Cincinnati Bengals tickets.
How Much are Cincinnati Bengals Tickets?
Ticket prices for Cincinnati Bengals games can range widely depending on various factors. These include the opponent, the location of the seats, and the point in the season when you buy your tickets. In general, prices are lower in Ohio than many other parts of the country.
On average, tickets can range from $20 to $250. However, prices for premium seats, such as club level seats or suites, can be significantly higher. Luxury accommodations can provide an elevated experience but come at a premium price.
With strategic planning and a bit of luck, fans may find Cincinnati Bengals tickets for less than $20 per person, particularly for games against less popular opponents or early in the season.
Paycor Stadium Overview
Opened in 2000, Paycor Stadium (formally Paul Brown Stadium) serves as the battleground for the Bengals. It's original name was in honor of the team's founder and first head coach, Paul Brown. It is often referred to as the "Jungle," inspired by the team's "Who Dey" chant and the song "Welcome to the Jungle" by Guns N' Roses, which is frequently played during games.
The stadium is known for its sleek, modern design, featuring a futuristic, asymmetrical style and sweeping canopies that amplify crowd noise. Strategically located on Cincinnati's downtown riverfront, it offers breathtaking views of the Ohio River and the Cincinnati skyline.
The stadium's seating capacity exceeds 65,000 for football games, but it can accommodate more for concerts and other special events. It boasts a natural grass surface, providing a traditional playing field for the games.
Paul Brown Stadium has also been a venue for numerous other events beyond football, including concerts and large public events. Its significance extends beyond football, serving as a key component of Cincinnati's cultural and entertainment scene.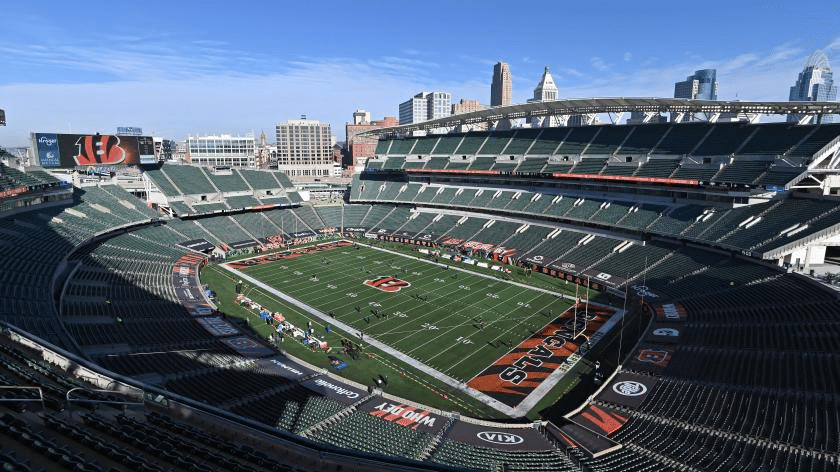 Premium Seats at Paycor Stadium
Paycor Stadium offers several premium seating options for fans seeking a more luxurious game day experience.
Bengals Suites
Bengals Suites sit right above the club suites at Paycor stadium and range from 20 to 40 people per game. Each suite contains a television to watch the game up close, furnishings, and cushioned seats for each person. You have an in-suite menu to order off of before and during the game.
Each Bengals Suite comes with VIP parking passes and the ability to enter the stadium through a dedicated entrance.
Club and Plaza Suites
Club and Plaza Suites sit right above the 200-level seating. Each suites has a climate-controlled space with a retractable glass window that can be opened or closed for the game. Each suites has cushioned seats, furnishings, and multiple TVs in it. You have the option for in-suite catering as well.
Club and Plaza Suites come with a VIP parking pass and a dedicated entrance.
Accessibility for Fans with Disabilities
Paycor Stadium is fully accessible and provides several accommodations for fans with disabilities. This includes wheelchair accessible seating and restrooms, parking, and assistive listening devices. Any special requests can be made in advance to the stadium's Guest
Parking at Paycor Stadium
After you buy your cheap tickets, make sure you save money on parking at Paycor Stadium too. By buying in advance from SpotHero, you can save a lot of money.
Parking at an NFL game can cost you $50 in downtown Cincinnati!
Select your event using the widget below and browse cheap Oracle Park parking now.
Click here to view our complete Paycor Stadium parking tips guide.
Cheap Cincinnati Bengals Away Tickets
If you want to watch the Cincinnati Bengals live for less, a trip across Ohio to see the Cleveland Browns is the obvious choice. However, the Indianapolis Colts are actually much closer to watch if you prefer.
Use the table below to browse Cincinnati Bengals away tickets in other stadiums. You will also get to see what other concerts and events are taking place in each venue so that you can plan an awesome trip!
| NFL Team | Stadium Name | Location |
| --- | --- | --- |
| Arizona Cardinals | State Farm Stadium | Glendale, Arizona |
| Atlanta Falcons | Mercedes-Benz Stadium | Atlanta, Georgia |
| Baltimore Ravens | M&T Bank Stadium | Baltimore, Maryland |
| Buffalo Bills | Highmark Stadium | Orchard Park, New York |
| Carolina Panthers | Bank of America Stadium | Charlotte, North Carolina |
| Chicago Bears | Soldier Field | Chicago, Illinois |
| Cincinnati Bengals | Paycor Stadium | Cincinnati, Ohio |
| Cleveland Browns | Cleveland Browns Stadium | Cleveland, Ohio |
| Dallas Cowboys | AT&T Stadium | Arlington, Texas |
| Denver Broncos | Empower Field at Mile High | Denver, Colorado |
| Detroit Lions | Ford Field | Detroit, Michigan |
| Green Bay Packers | Lambeau Field | Green Bay, Wisconsin |
| Houston Texans | NRG Stadium | Houston, Texas |
| Indianapolis Colts | Lucas Oil Stadium | Indianapolis, Indiana |
| Jacksonville Jaguars | TIAA Bank Field | Jacksonville, Florida |
| Kansas City Chiefs | Arrowhead Stadium | Kansas City, Missouri |
| Las Vegas Raiders | Allegiant Stadium | Paradise, Nevada |
| Los Angeles Chargers | SoFi Stadium | Inglewood, California |
| Los Angeles Rams | SoFi Stadium | Inglewood, California |
| Miami Dolphins | Hard Rock Stadium | Miami Gardens, Florida |
| Minnesota Vikings | U.S. Bank Stadium | Minneapolis, Minnesota |
| New England Patriots | Gillette Stadium | Foxborough, Massachusetts |
| New Orleans Saints | Caesars Superdome | New Orleans, Louisiana |
| New York Giants | MetLife Stadium | East Rutherford, New Jersey |
| New York Jets | MetLife Stadium | East Rutherford, New Jersey |
| Philadelphia Eagles | Lincoln Financial Field | Philadelphia, Pennsylvania |
| Pittsburgh Steelers | Acrisure Stadium | Pittsburgh, Pennsylvania |
| San Francisco 49ers | Levi's Stadium | Santa Clara, California |
| Seattle Seahawks | Lumen Field | Seattle, Washington |
| Tampa Bay Buccaneers | Raymond James Stadium | Tampa, Florida |
| Tennessee Titans | Nissan Stadium | Nashville, Tennessee |
| Washington Commanders | FedEx Field | Landover, Maryland |
Tips for Buying Cincinnati Bengals Tickets
If you're looking to score cheap Cincinnati Bengals tickets, it's important to time your purchase just right. Here are some tips on when to buy to get the best deals:
Compare Prices
When buying football tickets, compare prices from Ticketmaster, StubHub, and Gametime side-by-side. Prices can vary widely for NFL games, so it's important to research before purchasing.
You might find the same seats at a much lower price on a different website.
Buy early for popular games
Tickets sell out quickly for high-profile games against big rivals like the Cleveland Browns or Kansas City Chiefs. Buying as early as possible is a good idea to get the best prices.
Wait until closer to game day for less popular games
If you're not too picky about which game you attend, waiting until closer to game day can often mean snagging a great deal. Ticket prices may drop for less popular games against teams with smaller fan bases as sellers try to unload their inventory.
This is not always possible if you only visit Cincinnati for a week or less.
Look for last-minute deals
If you're willing to take a bit of a risk, waiting until the last minute to buy tickets can sometimes pay off. Sellers may be desperate to unload their remaining inventory and offer steep discounts. However, this strategy is not without risk, as you risk the game selling out or prices skyrocketing at the last minute.
Buy Preseason Tickets
If the Bengals aren't your favorite team, buy tickets to a preseason game in August. Many season ticket holders get rid of these tickets for way less than face value, and you can find an awesome deal.
Preseason tickets are a great time to buy upgraded premium seats as well. Companies and executives own many of these and have lower demand before a regular season game.
By remembering these tips, you'll be well on your way to scoring cheap Cincinnati Bengals tickets and cheering on the team at Paycor Stadium!
Frequently Asked Questions About Buying Cheap Cincinnati Bengals Tickets (FAQ)
How much do Cincinnati Bengals tickets usually cost?
The cost of Cincinnati Bengals tickets can vary depending on several factors, such as the opponent, day of the week, and seat location. Typically, tickets can range from $20 to $300 or more.
When is the best time to buy Cincinnati Bengals tickets?
The best time to buy Cincinnati Bengals tickets is typically as early as possible. This can help you secure the best seats at the best prices. However, consider waiting until closer to gameday to save money when ticket prices may drop.
Where can I buy Cincinnati Bengals tickets?
You can buy Cincinnati Bengals tickets in several places, including the team's official website, Ticketmaster, and third-party resellers like StubHub and Gametime.
What should I do if I suspect I've bought counterfeit tickets?
If you suspect you've bought counterfeit tickets, contacting the seller immediately is important. A reputable reseller, like StubHub or Gametime, have a guarantee policy to protect you from fraud and to reimburse you. If you bought your tickets from an unauthorized seller, you may need to contact law enforcement for assistance.
Can I get a refund on my Cincinnati Bengals tickets?
Refund policies can vary depending on where you bought your tickets from. If you bought your tickets directly from the Cincinnati Bengals, you may be able to get a refund if you contact the team's ticket office. If you bought your tickets from a third-party reseller, check their refund policy before purchasing.
(Visited 196 times, 2 visits today)