As the home of the Dallas Cowboys, AT&T Stadium in Arlington, Texas is one of the most prominent facilities in the National Football League. This beautiful venue is a great place to watch a game, but it's important to know what to expect from the parking situation before you head out.
This detailed AT&T Stadium parking tips guide offers detailed parking information, including:
The best official AT&T Stadium parking lots
Third-party parking lots near AT&T Stadium you can book in advance
Areas to look for free parking in Arlington
Handicap parking solutions
Public transit options for Dallas Cowboys events
Other valuable AT&T Stadium parking tips to save time and money
There are plenty of good parking options around AT&T Stadium, so use this guide to review the choices and select the right one for your needs and budget.
AT&T Stadium Parking Summary
AT&T Stadium, home to the Dallas Cowboys, has an extensive parking system. There are 12 official lots, over 12,000 parking spaces, and the ability to accommodate up to 3,000 vehicles in off-site lots.
The stadium offers an advanced online system for parking pass sales, allowing fans to pre-book their parking. This is extremely beneficial as all parking at AT&T Stadium is permit-only, meaning that no cash transactions occur.
The stadium provides many options for ADA parking and shuttle services from these lots, resulting in a solid score for special accommodations.
Street parking around the stadium is virtually non-existent. Public transportation to AT&T Stadium is also limited. The Arlington Trolley provides service on game days from participating hotels, but beyond that, there isn't a robust public transit system serving the stadium.
Ratings
Official AT&T Stadium Parking Lots
With well over 10,000 spaces across 15 lots at AT&T Stadium, it's safe to say that there is a lot of parking at this venue. Of course, this is a huge stadium, so even with this much parking, you still need to make sure you have a space reserved or a plan for where you will park.
Most of the immediate space around the stadium comprises official parking lots. There are roads in all four directions around the stadium as well. Most of these paths are blocks off around gameday to allow walking traffic more space to move.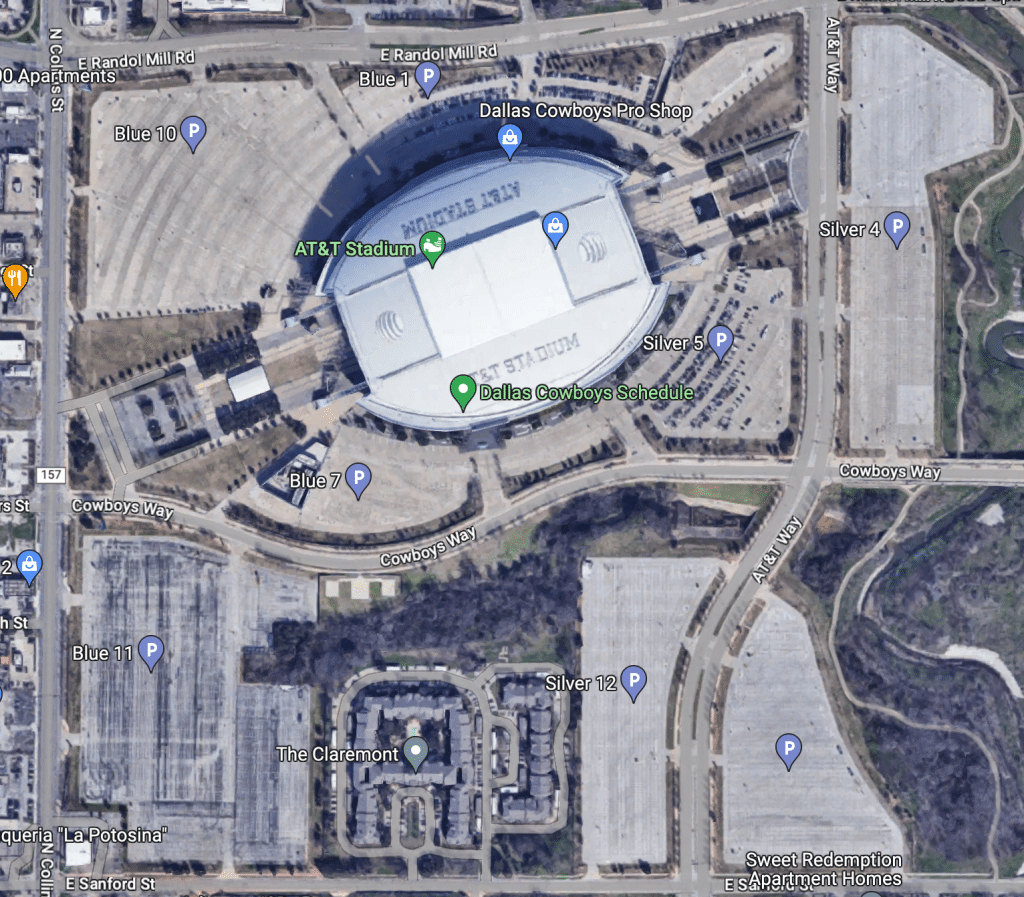 Main Parking Lots
If you go further out, there are over 30 official parking lots that can be used for the Dallas Cowboys. Some of these are shared lots to the east for Globe Life Field, where the Texas Rangers play.
Some of my favorite main lots that wrap around the stadium include:
Blue 10
Blue 11
Silver 4
Silver 12.
To reserve a spot in one of these lots, you must use SeatGeek to shop for your parking pass.
While this is a great option to reserve parking, be warned that parking on the day of Cowboys games can get very expensive. You might not find options for less than $100; some lots will be much more. If you'd like to avoid paying that much for parking, consider an alternative way to get to the area of the venue.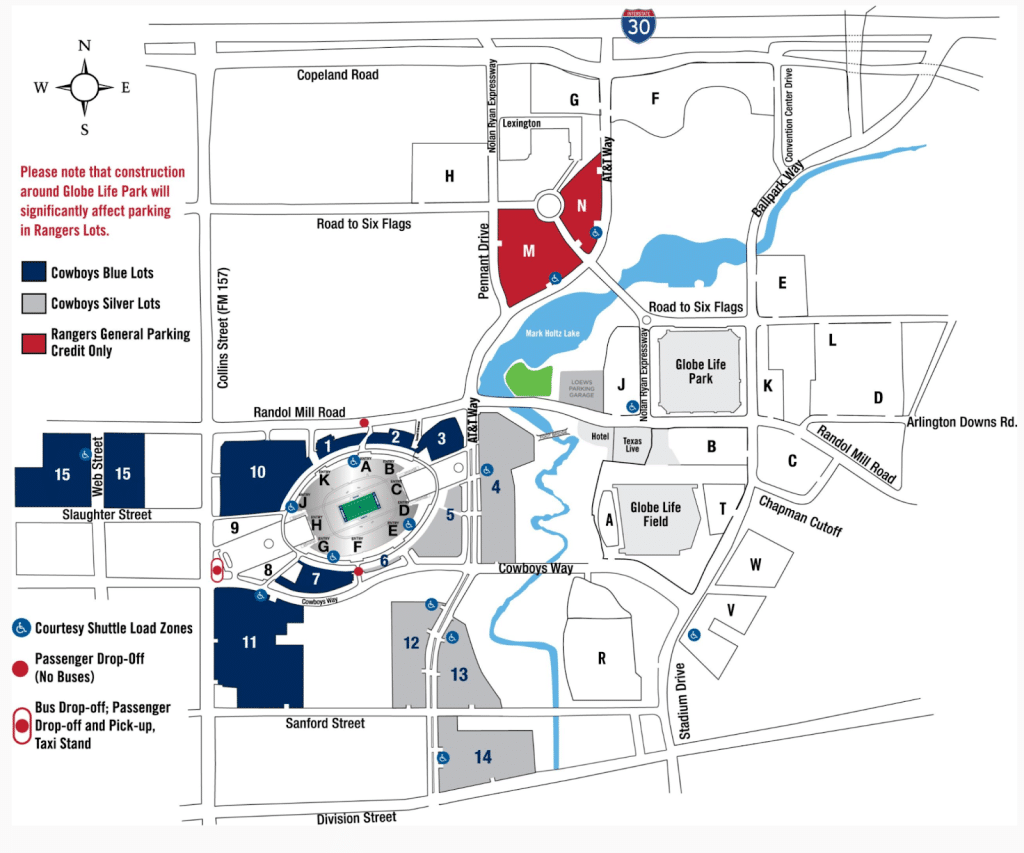 Premium Parking Lots
Securing parking in premium lots like Blue 7 and Silver 5 is the same as above, with SeatGeek being the official platform to secure box office or resale passes. Of course, you can expect to pay even more for parking in these lots, as they are in the stadium's shadow.
EV Parking at AT&T Stadium
Charging options are limited at the stadium, so don't plan on needing to charge up your EV while you are inside watching the game. Some Volta Charging Stations are nearby to the east, close to Globe Life Field.
However, given the busyness of the area when a football game is on the schedule, you are better off not needing to charge at all.
Accessible Parking Spaces
There are accessible spots in the parking lots on the property of AT&T Stadium, so be sure to have your valid ADA placard on hand if you would like to use one of these spots. Of course, you'll still need to find a lot with space available and pay the appropriate fee for parking in that area.
Third-Party Parking Options at AT&T Stadium
Using SpotHero to find third-party parking facilities is a great option for most venues, but it might be hit-and-miss here at AT&T Stadium. For most events, there won't be any third-party parking options available within walking distance.
Browse for yourself using the widget below!
Free Parking at AT&T Stadium
There is little chance of finding anywhere free to park legally during an event at AT&T Stadium. The best way to avoid paying for parking is to get to the stadium using another means so you don't have to bring your vehicle at all.
Public Transportation to AT&T Stadium
The public transportation options in this area are very limited. If you see information about The Trolley in Arlington, a free transportation service around town, please note that it does not serve the stadium on game days.
If you'd like to get to the game without needing to drive, your best option is likely to use a rideshare service such as Uber or Lyft. Some hotels may offer a shuttle to and from the game.
Ridesharing to AT&T Stadium
If you will utilize a rideshare service to get to and from AT&T Stadium, the designated pick-up and drop-off area for such services is in Lot 15. While this lot is not immediately adjacent to the stadium, it's only a short walk to the west at the corner of Web Street and Slaughter Street.
AT&T Stadium Events
Football is the highlight of the annual schedule at AT&T Stadium, but you might choose to attend plenty of other events at this venue. Some of the biggest acts in the world have played a concert at AT&T Stadium, including:
Take a moment to check out the table below and pick up tickets to any event that grabs your interest.
Date
Name
Location
Buy Tickets
September 22, 2023
Minnesota Twins vs. Los Angeles Angels
Target Field
Minneapolis, MN, US
Ticketmaster
StubHub

September 23, 2023
Minnesota Twins vs. Los Angeles Angels
Target Field
Minneapolis, MN, US
Ticketmaster
StubHub

September 24, 2023
Minnesota Twins vs. Los Angeles Angels
Target Field
Minneapolis, MN, US
Ticketmaster
StubHub

September 26, 2023
Minnesota Twins vs. Oakland Athletics
Target Field
Minneapolis, MN, US
Ticketmaster
StubHub

September 27, 2023
Minnesota Twins vs. Oakland Athletics
Target Field
Minneapolis, MN, US
Ticketmaster
StubHub

September 28, 2023
Minnesota Twins vs. Oakland Athletics
Target Field
Minneapolis, MN, US
Ticketmaster
StubHub

Tailgating near AT&T Stadium
As with most of the rest of the NFL, there is a strong tailgating culture that exists before Dallas Cowboys games. Many of the lots on the property of AT&T Stadium permit tailgating in the hours leading up to a game, as long as the rules that govern these activities are followed.
Some of the rules include:
only tailgating in designated spaces
disposing of trash properly
only using the grass area adjacent to the designated parking spot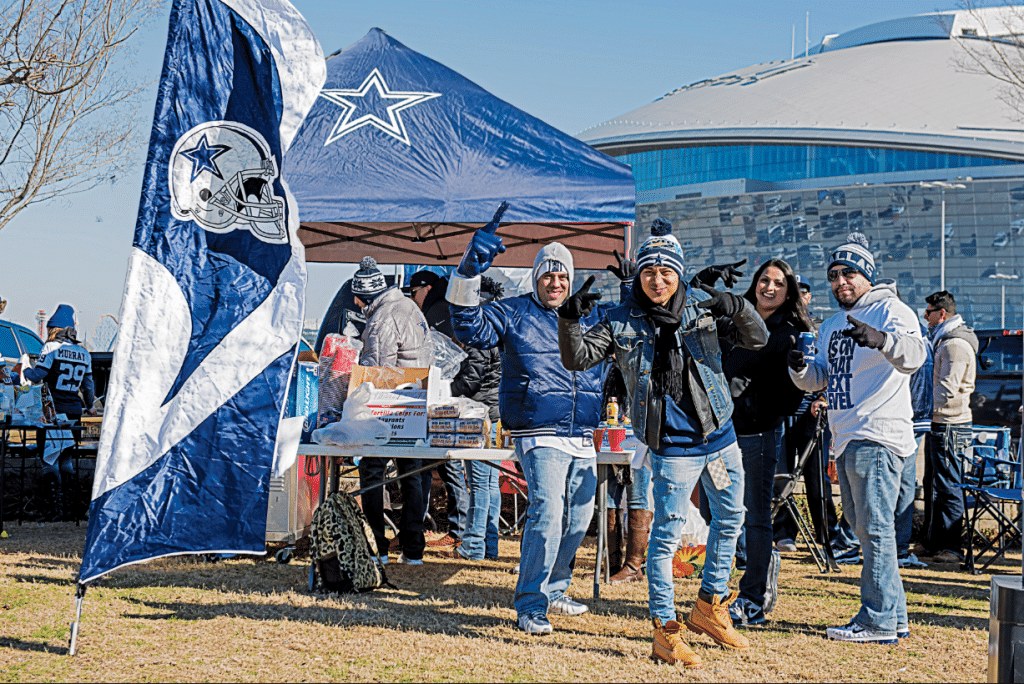 One of the biggest keys to tailgating at AT&T Stadium is to arrive as early as possible. This is a popular activity with only limited spaces available, so be sure to plan your day accordingly to grab a space.
AT&T Stadium Parking Tips for a Great Outing
Everyone who attends big events has a horror story about a parking nightmare that caused them to miss the start of the game or concert. Or, if you got in on time, it might have taken you hours to leave after it was over.
Let's review some basic parking tips to ensure that doesn't happen to you at AT&T Stadium.
Arrive Early and Beat Traffic
With a convenient location between Dallas and Fort Worth, AT&T Stadium is easy to access for people throughout the DFW metroplex – as long as traffic doesn't get in the way. Plan your day to get to the stadium early and secure parking before it gets crazy.
Simply check to see when the gates will open, and you can arrive early to enjoy as much time inside the facility as possible.
Know What You Can Bring
AT&T Stadium has specific policies regarding what can and can't come into the building, like all other stadiums. Check these rules in advance so you don't have to leave things in the car.
Remember Where You Parked!
There are tons of parking spaces available in the area around AT&T Stadium. With such a massive parking area to cover, you don't want to be searching for your vehicle at the end of the day. Consider snapping a quick picture or your car's location on your phone so you can get back to it easily.
Don't Leave Things in Your Vehicle
With so many vehicles left unattended for hours, there is always the threat of criminal activity while an event is going on. To reduce the chances of theft, leave any valuable items at home, or at least tuck them away out of sight in your car or truck. And, of course, remember to lock up!
Look At a Map
This might sound a little old school in the age of GPS, but looking at the map of the area around the stadium before you leave can help you understand where you'll be going and how everything is laid out.
Conclusion
In conclusion, attending an event at AT&T Stadium in Arlington, Texas, requires careful planning and consideration of the parking options available. Buying parking on-site will be the only viable option for most people attending a game or concert, outside of using a rideshare service.
Remember to familiarize yourself with the stadium's policies, keep track of your parking location, and take necessary precautions to ensure the safety of your belongings.
Following these parking tips, you can optimize your experience at AT&T Stadium and enjoy your event without any parking-related hassles.
Frequently Asked Questions for Parking at AT&T Stadium (FAQs)
How much does parking cost at AT&T Stadium?
You'll find varied parking prices depending on the event you will attend. It's typically about $40 – $60 to park for an NFL game, but preferred lots will be more, and you might find even higher concert prices. It's best to secure your parking as early as possible to give yourself plenty of choices. 
Is Official AT&T Stadium Parking or a Third-Party Lot the Better Option?
Official parking at AT&T Stadium will be the way to go for almost everyone who attends. With such a big official parking area established immediately around the stadium, those lots are the easy choice if you decide to drive to the game. 
Can I leave my vehicle overnight at AT&T Stadium?
No, there is no overnight parking available. You must return to your vehicle and depart reasonably after the event ends. 
Does AT&T Stadium offer bicycle parking?
The location of this AT&T stadium doesn't make it particularly suitable for biking unless you happen to live very close to the venue. If you'd like to avoid paying for parking, consider using one of the alternative modes of transportation.
What alternative transportation options are available for AT&T Stadium?
A rideshare service like Uber or Lyft is likely your best alternative transportation option to reach the stadium, although you may be able to find a suitable public transportation method, as well. 
How early are AT&T Stadium parking lots open?
The timing of parking lots opening up for vehicles to enter will depend on the event you are attending. For Cowboys games, you can expect the lots to open up five hours before the game actually starts in most cases. 
(Visited 676 times, 8 visits today)