Do you want to watch a New York Yankees game in a luxury suite for cheap? Yankee Stadium suites might be a lot less for tickets than you think! All information is in our guide below!
Located in Concourse, Bronx, NYC, Yankee Stadium is the home field for the New York Yankees of Major League Baseball (MLB), and New York City FC of Major League Soccer (MLS). If you are looking to watch your favorite football team from one of the Yankee Stadium luxury suites with a cold beer in your hand and a bowl of chips on the table, then we have got you covered.
In this article, we will walk you through the different types of Yankee Stadium luxury suites and also highlight which of the suites offer free food and drinks.
If you are interested in stadium suites across different stadiums in North America, check out our full stadium suites guide.
What Are Stadium Suites?
Booking a luxury suite at Yankee Stadium means you'd watch a game you enjoy in some of the coolest spaces that sports have to offer.
Suites are for fans looking to entertain for business or be all together in one group. Suites for any Yankees game will include 22 – 32 tickets and VIP parking passes.
Yankees luxury boxes are big and spacious and roughly 900 square feet on average. Upscale furnishings in a suite will include granite countertops, leather sofas, limestone flooring and up to 4 HDTVs.
Yankee Stadium suites also come with a private restroom. With a private entry into the ballpark and exclusive access to the SAP Suite Lounge, a Yankees suite is going to give fans the VIP experience they've been looking for.
Let's now take a look at the different types of Yankee Stadium luxury suites.
Yankee Stadium Legends Suite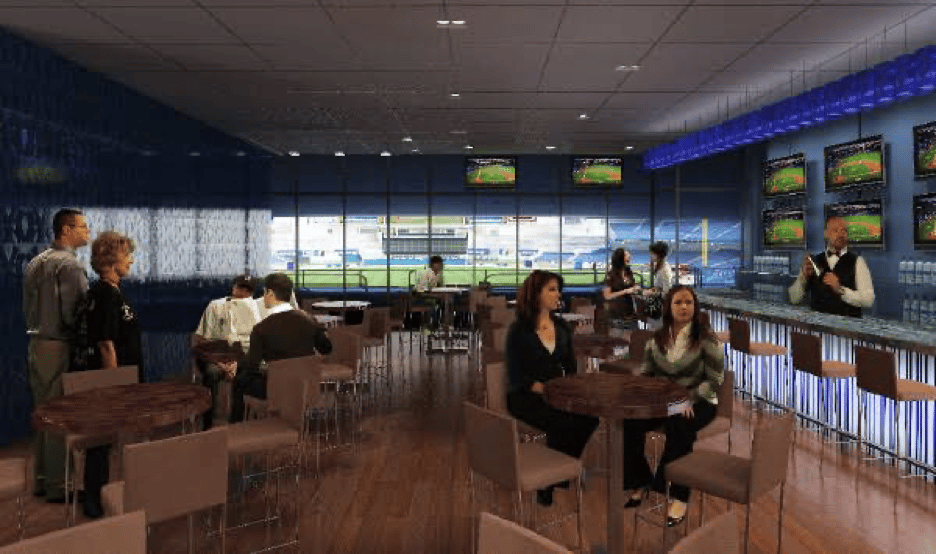 The best seats for a Yankees game are those located on the infield and behind home plate in sections 14A-27A. These sections are considered Legends Suite seats and come with access privileges and benefits not found anywhere else in the ballpark.
The Legends Suite provides fans access to the Legends Suite Club, Ketel One Lounge and the Champions Lounge. The Legends Suite also provides fine dining, while the lounges provide free grab n go food and drinks. Each club has private restrooms.
For ticket holders in this suite, all food and non-alcoholic drinks are included with your ticket price. You can enjoy food and snacks in any of the three clubs, or take advantage of a personal wait staff at your over-sized, extra-padded stadium seat.
Ticket Holders will be able to enter Yankee Stadium through a private entrance and have access to a game day concierge.
Champions Suite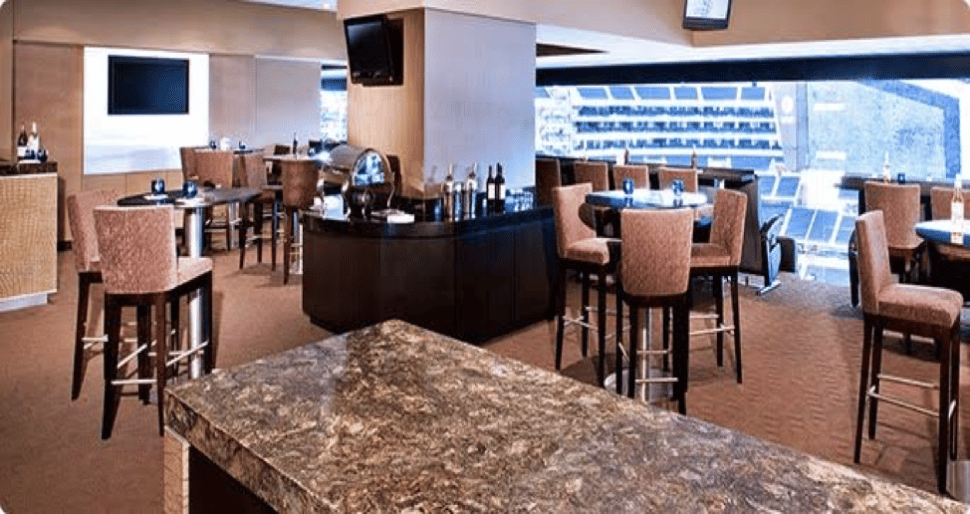 Adjacent to the ultra-premium Legends Suite is the Champions Suite.
Seat holders in this collection of six sections will enjoy many of the same benefits as Legends ticket holders. Among these benefits is access to the Ketel One Lounge and Halstead Lounge.
These private, climate-controlled areas allow you to grab food and non-alcoholic drink at no additional cost. You can eat or drink at the bar or relax in the lounge furniture before or during the game.
You can also utilize the private restrooms only available to suite ticket holders.
Delta Sky Suite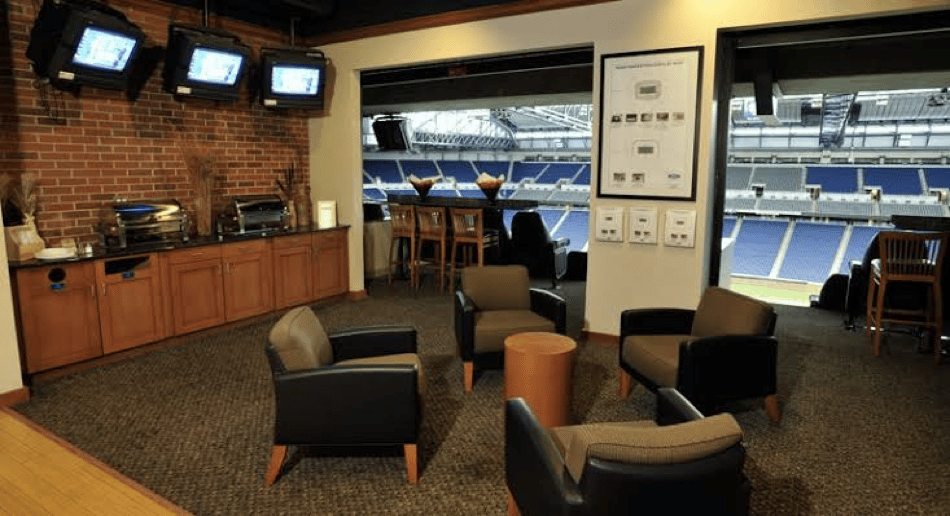 For an upscale experience similar to what you'll find in the ultra-exclusive lower-level club areas, consider the Delta Sky Suites on the 200 level. These sections offer a magnificent elevated view of Yankee Stadium and in-seat wait service so you don't miss a pitch.
Of course, if you want to leave your cushioned seat, you can retreat to the exclusive Delta Sky360 Suite with private restrooms and a private entrance and elevator.
The club features a large, full-service bar with seating – perfect for socializing before or during the game. Ticket Holders will receive complimentary snacks and non-alcoholic drinks included in the price of their ticket.
Field MVP Club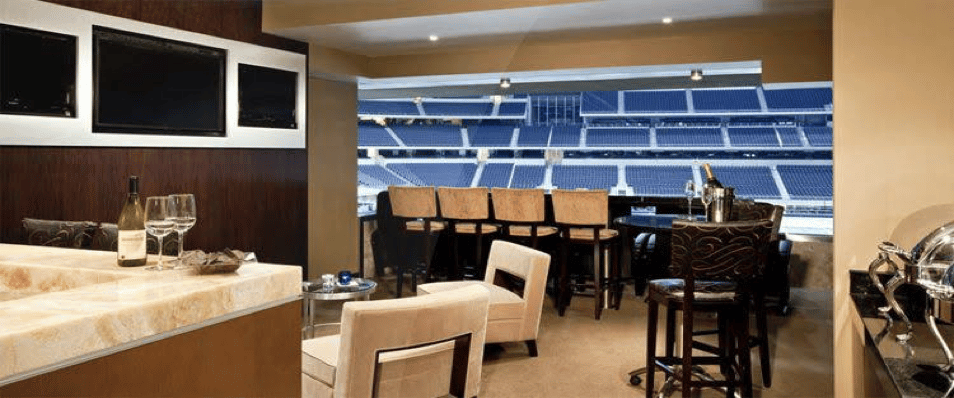 Field MVP Club ticket holders at Yankee Stadium will receive access to the MVP Club Lounge with a high-end bar and lounge seating.
Fans will also receive complimentary snacks and non-alcoholic beverages and will be able to purchase food and adult beverages from an exclusive menu. All MVP Club seats are cushioned and come with in-seat wait service.
How Much Do Yankee Stadium Suites Cost?
Prices typically range from $8,500-$15,000 for New York Yankees suites. Yankee Stadium on average is the most expensive baseball stadium to rent a suite.
This might seem like a lot, but with 20 people in your group and included food and drinks, $500 is close to what you would spend at the stadium anyway!
Prices vary based on the day of the game, opponent, and the location of the suite in Yankee Stadium. Luxury suite prices for concerts and other events at Yankee Stadium can vary widely based on the type of event.
How to Buy Yankee Stadium Suites
SuiteHop provides Yankee Luxury Suites for most ball games each year. SuiteHop runs on a supply and demand model, so pricing can be higher or lower than what is advertised.
By checking out SuiteHop for multiple Yankee games, you can get good deals on a Stadium Suite for you and your group.
To start, click here to check out the Yankee Stadium SuiteHop page and start comparing prices today.
If you have the money, luxury suites at Yankee Stadium are worth every penny. If you are a die-hard Yankee fan, you will love being close to the players, but yearn for the atmosphere of the bleachers.
If you ever get the chance to sit there, take it. It is an experience like no other.
Is there part or section we didn't cover in this post? Share your thoughts with us using the comment box below. You can also follow us on Twitter and Instagram to give your feedback.
(Visited 12,213 times, 1 visits today)