Do you want to sit in a luxury box at your next concert or sports event? Let us show you how you can find stadium suites for cheap.
Not only do you get to watch an event you enjoy, but you get to do so in some of the coolest stadium seats. Some of these suites even have private pools, saunas and bedrooms to enjoy!
These tickets are not that much more expensive than regular seats. And if you like to meet new people, shared suite tickets are exactly what you need.
In this post, we will discuss everything you need to know about stadium suites. But before we dive deeper, let's quickly take a look at what these seats are.
What Are Stadium Suites?
Stadium suites or luxury boxes are an exclusive class of seating in a stadium. There are a limited number of these seats in each stadium.
Often, they are reserved for large businesses who pay a premium price for access to the box. Sales companies often buy suites to take their customers to events.
Club Seating vs Luxury Seating
Most modern stadiums use 'club' and 'luxury' wording when talking about premium seating.
The main difference between the two is that club seating is open to the elements. Luxury seating includes a roof and usually insulated windows and doors to keep you away from the weather.
Both seating options are premium compared to a regular ticket.
You will pay more for a luxury ticket. However, being completely away from the elements also allows you with some more perks and amenities.
Stadium Suite Amenities
Often, suites are located indoors and away from the elements. They offer premium stadium amenities.
Private Viewing Space
With your full suite ticket handy, you get to enjoy private viewing space devoid of the troubles of those seated in the regular seats. Luxury boxes can accommodate 12-34 people depending on the size.
Additional Comfort
Stadium suites feature things like exterior cushioned chairs or recliners chairs. Enjoy the game in a climate-controlled space. As well, some suites also offer a private restroom.
Catered Food Services
Don't worry about eating before the event. Some luxury boxes included catered meals before and during the show. The food menu is sometimes created from private chefs whose job is to satisfy your hunger for the day.
Full Service Bar
Often the #1 reason that fans splurge for a premium seat. The cost of the suite includes all you can drink beer and spirits. Make sure you plan a safe ride home!
VIP Parking
Many premium seats give you a parking ticket. You get to park close to the stadium instead of walking a long distance. After the game, VIP parking lanes allow you to leave the stadium quickly. On their own, these parking passes can cost up to $100 without a suite to sit in.
Technology and Entertainment
Luxury boxes in new stadiums are designed to outdo everyone else in the area. From personal fireplaces, iPads, televisions, and other smart gadgets, you'll have access to a premium experience.
Custom Memorabilia
Your premium ticket will often come with custom gift bags, memorabilia, event programs, and other unique gifts. These are sometimes one-time gifts for fans.
Each suite offers different perks. In the old days, you had to manually call the ticket agent to find out and arrange what you wanted in your suite.
Today, things are much different! Most luxury boxes are managed online. Even better, regular fans can get into these luxury boxes if you know where to look!
We'll show you how to buy tickets a bit later. First, we want to tell you the difference between a full suite and shared suite tickets.
Full Suite Vs Shared Suite Tickets
When people think about suites, they often think of a giant price tag. For most people, organizing 15 or more people to pay a premium price for the game is a big ask.
This is one of the main reasons that corporations own these boxes! The cost is used more as a business write off rather than a burden.
But, did you know that you can purchase one or two or four suite tickets and still enjoy all of the amenities above?
Below, we'll show you how you can purchase individual suite tickets. You'll meet some new people, while still enjoying all of the benefits. Even better, you don't have to coordinate a big group either.
How Much Does a Suite Ticket Cost?
Suite tickets are just like regular tickets. The cost of them varies highly depending on what perks and location you are sitting in.
In general, regular tickets to an NFL Football game range from $50 up to $500 depending on the stadium.
By comparison, suites range from $500 up to $5000. However, you also get some or all of the amenities we talked about above.
If you are a big fan and a suite is treated as a one-time or once-per-year perk, it will add to your experience. Stadium suite prices fluctuate according to the supply and demand at the event.
Most Popular Stadium Suites in the USA
We took a look and researched every stadium in the United States. We wanted to know which luxury seats were in the highest demand. These are the stadiums that people want to buy premium seating for the most:
SoFi Stadium, Los Angeles
Yankee Stadium, New York
MetLife Stadium, New Jersey
AT&T Stadium, Dallas
Mercedes-Benz Stadium, Atlanta
Chase Field (the Pool Pavilion), Arizona
Levi's Stadium, San Francisco
Hard Rock Stadium, Miami
Everbank Field, Jacksonville
How do you buy suites at these stadiums? Follow our guide below!
How To Get Cheap Stadium Suites
Wondering where and how to buy cheap premium tickets to watch your favorite team?
At Stadium Help, we have always got your back.
We've partnered with SuiteHop to get you premium tickets at fair prices. SuiteHop is a marketplace for stadium suites. Pricing fluctuates with the natural supply and demand of suites at an event.
Whether you need a full box or a single seat, SuiteHop has got you covered.
Here is how to purchase tickets on SuiteHop:
First, visit SuiteHop official website.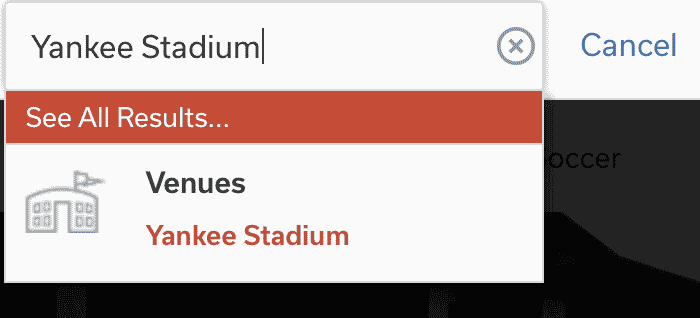 Search for a luxury suite by using the search bar. For example, you can enter "Yankee Stadium" or "MetLife Stadium" and select your venue.
You can also click on one of the sports leagues to view suites for your favorite team.
If tickets are already available, you'll see the starting price for them.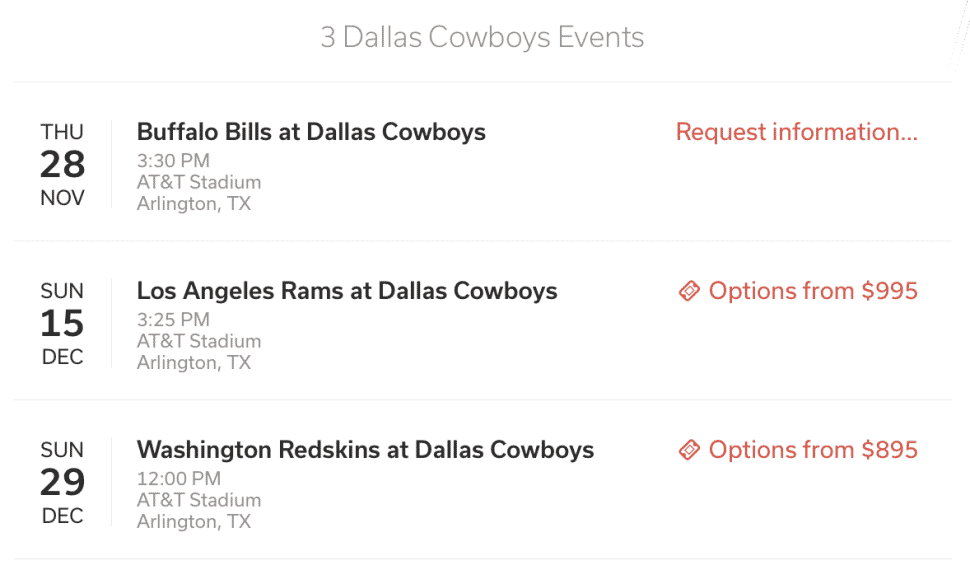 If tickets are not available, you can click on Request information and SuiteHop will work with you to get you tickets.
Assuming tickets are available, you can choose the exact suite you want to buy tickets for.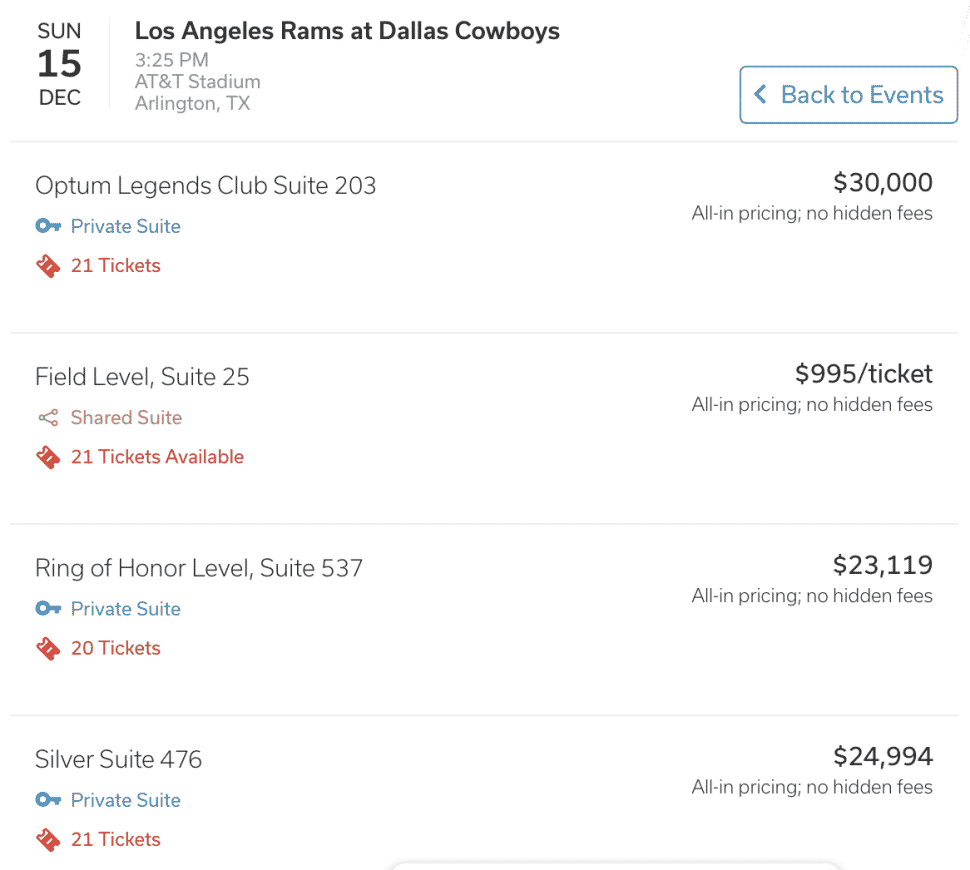 Review the information about the seat and click on Book Now.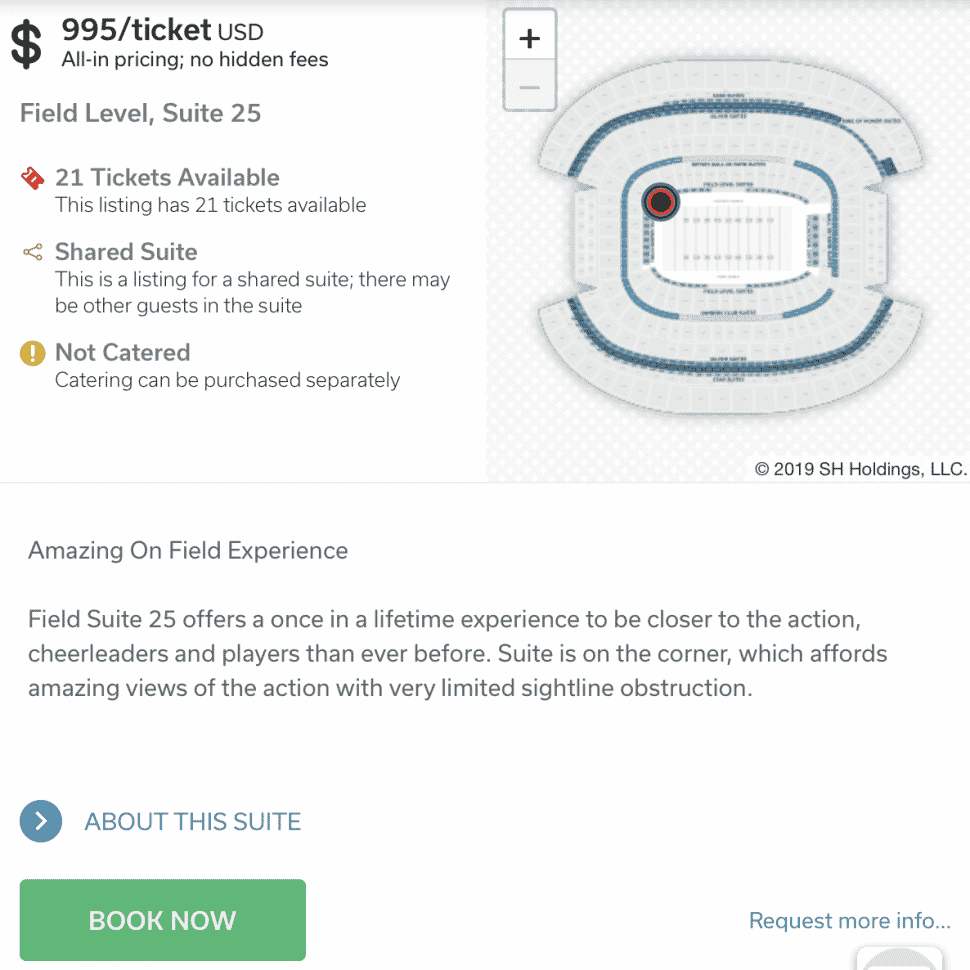 Proceed to make a payment
You will be emailed details on your stadium suite!
Have you sat in luxury seating for a concert or event before? Share your thoughts with us using the comment box below.
You can also follow us on Twitter and Instagram to give your feedback.
(Visited 16,800 times, 18 visits today)