Metlife Stadium is located in East Rutherford, New Jersey. It is one of the most popular venues in New Jersey and New York for entertainment and sports events. We've compiled some of the best Metlife Stadium tips on the internet to help you have a good experience at the venue!
The stadium plays home to the New York Jets and the New York Giants. It also hosts artists like Taylor Swift, U2, Eminem, One Direction, as well as Bruce Springsteen.
MetLife Stadium has over 82,000 seating capacity, plus, the most sporting and big concerts are often overbooked. Understandably, finding the best hotels, foods, parking lots, and the best seating position can be frustrating.
Luckily, Stadium Help has got you covered!
Without further ado, ride with us as we help you enjoy a memorable experience at the MetLife Stadium
Events at Metlife Stadium in 2020
Metlife Stadium is home to the New York Giants and New York Jets of the NFL Football League. When those teams aren't playing, the stadium hosts many large concerts throughout the year.
Some of the major concert tours coming to MetLife Stadium in 2020 are:
We will update this section as more concerts are announced!
Cheap Metlife Stadium Suites
If visiting Metlife Stadium is a special occassion for you, consider visiting it in style! You can buy tickets to suites at Metlife Stadium for cheaper than you may think.
We've partnered with SuiteHop to show you deals on private and shared suites at MetLife. Sharing a suite with others is a great way to meet new people are interested in the same event as you.
We've seen tickets to a Metlife Stadium suite for $375 all-in pricing. Even better, that price includes food and alcoholic drinks at the game!
Check out the Metlife Stadium suites page here for more details.
Metlife Stadium Parking Guide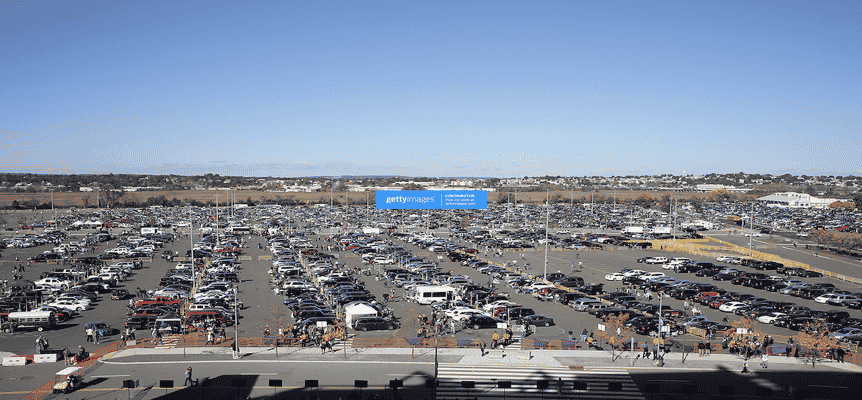 MetLife Stadium has several garages and lots for football fans and concert enthusiasts' use. These garages and lots open 5 hours before the start of any event and close 2 hours from the time the events end.
Generally, it costs $30 to park a car and $90 to park a bus or RV. Also, if you are a fun person that loves tailgating, the stadium has all the trappings for you to leverage.
You can check the stadium's Tailgating and Parking policies here.
For game day, you are required to have a parking permit before the stadium officials will grant you entry. This applies to the IZOD Center or the Sports Complex parking facilities.
You can purchase the parking permit via the website of the NFL Ticket Exchange. When you are on the website, click on "buy tickets" and then "show parking tickets" buttons.
This will enable you to view the parking permits. The parking permit does not in any way guarantee the allocation of a specific lot. Since the lots fill up fast, reserve parking would be a no-brainer.
Best Food In Metlife Stadium
If you are a foodie, you can get good food in and around MetLife Stadium while enjoying your favorite team or artists perform. The following are great foods you can grab:
Jumbo Jet Breakfast Sandwich
You can get this delicious meal at Jets Experience Plaza between Verizon Gates and MetLife.
Grilled Cheese
This meal can satisfy your sodium needs. You can purchase it at MetLife Central and Section 314
Jumbo Jet Sausage
Knowing that you can grab a good Italian sausage can keep you motivated throughout a concert. The Jumbo Jet Sausage comes handy. You can get it at Jets Experience Plaza between Verizon Gates and MetLife
Kitchen Sink Sandwich
This stacked Sammy would help you to crush the Jumbo Jet. You can grab it at MetLife Central
Tacos Chicken Tinga
These tacos are available at Toyota Club, MetLife Central, Chase Club, and Section 315.
Jumbo Jet Pretzel
This is another great food to grab while you watch Taylor Swift perform. Jumbo Jet Pretzel is fun for the whole family. You can get it at Jets Experience Plaza between Verizon Gates and MetLife
Best Seats in Metlife Stadium
If you are a short person, you must be a bit selective when purchasing tickets MetLife Stadium.
The stadium has 4 sitting levels. The level closest to the field is the Plaza level, followed by 100 level, 200 level, and 300 level. Just along the 200 level, you will see several suites and club areas.
To get the best price value, ensure you're seated anywhere around 10-20 of the 100 level. You will be more comfortable here because the seats have great spacing and are a bit high. Without standing up, you will be able to see a wide-angle.
MetLife Stadium has 5 gates. Ensure you remember the gate you passed when accessing the stadium as signage are not very clear.
However, you can ask the stadium official for proper guidance on your way out.
Worst Seats in Metlife Stadium
It is important to know which seats to avoid since you now know the best seating position.
Avoid 200 level seats that are under the covering of the 300 level. These seats have the poorest view of the stadium.
Best Hotels Near MetLife Stadium
Below are some of the best hotels near the stadium
Hampton Inn Carlstadt – $116 per night
Hilton Meadowlands – $106 per night
Fairfield Inn by Marriott, East Rutherford – $111 per night
Read Roof Inn Plus – $84 per night
Extended Stay America – $90 per night
Meadowland Plaza Hotel – $119 per night
Residence Inn, Marriott East – $135 per night
Econo Lodge Meadowlands – $84 per night
Holiday Inn Express Hotel – $109 per night
Homewood Suites – $135 per night
Other Metlife Stadium Tips From Real Fans
Remember the clear bag policy. Do not take a purse!
Sit on the aisle if you plan on going to the bathroom or bar frequently during the event.
Watch closely for transit queues and signs on the way to the stadium if you are taking the subway!
Metlife Stadium stops selling beer at the start of the third quarter, so make sure you get your alcohol at halftime.
If you are taking kids to a game, stadium crew will put a wristband on them with your personal information in case they get lost.
You can bring your own cup in and fill it at the water station instead of paying for expensive pop.
Final Thoughts – Metlife Stadium Tips
There you go! Hopefully these MetLife Stadium tips will help you enjoy a memorable experience.
Purchase your tickets early and figure out which gate is closest to your seat. If you plan to buy food, do so before the event so that you have enough time to search for your seat.
What was your experience like when you first visited MetLife Stadium?
Please share your thoughts with us using the comment box below or you can leave a feedback for us via our Twitter Page
If you are going to be in the New York area, here are some other stadium guides you might be interested in:
Also, Taylor Swift is playing just down the road in Foxborough for her LoverFest tour in 2020.
(Visited 10,053 times, 343 visits today)