Are you going to be in the Philadelphia area and looking to hit up a hockey game or concert? This guide will show you the best ways to get cheap Philadelphia Flyers tickets and how to purchase them.
I'll will go over:
An overview of the Flyers and their stadium, Wells Fargo Center.
The different ways to purchase cheap tickets for the Philadelphia Flyers
Tips for buying good tickets and parking to a Flyers game
If you have been to a Flyers game live, comment below and let us know what you thought of the arena!
Buy Philadelphia Flyers Tickets
In a rush? Use these buttons to browse the cheapest tickets to all Flyers games today.
Philadelphia Flyers Overview
The Philadelphia Flyers are a professional ice hockey team in the National Hockey League (NHL). They compete in the Metropolitan Division which is in the Eastern Conference. The Flyers were part of the 1967 expansion and were the first expansion-team to win the Stanley Cup as not one of the original six teams. They won the Stanley Cup back-to-back in the 1974 and 1975 seasons and have not won the title since.
Despite the long drought since winning a Stanley Cup, the Philadelphia Flyers sit third in all-time NHL point's percentage, trailing only the Vegas Golden Knights and Montreal Canadians.
In the 1970s, the Flyers were dubbed the "Broad Street Bullies" as they played a very aggressive style of hockey while also dominating on offense. Broad Street is where the Flyers have played their home games since the inception of the team. The team was led by Bobby Clarke, who won the NHL scoring title in 1972.
Throughout the years, the Flyers have had some great NHL players play for the team. This long list includes players such as Peter Forsberg, Ron Hextall, Claude Giroux, Eric Lindros, Simon Gagne, Mike Richards and the list goes on and on.
The Flyers are once again looking to get back to that early 1970s success they had. They are currently led by a young core of players such as goaltender Carter Hart and defenseman Travis Sanheim.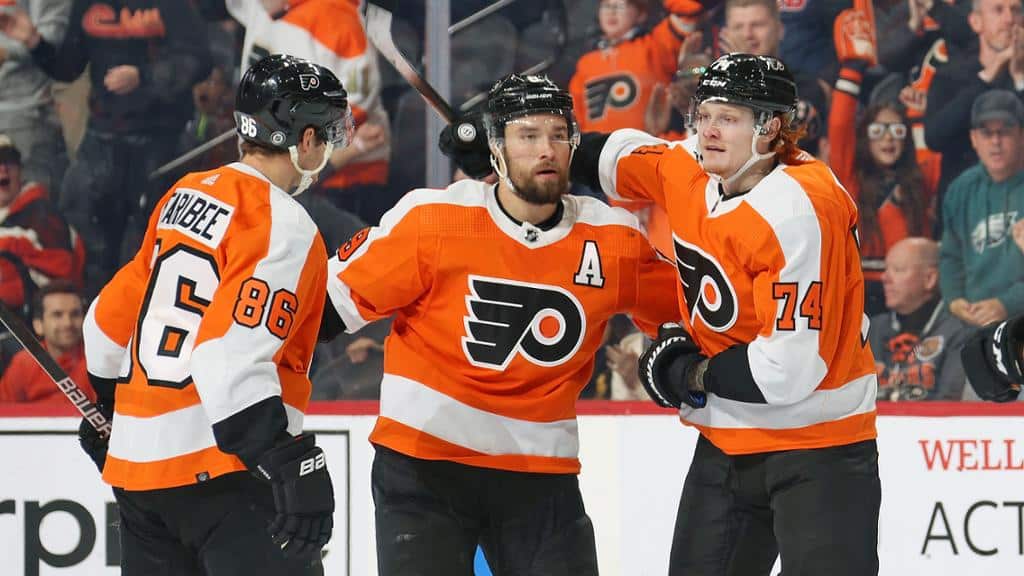 Browse Cheap Philadelphia Flyers Tickets
We've compiled all good Flyers tickets into the table below, so that you can browser seats on each popular website easily! Down underneath the table, we have some tips on how you can buy the best Philadelphia Flyers tickets.
| Date | Name | Location | Buy Tickets |
| --- | --- | --- | --- |
Wells Fargo Center Overview
Wells Fargo Center is a multi-purpose indoor arena located in Philadelphia, Pennsylvania. It is where the Philadelphia Flyers of the NHL and the Philadelphia 76ers of the NBA play. The Philadelphia Wings of the National Lacrosse League also plays out of this arena for their home games.
The capacity for hockey games is 20,306 and for basketball games is 21,000. The arena also plays host to concerts, arena football games and other live events. The arena broke ground in 1994 and officially opened its doors in 1996.
One of the coolest things about Wells Fargo Center is that it's located in the South Philadelphia Sports Complex, which is also where Lincoln Financial Field and Citizen's Bank Park are located. This is where the NFL and MLB teams play their homes games in Philadelphia. If you are a sports fan, you will find everything you need here.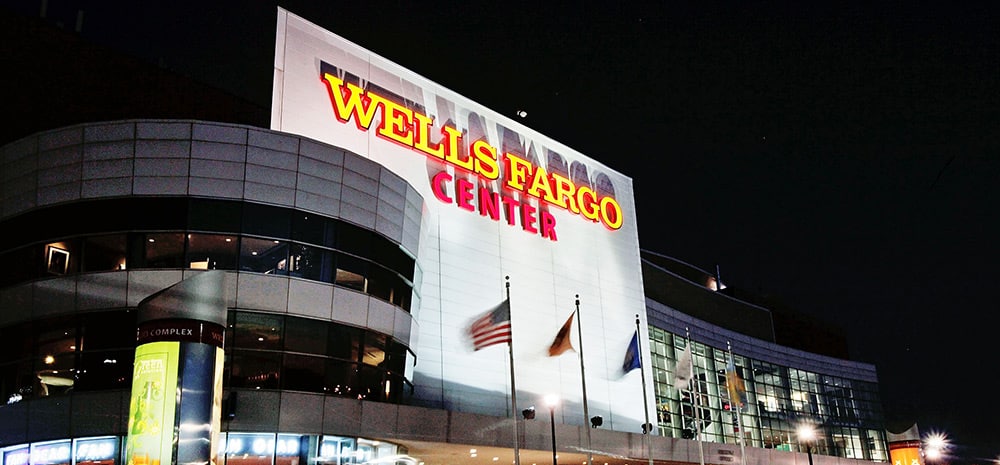 How to Get Cheap Philadelphia Flyers Tickets
Ticketmaster
Ticketmaster is the largest official ticket outlet in Canada and the United States for sports tickets. Every single team in every league has partnered with Ticketmaster to sell tickets to their games safely and securely.
One nice thing about Ticketmaster is that they also have third-party verified tickets available from season ticket holders. Season ticket holders can post their tickets directly to Ticketmaster for a small fee, who then sells them to fans who missed out on first-party tickets. This means you can be sure you are getting secure tickets.
The only downside to Ticketmaster is that the fees attached to its ticket sales are pretty high compared to some of the other third-party ticket sites. You may not get the cheapest Flames tickets, but you know the tickets will be secure and legitimate.
StubHub
StubHub is our favorite third-party ticket setting website for buying cheap tickets to sporting events. Most sports leagues have a third party partnership with StubHub to sell and advertise tickets for their games. StubHub has the largest selection of resale tickets available for events, which often pushes the cost down below face value.
StubHub will show you if the ticket listed is a reasonable price or not compared to the average price and the location of the seat.
StubHub also has a rewards program that you can join. You earn credits through purchasing tickets, and once you earn enough credits, you can apply these to your purchase for even cheaper tickets.
All tickets purchased through StubHub are 100% guaranteed, so you can be sure you are getting safe and legitimate tickets. I highly recommend checking out StubHub for cheap Calgary Flames tickets.
GameTime
One of the most recent and best ways I have found cheap Flyers tickets is through Gametime. Gametime is known for last-minute ticket deals for every single professional sport. These tickets are 100% guaranteed through Gametime and are often the cheapest tickets you will find last minute.
Gametime works with teams and venues to get blocks of unsold tickets, which they advertise as last minute deals. It allows Gametime to offer cheap prices and low fees by selling tickets that would otherwise go unsold.
If you don't need to plan ahead, I highly recommend waiting last minute to buy your tickets. If you wait until the day of and even a few hours before the game starts, very cheap tickets will be available. They are delivered to your smartphone almost instantly and offer event cancellation protection should the event not go as planned.
Gametime is a top pick for finding the cheapest Philadelphia Flyers tickets.
How Much are Philadelphia Flyers Ticket Prices?
Philadelphia Flyers tickets cost about $80 per game on average This price is higher than average compared to other stadiums in the league, due to the popularity of hockey in the city.
Cheap Philadelphia Flyers Parking Near Wells Fargo Center
After you buy your cheap tickets, make sure you save money on parking by Wells Fargo Center too. By buying in advance from SpotHero, you can save a lot of money. Parking on Flyers gameday or an Uber can cost you over $40 or more in Philadelphia.
Select your event using the widget below and browse cheap Wells Fargo Center parking now.
If the game you are going to is later than the last option in the widget above, click on any game, and you can select your game in the new window.
Cheap Philadelphia Flyers Away Game Tickets
If you want to see the Flyers for cheaper, there are multiple options that are within driving distance. The Pittsburgh Penguins, New Jersey Devils, New York Islanders and Rangers, Toronto Maple Leads, and Buffalo Sabres can be reached in a few hours before game time.
Click on the links in the table below to browse Philadelphia away tickets in other arenas. You will also get to see what other concerts and events are taking place in each venue so that you can plan an awesome trip!
| Team | Arena | Location |
| --- | --- | --- |
| Anaheim Ducks | Honda Center | Anaheim, California |
| Arizona Coyotes | Mullett Arena | Tempe, Arizona |
| Boston Bruins | TD Garden | Boston, Massachusetts |
| Buffalo Sabres | KeyBank Center | Buffalo, New York |
| Calgary Flames | Scotiabank Saddledome | Calgary, Alberta |
| Carolina Hurricanes | PNC Arena | Raleigh, North Carolina |
| Chicago Blackhawks | United Center | Chicago, Illinois |
| Colorado Avalanche | Ball Arena | Denver, Colorado |
| Columbus Blue Jackets | Nationwide Arena | Columbus, Ohio |
| Dallas Stars | American Airlines Center | Dallas, Texas |
| Detroit Red Wings | Little Caesars Arena | Detroit, Michigan |
| Edmonton Oilers | Rogers Place | Edmonton, Alberta |
| Florida Panthers | FLA Live Arena | Sunrise, Florida |
| Los Angeles Kings | Crypto.com Arena | Los Angeles, California |
| Minnesota Wild | Xcel Energy Center | Saint Paul, Minnesota |
| Montreal Canadians | Bell Centre | Montreal, Quebec |
| Nashville Predators | Bridgestone Arena | Nashville, Tennessee |
| New Jersey Devils | Prudential Center | Newark, New Jersey |
| New York Islanders | UBS Arena | Elmont, New York |
| New York Rangers | Madison Square Garden | New York, New York |
| Ottawa Senators | Canadian Tire Centre | Ottawa, Ontario |
| Philadelphia Flyers | Wells Fargo Center | Philadelphia, Pennsylvania |
| Pittsburgh Penguins | PPG Paints Arena | Pittsburgh, Pennsylvania |
| San Jose Sharks | SAP Center | San Jose, California |
| Seattle Kraken | Climate Pledge Arena | Seattle, Washington |
| St. Louis Blues | Enterprise Center | St. Louis, Missouri |
| Tampa Bay Lightning | Amalie Arena | Tampa Bay, Florida |
| Toronto Maple Leafs | Scotiabank Arena | Toronto, Ontario |
| Vancouver Canucks | Rogers Arena | Vancouver, British Columbia |
| Vegas Golden Knights | T-Mobile Arena | Las Vegas, Nevada |
| Washington Capitals | Capital One Arena | Washington, D.C. |
| Winnipeg Jets | Canada Life Centre | Winnipeg, Manitoba |
When Do Philadelphia Flyers Tickets Go on Sale?
The NHL Season starts each year in the beginning of October. The schedule for the NHL releases in July, meaning you can begin purchasing single game tickets off third-party websites a day after the schedule is released.
These single-game tickets on third-party sites are season ticket holders who cannot make select games. They will put tickets up for sale immediately in order to get them sold to eager fans looking to go.
Tips for Buying Philadelphia Flyers Tickets
Want more tips for buying cheap Flyers tickets? Check out these other ideas to consider.
Go to weekday games
Heading to games that aren't on a Friday or Saturday will be cheaper due to supply and demand. Most people planning trips to watch their favorite team will arrange to see them on the weekend. This means that weekend games will be much more expensive than games during the week.
People may also not want to be out late on a weekday because they have work or other things to do the next day. Buy cheaper Philadelphia Flyers tickets during the week.
Skip games against rivals
Games against rival divisional teams will be way more expensive than any other game. Also, games against Canadian teams are often higher in price because these teams have big, distributed fan bases.
If you choose a game against a US non-divisional team during the weekday, you will find the cheapest tickets.
Avoid advance sales
Most NHL teams will offer advance sales once the schedule is released for fans who can't wait to purchase their tickets. Advance sales will come with a higher cost for tickets.
Yes, you are getting your tickets guaranteed right away, but they will be much more expensive than if you were to wait closer to the game.
With travel plans, this may not always be possible, but something for you to keep an eye on.
Buy tickets the day of the game
Waiting until game day and purchasing tickets on Gametime will be the best way to get the cheapest tickets to a hockey game. When it gets closer to the game, sellers are more desperate to get any money for their tickets, which means they will list them lower than they usually would.
Take advantage of these sellers!
The biggest drawback is that you might not be able to wait. If you are travelling from out of town, you want to secure your tickets early. And if the game is sold out, there will be nothing on Gametime to purchase!
Other Things To Do In Philadelphia
Philadelphia Museum of Art
If you are an art fan, I highly recommend checking out the Philadelphia Museum of Art. This museum contains hundreds of thousands of different pieces of artwork including paintings, sculptures, drawings and more.
There are many different special exhibitions held every single year, which draws in many tourists from all over the world!
Philadelphia Hop-On Hop-Off City Tour
This tour allows you to see all of the landmarks that Philadelphia has to offer, but at your own pace. There are different day passes that you can purchase where you get on the bus, and hop off to see the landmarks and then get back on whenever you want.
Some of the landmarks to see include Independence Hall and the Liberty Bell.
Reading Terminal Market
The Reading Terminal Market is a great way to get out and check out many different fascinating shops and concession stands. It is a giant farmer's market where you walk in. There are food stands, crafts, and other local venues.
(Visited 454 times, 1 visits today)