There's nothing like the atmosphere of a live football game. But let's face it, tickets can be expensive.
Don't worry! This comprehensive guide will show you how to buy cheap NFL tickets to see a live football game for less money.
Below, we'll cover:
An Overview of the NFL and all of the stadiums you can watch a live game at
The Best Platforms for Buying Affordable NFL Tickets
Insider Tips on Scoring Cheap Tickets for Your Favorite NFL Games
Do you have an unforgettable NFL experience to share? Scroll down and leave us a comment about your favorite professional football stadium!
In a rush? Use these buttons to browse cheap NFL football tickets today.
NFL Overview
The National Football League is one of the most popular sports leagues globally since its founding in 1920. It is the number one sport in North America.
The NFL consists of 32 franchises across the United States. The league is divided into two main conferences: the American Football Conference (AFC) and the National Football Conference (NFC), each featuring its own set of elite teams and rivalry matchups.
The NFL season typically runs from early September to early January, with the Super Bowl capping off the season in February.
In a push to expand the NFL's global audience, the league has grown into new markets recently. There are games each year in the United Kingdom, Germany, and Mexico. Previously, the NFL played games in Canada as well (Toronto at Rogers Center).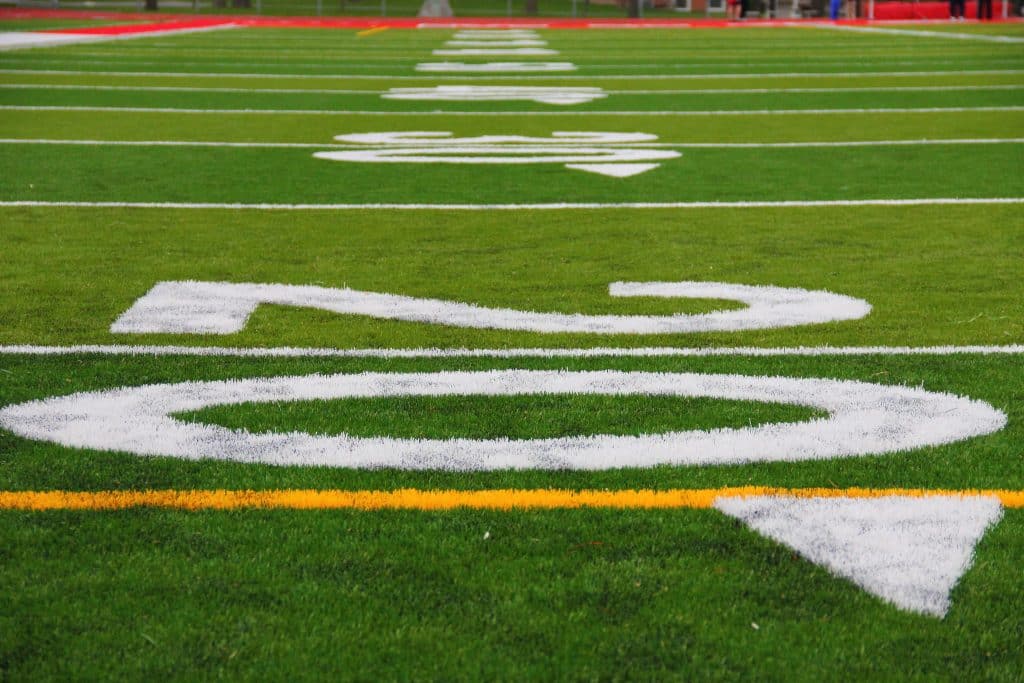 NFL Teams
A table showing all of the NFL teams, where they play, and what their stadium is called, is below. If you are in a rush, you can click on any of the teams and browse cheap NFL tickets today.
| NFL Team | Stadium Name | Location |
| --- | --- | --- |
| Arizona Cardinals | State Farm Stadium | Glendale, Arizona |
| Atlanta Falcons | Mercedes-Benz Stadium | Atlanta, Georgia |
| Baltimore Ravens | M&T Bank Stadium | Baltimore, Maryland |
| Buffalo Bills | Highmark Stadium | Orchard Park, New York |
| Carolina Panthers | Bank of America Stadium | Charlotte, North Carolina |
| Chicago Bears | Soldier Field | Chicago, Illinois |
| Cincinnati Bengals | Paycor Stadium | Cincinnati, Ohio |
| Cleveland Browns | Cleveland Browns Stadium | Cleveland, Ohio |
| Dallas Cowboys | AT&T Stadium | Arlington, Texas |
| Denver Broncos | Empower Field at Mile High | Denver, Colorado |
| Detroit Lions | Ford Field | Detroit, Michigan |
| Green Bay Packers | Lambeau Field | Green Bay, Wisconsin |
| Houston Texans | NRG Stadium | Houston, Texas |
| Indianapolis Colts | Lucas Oil Stadium | Indianapolis, Indiana |
| Jacksonville Jaguars | TIAA Bank Field | Jacksonville, Florida |
| Kansas City Chiefs | Arrowhead Stadium | Kansas City, Missouri |
| Las Vegas Raiders | Allegiant Stadium | Paradise, Nevada |
| Los Angeles Chargers | SoFi Stadium | Inglewood, California |
| Los Angeles Rams | SoFi Stadium | Inglewood, California |
| Miami Dolphins | Hard Rock Stadium | Miami Gardens, Florida |
| Minnesota Vikings | U.S. Bank Stadium | Minneapolis, Minnesota |
| New England Patriots | Gillette Stadium | Foxborough, Massachusetts |
| New Orleans Saints | Caesars Superdome | New Orleans, Louisiana |
| New York Giants | MetLife Stadium | East Rutherford, New Jersey |
| New York Jets | MetLife Stadium | East Rutherford, New Jersey |
| Philadelphia Eagles | Lincoln Financial Field | Philadelphia, Pennsylvania |
| Pittsburgh Steelers | Acrisure Stadium | Pittsburgh, Pennsylvania |
| San Francisco 49ers | Levi's Stadium | Santa Clara, California |
| Seattle Seahawks | Lumen Field | Seattle, Washington |
| Tampa Bay Buccaneers | Raymond James Stadium | Tampa, Florida |
| Tennessee Titans | Nissan Stadium | Nashville, Tennessee |
| Washington Commanders | FedEx Field | Landover, Maryland |
NFL Football Stadiums
Each stadium in the NFL is a spectacle in itself. The standard stadium sizes hold around 70,000 fans, with most modern stadiums able to expand near 100,000 people for the Super Bowl.
Did you know that the NFL's Mercedes-Benz Stadium in Atlanta is home to the world's largest halo board video screen, a staggering 1,100 feet in diameter?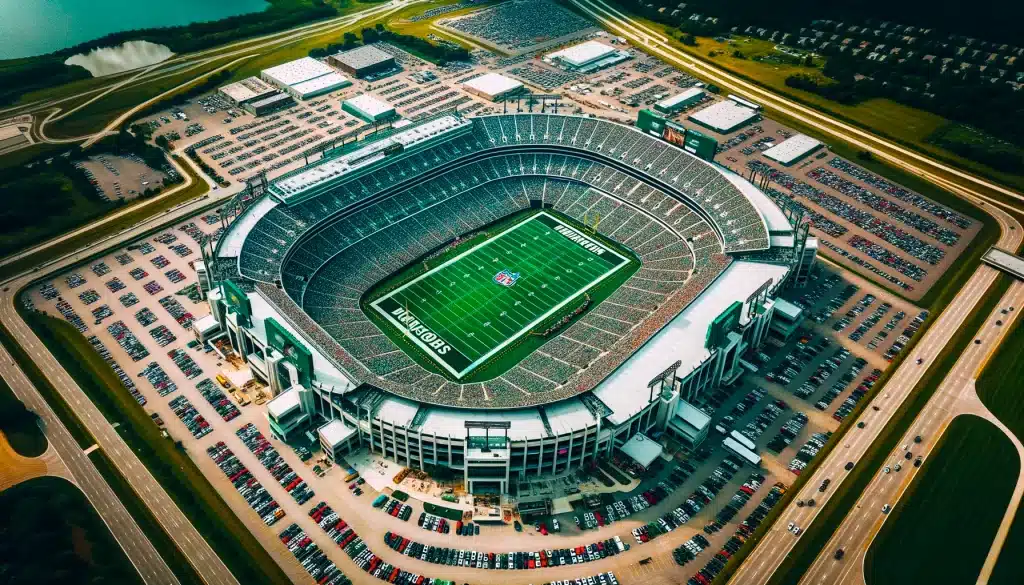 Or that Lambeau Field in Green Bay still uses benches instead of individual seats to honor its old-school roots?
Each NFL stadium offers a unique blend of history, luxury, and state-of-the-art technology.
With several different seat types in each stadium, you can buy NFL tickets for less money if you know how and where to look. Each game has a blend of official tickets and third-party seats being sold by fans who own seats but cannot make that game.
Below, we'll go over our strategies for buying cheap NFL game tickets.
How Much Are Football Tickets?
Everyone wants to know, "how much are NFL tickets?"
The answer isn't as straightforward as you might think.
Ticket prices fluctuate due to various factors such as:
the teams playing
the stadium's location
weather conditions
time of the year
each team's record
Premium match-ups like the New England Patriots vs. the Kansas City Chiefs can command steep prices, passing $500 per ticket for even the most basic seats.
However, that's not to say affordable options don't exist.
If you're a fan of teams with less star-studded line-ups or willing to attend mid-week games, you can snag tickets for as low as $40.
And don't forget the pre-season games.
While they may not count in the standings, pre-season tickets offer a much more economical way to catch NFL action live. If you want to attend an NFL game in August, you can often find suites and other premium tickets for way less than face value.
Don't forget to factor in additional costs like parking, which can range from $20 to $50, and concessions. A trip to the NFL isn't just about the game. It's an all-encompassing experience that, depending on your choices, can add up quickly.
When Do NFL Tickets Go on Sale?
Timing is everything, especially when grabbing affordable NFL tickets.
But when do they actually go on sale?
Typically, single-game tickets become available shortly after the NFL releases its schedule for the upcoming season. This usually happens in April, following the NFL Draft.
Season ticket holders get first dibs, and many premium games can get scooped up during this period. The general public sale opens soon after, allowing you to secure your spot in the stands.
Personal Seat Licenses
Here's a pro tip:
Many third-party platforms and brokers will start listing tickets even before the official release. This is because most stadiums in the league sell personal seat licenses. Season ticket holders also own the physical seat they are sitting in. They know exactly where they'll sit at every football game, as well as concerts and other events at the stadium.
Proactive seat license holders will list their seats for sale early if they know they can't make an even.
While buying early might secure a seat at a coveted game, waiting might offer the best bang for your buck as prices fluctuate. Keep an eye on your favorite ticket platforms, and be ready to move as soon as you spot a good deal.
Where to Buy Cheap NFL Tickets: Trusted Sources You Can Count On
When purchasing NFL tickets, you're not short on options. However, not all ticket platforms are created equal. Here, we're breaking down your best choices, each with unique advantages and disadvantages.
Ticketmaster
Known for its vast reach and authenticity, Ticketmaster serves as the official ticketing partner for the NFL. Buying directly from Ticketmaster ensures that your tickets are 100% legitimate, eliminating any risks associated with fraudulent tickets.
However, be aware that Ticketmaster usually comes with service fees that can add to the overall cost. Although these hidden fees can be steep, the platform's credibility and extensive inventory make it a reliable option for many fans.
StubHub
StubHub is the way to go if you're a fan of secondary marketplaces and are willing to take a little risk for potentially great rewards. As an official ticket resale partner of the NFL, StubHub offers a vast selection of often cheaper tickets than face value, especially as game day approaches.
Many season ticket holders sell their seats on StubHub because they pay lower fees and the platform demand is high.
Besides its reward program, StubHub employs a user-friendly interface with interactive stadium maps and real-time ticket availability. These features provide an enhanced shopping experience, making the process seamless.
Gametime
Another trusted player in the ticket-selling arena is Gametime. While not as large as Ticketmaster or StubHub, Gametime still offers a strong inventory of NFL tickets, often at competitive prices.
Plus, the platform's intuitive interface and strong customer service give it an edge when looking for great deals.
Gametime because popular because they began buying up unsold baseball tickets from stadiums and selling them at the last minute on their platform for less. Today, they have grown into one of the largest third party ticket marketplaces of all time.
Each platform provides something unique, catering to different types of NFL enthusiasts. Consider these options as we dive into the best strategies for scoring affordable tickets to see your favorite team in action.
Tips For Buying Cheap NFL Tickets
There are ways to enjoy the NFL experience without tackling your bank account. Here's the insider guide to finding the most affordable ticket options without sacrificing quality.
Early Birds Get the Best Seats
Regarding the NFL, the early bird doesn't just get the worm; they get the best seats at a fraction of the last-minute rates. Consider joining the mailing lists of your favorite teams and third-party ticket platforms.
Why?
Because these platforms often release early-bird specials or exclusive presale codes for their subscribers. You can be in prime end-zone seats if you act fast enough when these deals drop.
The Flexibility Factor
If you can manage to be flexible with your dates, you can be a winner in the ticket game. Mid-week games, for example, are usually cheaper than weekend clashes.
The same applies to afternoon games versus prime-time evenings. In short, the less convenient the time for most football fans, the better the prices you'll encounter.
The Power of Bulk Buying
Going to the game with a group of friends or family? Bulk purchases often come with a discount.
Some teams even offer group packages with additional perks like free parking or exclusive merchandise. Who wouldn't want a free jersey or an easier parking experience thrown into the deal?
Secondary Market Savvy
Sites like StubHub and Gametime are often goldmines for last-minute ticket shoppers. Sellers looking to offload their tickets as the game date approaches are more likely to reduce their asking prices.
But always ensure you're buying from reputable sources to avoid counterfeit tickets. Stick with verified resellers and platforms that offer buyer protections.
Consider a Season Ticket or Flex Pack
A season ticket package may provide the best value for money if you're committed to attending multiple games. Not only will you secure a seat for the most sought-after matches, but you'll also get priority access to playoff tickets.
A Flex Pack is another alternative. These packages let you attend a handful of games at less price than the full season, but still on sale.
Don't Overlook Preseason
The preseason may lack the stakes of the regular season, but you can enjoy the NFL atmosphere at a discounted price. Plus, preseason games are a great time to scout seats for future games. You can check out different vantage points without the regular-season crowds.
Cheap Super Bowl Tickets
Is it possible to buy cheap Super Bowl tickets and save money on the biggest football game of the year?
Unfortunately, not.
There are far too many corporate tickets sold for NFL's biggest game. This means corporations will pay big money to get these tickets and distribute them as they please. With no real supply of tickets for regular people and large demand, the prices skyrocket.
Your best chance to buy cheap Super Bowl tickets is to wait until the week before the game when local seats often go up for sale if the local team isn't playing in the game. However, hotels and AirBNB's book up months in advance, so you will have trouble finding a place to stay at the last minute.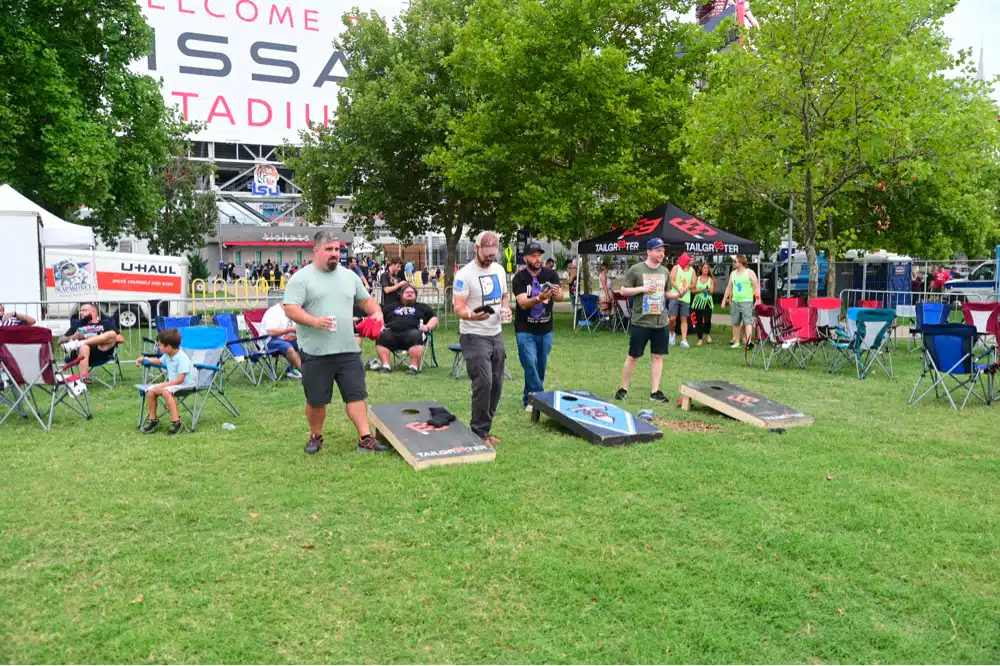 Conclusion
Doing a little research, you can find NFL football tickets for less money.
With these expert strategies in your playbook, you can score some of the cheapest NFL tickets possible. So go ahead, make your game plan, and get ready to experience the exhilarating world of NFL football without sidelining your budget.
(Visited 285 times, 1 visits today)